Weather
Map: Here's where power outages are being reported in Mass. after the winter storm
Eversource said they expect power restoration to be "substantially complete" for all customers by 11:59 p.m. Monday.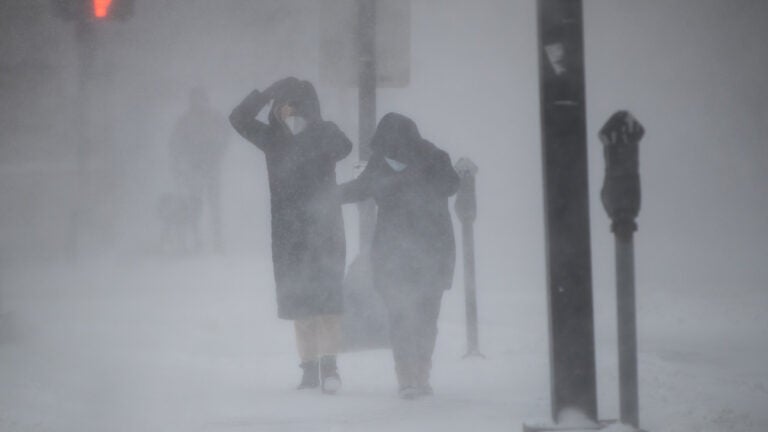 Thousands in Massachusetts are without power Sunday night after a powerful winter storm battered the eastern part of the state with snow and strong winds on Saturday.
The National Weather Service declared the storm a blizzard for some areas of eastern Massachusetts and Rhode Island Saturday evening.
"Wind gusts reached hurricane force on Cape Ann, Cape Cod, and Nantucket during the storm," the service said in an announcement.
It also noted that snowfall totals were 1 to 2 feet "across the region."
Wind gusts up to 65-75 mph were recorded across Cape Cod, the islands, and Cape Ann, which the service said increases the risk of tree damage and power outages.
"The greatest risk could be across Cape Cod, the islands and coastal Plymouth county, as heavy wet snow combines with these strong/damaging winds," service forecasters said Saturday morning. "In addition, these very strong winds combined with snowfall rates of 2-4 [inches] per hour at times, will yield blizzard conditions across RI and eastern MA, with [visibility] near zero at times. Even after the snow tapers off early this evening, there will continue to be considerable blowing and drifting snow."
Sunday evening, Massachusetts Emergency Management Agency tweeted to thank the Barnstable County REPC staff who assisted in the "continued work coordinating with communities across [Cape Cod]" as the area still faced power outages.
Eversource said it is working to restore the power to those already impacted by the storm and urged customers to report outages immediately. At 4 p.m. Sunday Eversource said they expect "restoration to be substantially complete" by 11:59 p.m. on Monday for all customers, but most customers "will be restored sooner."
As of around 10:38 p.m. Sunday, 2,889 customers were still without power, down from over 115,000 Saturday, according to the Massachusetts Emergency Management Agency.
Eastham is the most affected, with 13% or more of customers without power.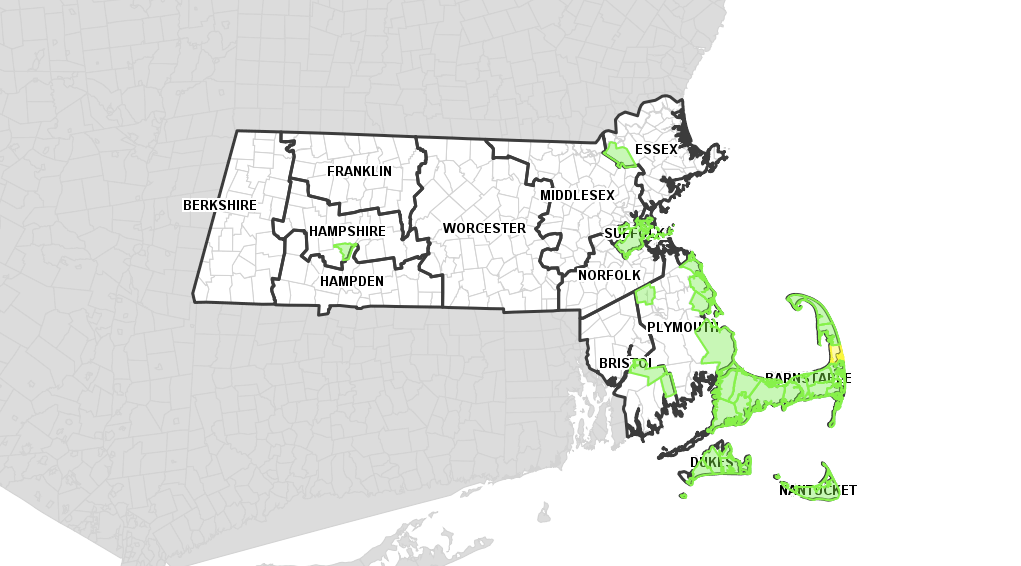 View the state's updating power outage map here.
Eversource tweeted Saturday that hazardous road conditions were impeding their access to trouble spots and strong winds may prevent crews from making repairs.
"We're working as quickly and safely as possible with our local partners to clear tree damage and make our communities safe," the company said.
Later in the afternoon Saturday, the power company tweeted about the brutal conditions their crews encounter while trying to restore power.
"Please help keep the roads clear for our emergency responders, if possible," the company said on Twitter.
Saturday evening, the power company noted that it was calling in workers from Connecticut and New Hampshire to help with restoration.
"As the nor'easter continues to batter the Cape and Islands, more than 1,000 line and tree crews are working through the challenging conditions to make our communities safe and repair damage," the company said.
Saturday evening, Eversource President and CEO Joe Nolan joined Gov. Charlie Baker and other officials to give an update on the storm.
"We have mobilized one of the largest forces on Cape Cod," he said. "I want to let all our customers know that help is on the ground already."
Sunday afternoon, Eversource tweeted to remind their customers to remove ice and snow from their gas meters when doing the rest of their snow cleanup.
Sunday evening, Eversource shared the process of replacing a fallen pole on a powerline, explaining that the process can take 6-12 hours.
Newsletter Signup
Stay up to date on all the latest news from Boston.com