Weather
Mayor Wu declares cold emergency, activates warming centers
Dangerously cold temperatures and wind chills will threaten anyone outside on Friday and Saturday.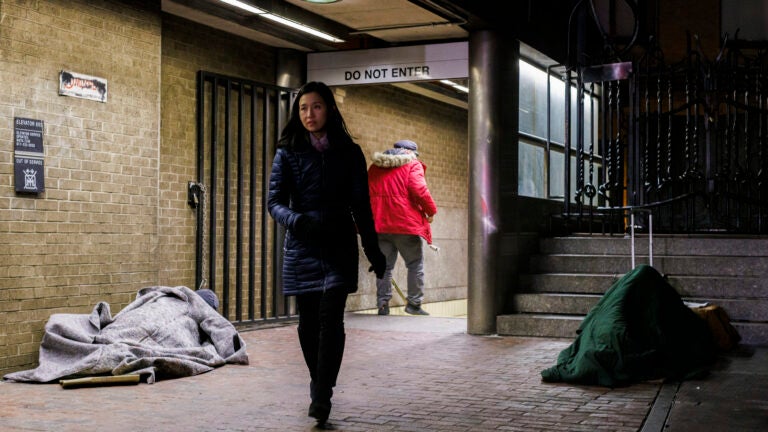 Mayor Michelle Wu declared a cold emergency for the city of Boston that will be in effect from Friday through Sunday. Warming centers will be activated throughout the city and some homeless shelters will have extended hours.
A frigid wave of arctic air is expected to envelop Massachusetts later this week, potentially plunging temperatures below zero and creating deadly wind chills that make it feel like -30.
The worst of the cold will set in on Friday and extend through Saturday night.
"Boston is moving quickly to ensure that everyone is protected from the intense cold weather that will start Friday and last through the weekend. I want to thank the many city teams who have already begun preparations and will be responding to this weekend's brutal cold weather," Wu said in a statement. "I urge all Boston residents to take precautions, stay warm and safe, and check on your neighbors during this cold emergency."
On Monday night, Wu joined a group of volunteers and officials to conduct the city's annual homeless census. The team canvassed 45 specific areas in all of Boston's neighborhoods after midnight. They worked to identify those experiencing homelessness, conducted short surveys, and offered resources and safety information. The results of the census, which has been conducted for the past 43 years, will be analyzed by city officials and used to better address the needs of residents in the future.
This week, during a segment of "Ask the Governor" on GBH's "Boston Public Radio," Gov. Maura Healey said that she had worked to change South Station's practice of kicking out homeless people at 11 p.m.
The station was once a refuge for those with nowhere else to go during extreme weather, but a 2015 arrangement led to the 11 p.m. cutoff, The Boston Globe reported. Security guards would tie trash bags around the door handles, locking people out of the station.
Now, if dangerous weather rolls into Boston, homeless people will be able to spend the night in South Station again. That policy reversal could be lifesaving this weekend.
City officials are urging people to check in on older adults, people with disabilities, and those experiencing homelessness. Anyone who is aware of people staying in vehicles, on the street, or other places not intended for living during these extreme temperatures should call 911.
The City of Boston declares cold emergencies when forecasts call for wind chills to hit -10 or lower for one day or more. Cold advisories are declared when wind chills are expected to drop to zero degrees or lower for a day or more.
Boston Centers for Youth & Families (BCYF) is creating warming centers at various community centers during their normal operating hours. A full list of these locations can be found online. Residents who need to get warm are also encouraged to visit the Boston Public Library or other branch locations during normal operating hours.
The Southampton Street Shelter for men over 18 and the Woods Mullen Shelter for women over 18 are open 24 hours a day, seven days a week. An amnesty policy is in effect at these shelters, officials said, and anyone with "a non-violent restriction" may use their resources. In addition, Pine Street Inn's mobile outreach vehicles will be out in the city during the cold emergency with extended hours.
The Engagement Center, for people experiencing homelessness and substance abuse near the intersection of Massachusetts Avenue and Melnea Cass Boulevard, will be open longer this weekend. The center's extended hours will run from 6 a.m. to 7 p.m. during the emergency. Outreach workers have already been engaging with those living in the area to let them know about the upcoming weather and what options they have for staying warm, Wu's office said.
The Boston Police Department is reminding officers every shift to be on the lookout for people on the streets who may be in danger from the cold. BPD personnel are expected to conduct wellness checks and help transport people to shelters. They will also be distributing gloves, hats, jackets, and hand warmers.
The low temperatures and extreme wind chills exacerbate the risks of hypothermia and frostbite. The best way to stay safe when venturing outdoors is to wear several layers of loose-fitting, lightweight clothing rather than one later of heavy clothing, officials said. People should also wear mittens over their gloves, a hat, and a mouth covering. The time that children, infants, and pets spend outside should be limited.
Frostbite occurs when body tissue freezes. One major warning sign is the loss of feeling in extremities, like fingers, toes, and earlobes.
Hypothermia occurs when the body temperature drops below 95 degrees. Warning signs include uncontrollable shivering, memory loss, disorientation, slurred speech, and drowsiness.
Newsletter Signup
Stay up to date on all the latest news from Boston.com