Weather
Watch: Here's how to see Massachusetts groundhog Ms. G make her annual prediction
Update: Ms. G offered a convincing rebuttal to Punxsutawney Phil.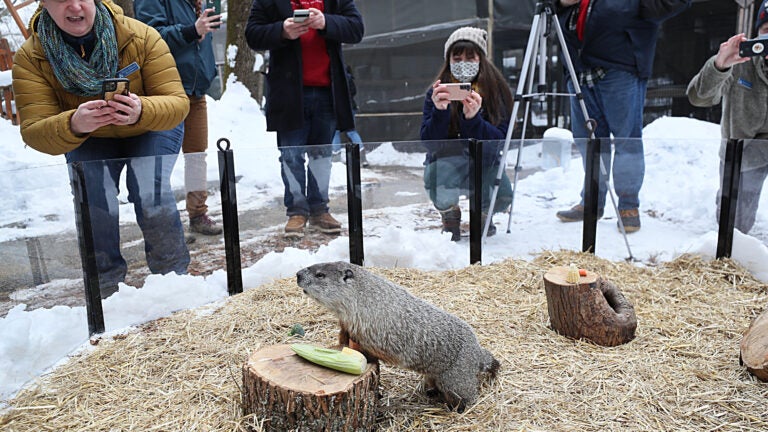 So Punxsutawney Phil, being the prickly curmudgeon that we know him to be, saw his shadow this morning, meaning we're getting six more weeks of winter. There's nothing we can do, it's science.
But fortunately, here in Massachusetts we'll have the opportunity to counter Phil's downer of a prediction with that of our own official groundhog, Ms. G. She'll be at Mass Audubon's Drumlin Farm Wildlife Sanctuary in Lincoln offering her take on winter prognostication at 10 a.m. (She has a history of zigging when Punxsutawney Phil zags, so there is hope.)
As chronicled in this space before, Ms. G has a fascinating backstory. It took a concerted effort by students at the Hunnewell Elementary School in Wellesley, the folks at Drumlin Farm, and meteorologist Mish Michaels to get the groundhog her official state status, according to the official Massachusetts State Groundhog website.
Since then-Gov. Deval Patrick signed the law declaring Ms. G the state's official groundhog in 2014, the esteemed marmot has had an impressive prediction record, and has even found herself the subject of a children's book about her incredible journey (and a commemorative stuffed animal, naturally).
UPDATE: None other than Massachusetts Gov. Maura Healey was on hand to announce the news when Ms. G, after some well considered foraging and not a little bit of meandering, saw nothing even resembling a shadow, ensuring that spring will come around quickly here in the commonwealth. You can see the governor make that proclamation at around the 22-minute mark in the video below.
Newsletter Signup
Stay up to date on all the latest news from Boston.com