Weather
T closures postponed during the cold — but expect potential slowdowns
"Extreme drops in temperature can take a toll on our infrastructure, even causing rails to crack," the MBTA said.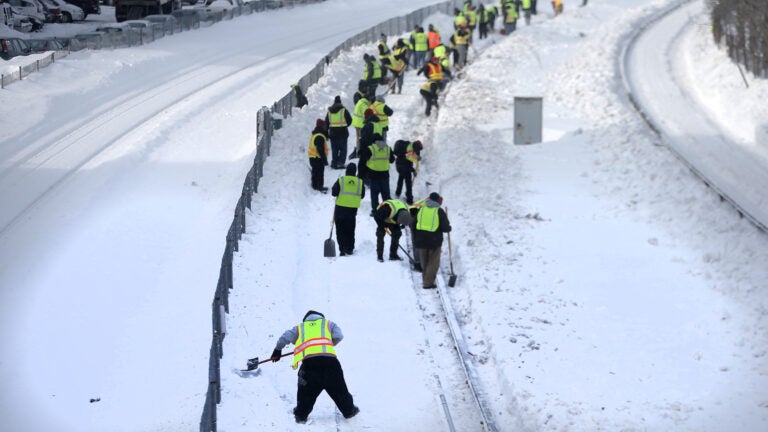 T riders brave enough to venture out and face the "dangerous cold" this weekend will be spared a day of previously scheduled Green and Orange Line closures, though the MBTA is warning that frigid temperatures could impact its railways.
The agency announced earlier this week that it cancelled work slated for Saturday on the Government Center garage demolition. Forecasters anticipate Saturday's temperatures will range from below zero to the single digits and teens.
Work scheduled for Sunday is still on track, with Orange Line service suspended between North Station and Back Bay, and shuttle buses replacing Green Line trains between North Station and Government Center.
Still, the two-day stretch of chilly weather could leave its mark on Boston's public transit.
"Extreme drops in temperature can take a toll on our infrastructure, even causing rails to crack," the MBTA wrote in a tweet. "We're monitoring conditions around-the-clock & are ready to respond to keep service moving."
The transit agency offers a guide to winter travel on its website, recommending that riders avoid traveling during winter storms if they can.
"Extreme cold, heavy snow, and ice can impact train service during storms," according to the guide, which notes that street-level routes like the Green Line and Mattapan Trolley are more likely to be delayed.
MBTA Interim General Manager Jeffrey Gonneville said Thursday that significant shifts in temperature cause train tracks to expand and contract, which can lead to rail breaks, The Boston Herald reported.
When that happens, according to the Herald, crews heat up the rail to make it expand and close the gap, placing a support bar to hold the rail together. Trains are then slowed until the track is permanently repaired, Gonneville explained.
"Generally, we're slowing trains down to probably around 10 miles an hour over the joint bar," he said, according to the Herald. "Our crews will also be prepared to do more permanent repairs."
The MBTA will keep trains stored in tunnels to protect them from windchill, WHDH reported.
Riders can keep an eye out for delays and schedule changes with MBTA system alerts, available on the transit agency's website and Twitter page, as well as via text or email.
Newsletter Signup
Stay up to date on all the latest news from Boston.com