Weather
Massive, coast-to-coast winter storm to bring heavy snow, ice, and wind
Boston, Hartford and Providence will likely see a burst of heavy, wet snow on Wednesday night before it abruptly changes to sleet and then rain.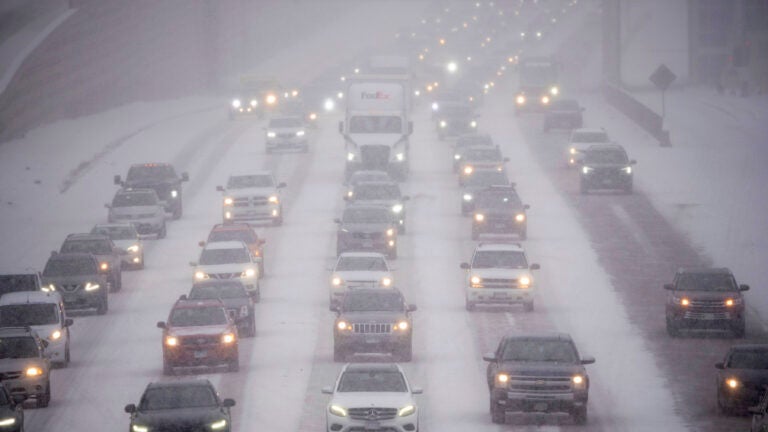 A massive coast-to-coast winter storm is trucking across the nation, bringing exceptionally heavy snow, blizzard conditions, freezing rain and strong winds. Fifty million Americans are under winter storm watches, warnings or winter weather advisories. And some locations are under blizzard warnings as they brace for increasing storm severity.
Weather alerts span across virtually the entire Lower 48 from California to Maine, where the system will perform its final act late Thursday. Until then, a widespread 1 to 2 feet of snow is expected to fall across a more than 2,000-mile patch of the country, with the bull's eye near Minneapolis. There, the local National Weather Service office is warning that this system is "expected to reach the top 5 heaviest snow storms."
The office also warns of "significant blowing and drifting snow with whiteout conditions in open areas," and adds that travel may become nearly impossible in some places, with drifts that could reach several feet high.
South of the system's strip of snowfall, a transition zone of freezing rain is expected. Ice accumulations including glaze layerings could exceed a half-inch locally, weighing down power lines and leading to electrical outages. Dangerous travel and vegetation damage are also expected from the Corn Belt through the Midwest and even the interior Northeast.
The setup
An upper-air disturbance, akin to a bowling ball of high-altitude cold air, low pressure and spin, was diving southeast from British Columbia into the western United States on Tuesday. It will pass over the Great Basin of Nevada into western Utah early Wednesday. At the same time, it will absorb the energy from a second upper-air system.
Those high-altitude systems will support the development of dual surface lows – a weaker one over Kansas, and a stronger one in Utah. Both will progress east with time, their counterclockwise circulations swirling moisture north and helping generate wintry precipitation as cold air crashes south in their wake.
The duo will slip east with time, though the second will be more potent. They will ride along a stalled warm front, which will stretch from the north central Plains to near New York City. North of there, cold air will be mixed wintry precipitation or all snow. To the south, predominantly rain. Strong gusty winds will also accompany the storms.
The west coast and southwest
The impact will be so widespread that one could drive continuously from the west side of Canada to Mexico and remain in areas under winter storm warnings the entire time. The Cascades and Sierra Nevada will see a 6 to 12 hours of snow through late Wednesday; it will arrive earlier to the north, then work south with time as the instigating moisture plume sweeps down the coast. In the lowlands, a bit of rain is possible, but that will mostly be in high-elevation locations.
The first round of snow through Wednesday night should be confined to the mountains of Washington State, Oregon and northern and central California. Snowfall levels will descend down to 1,000 feet due to the presence of anomalously cold air, meaning heavy snow (a foot or more) could fall in communities not accustomed to frequent visits by Old Man Winter. In the highest summits, 2 to 3 feet is likely.
Then a second robust system will bring mountain snow and a healthy dose of valley rain to central and Southern California late Thursday into Friday.
Before then, strong winds will overspread most of the Desert Southwest and California, where a litany of wind alerts are in effect. Gusts of 40 to 60 mph are likely (highest in the high-wind warning areas).
The winds will ramp up Tuesday afternoon and last into the first half of Wednesday.
Intermountain west
Meanwhile, a batch of snow is working south-southeast from the Columbia River Basin. It will sweep through Idaho and Utah early Wednesday before a more pronounced spiral of snow forms under the nascent low-pressure center. Heavy mountain snow is likely for virtually the entire Intermountain West before the system ejects onto the Plains.
Central U.S. and Great Lakes
The most severe point in the system will come as it's traversing the Plains. The worst impacts will occur north of Interstate 80 in Nebraska and Iowa and south of Interstate 94; I-90 will be impassible during the height of the storm, which will arrive Wednesday into early Thursday.
In Minneapolis, 15 to 25 inches of snow appears likely, along with strong winds west of the metropolitan area that could lead to blizzard conditions. The weather will rapidly deteriorate Wednesday morning, with snowfall rates exceeding an inch per hour at times. The National Weather Service in the Twin Cities is calling the upcoming episode "historic."
"Speaking historically, this event could very well break top five snowfalls in the Twin Cities dating back to 1884," the office wrote. "The top event, a memorable one that seems to come up every year, was the Halloween Blizzard of 1991 with 28.4 inches of snow. Number two was a storm over Thanksgiving weekend in 1985 that amounted to 21.1 inches."
The storm will charge east, beginning as light snow in Wisconsin and Michigan on Tuesday night before precipitation becomes moderate to heavy during the evening into Thursday. There may be a break before a final round of snow Thursday evening.
For Chicago and Detroit, a brief period of freezing rain is likely on Wednesday before a flip to ordinary rain.
Northeast
The storm will enter the Northeast during the second half of Wednesday. As the warm front – which precipitation is riding on – lifts northward, any initial wintry precipitation over Pennsylvania, New Jersey, the New York City Tri-State area or southern New England will flip to rain.
Boston, Hartford and Providence will likely see a burst of heavy, wet snow on Wednesday night before it abruptly changes to sleet and then rain. There may be some freezing rain in the Blackstone and Connecticut River Valley, however, as well as the Berkshires and the hills of northwest Connecticut. That's where subfreezing surface air bleeding in from the north may prolong wintry weather.
In central and northern New England and northern New York State, all snow will fall. It could accumulate 8 to 14 inches, or perhaps more. Winter storm watches are in effect. The snow should exit to the east by Friday morning.
Ice danger
On the southern rim of the storm system's precipitation shield, freezing rain is likely. That is because of overrunning, or the process by which moisture-laden mild air surfs up and over a shallow lip of cold, dense air that hugs the ground. That means liquid precipitation falls from the warm air aloft, and into a cold layer where it can quickly freeze on the contact with the ground.
Ice will be a concern in a roughly 50- to 100-mile wide strip that stretches all the way from the Corn Belt to the East Coast. Central and northern Iowa north of Interstate 80, southern Wisconsin, most of Michigan, parts of New York, western Massachusetts and southern Vermont and New Hampshire should closely watch the system. That includes cities like Cedar Rapids, Madison, Milwaukee, Grand Rapids, Detroit, Buffalo, Syracuse and Albany.