Weather
Brush fires are spreading across Mass., drawing some comparisons to California
Massachusetts has seen nearly 100 brush fires since last Wednesday amid a surge of warm, breezy weather.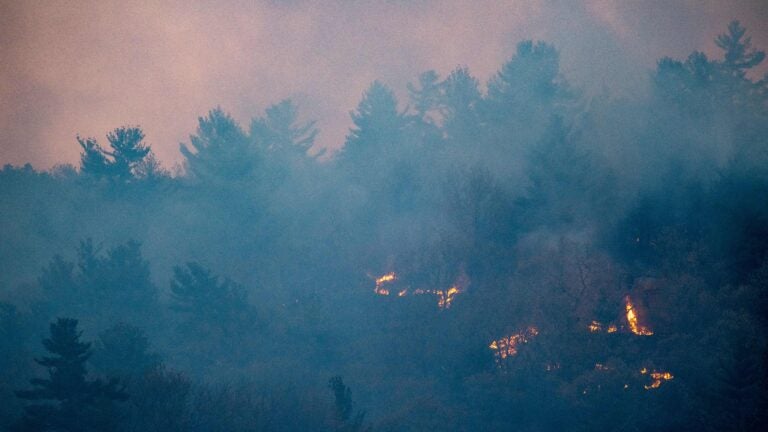 Most of Massachusetts remained under a "Red Flag Warning" Wednesday as dry air and warm, breezy weather persisted statewide, leaving the Bay State prone to potentially devastating fires.
Across Massachusetts, crews have responded to 99 brush fires just since last Wednesday, bringing the year-to-date total up to 264 fires since Jan. 1, according to Dave Celino, the chief fire warden for the state Department of Conservation and Recreation.
"It's not uncommon for us to get this level of activity, especially when we get the weather pattern that we've been stuck in here since last week," he told Boston.com.
What are Red Flag Warnings?
A product of the National Weather Service, Red Flag Warnings are one of several ways officials calculate fire danger, Celino explained. The current warning, which runs through 7 p.m. Wednesday, excludes Martha's Vineyard and Nantucket.
"Generally, the most frequent time we issue these warnings is in April," NWS meteorologist Bill Leatham told The Boston Globe last week. "It just depends on how dry the conditions are before the green-up."
Under dry and gusty conditions, "any fires that start may spread rapidly and become difficult to extinguish," the NWS website notes.
At that point, the brush fires in Massachusetts can bear some resemblance to those out in California, according to Celino.
"They're two different… geographic regions with different fuel types — and by fuel types, we mean what's the vegetation that's going to burn," he said. "However, in our area, when we get down to the low 20% in relative humidity values, that has a drastic effect on the fire behavior in our standard northeast hardwood leaf litter, and it's comparable to being out in California in like a 10% relative humidity."
He noted, for example, a large brush fire in Gloucester on Saturday that was "exhibiting some really dangerous California-like fire behavior, with even spot fires out in front of it."
According to the Massachusetts Department of Fire Services, about 40% of homes across the state are in or around wild areas. In those cases, wildfires can put people or property in danger, and house fires can easily spread to surrounding brush and wooded environments, DFS spokesperson Jake Wark said.
How you can help
As Smokey Bear says, "Only you can prevent wildfires."
"Most outdoor fires begin with human activity, whether it's open burning, careless disposal of smoking materials, or outdoor cooking, camping, and power equipment," Wark told Boston.com in an email.
He urged caution when smoking, grilling outdoors, and using vehicles or power equipment that might overheat and ignite surrounding materials.
Likewise, Celino encouraged residents to practice situational awareness.
"When you go to throw that cigarette butt … out the window of your car on a day like today, if it lands in grass, it's probably going to start a fire," he said.
Newsletter Signup
Stay up to date on all the latest news from Boston.com