Weather
This has been Mount Washington's snowiest June on record. And it's only the 12th day of the month.
You may have also noticed long-lasting storms this spring. According to the National Weather Service, this is all due to "blocking patterns."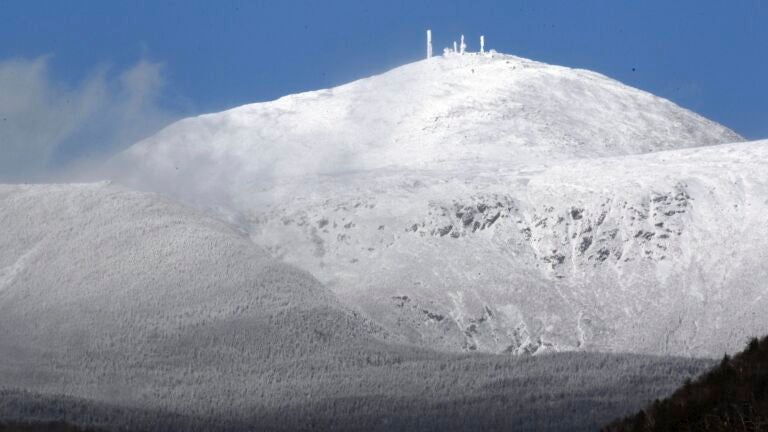 This month has been Mount Washington's snowiest June on record — and it's only the eleventh of the month.
On June 10, the Mount Washington Observatory announced the mountain exceeded its previous record, hitting 8.4 inches for the month. The observatory said it has snowed on the mountain nearly every day this month.
And the snow is unlikely to stop, as another storm system is predicted to hang over New England for much of this week.
Typically, the mountain's last snowfall of the season occurs in early to mid-June, the observatory said. But if more storms keep coming, it could happen later in the month.
Why this is happening
The culprit behind the excess snow is a "blocking pattern" — a type of weather pattern that keeps meteorological systems stationary instead of letting them move to other regions.
National Weather Service (NWS) Meteorologist Sarah Thunberg said the current blocking pattern causes low pressure systems to "get stuck" over New England, keeping storms in our skies. You might have noticed a lot of storms lasting for days this spring, she said, and that's due to frequent blocking patterns.
Across most of New England in the spring, more storms mean excess rain, but on the top of Mount Washington where the elevation keeps temperatures below freezing, that means excess snow.
While colder temperatures aren't the primary reason for Mount Washington's unseasonal amount of snow, Thunberg said, blocking patterns do cause colder conditions by preventing the sun from being able to warm the air and earth.
The precipitation continues this week
All of this means a cooler, rainier start to summer. And that trend won't abate this week, at least when it comes to rain.
While Sunday's sunny weather will likely continue through Monday, the NWS predicts that showers will begin Monday night. Thunderstorms are possible in the early morning.
That rain is expected to continue into Tuesday morning, and thunderstorms are still possible mid-morning. The rain should taper off by the end of Tuesday, but showers could return as soon as Wednesday afternoon. The NWS is predicting some rain for Wednesday night.
Temperatures are expected to stay relatively warm throughout the week. The NWS is predicting highs in the upper 70s and low 80s all week, and lows at night in the high 50s and low 60s.
Daily Local Weather Forecast
powered by:
Newsletter Signup
Stay up to date on all the latest news from Boston.com