Weather
Day and night Phoenix has sweltered from heat that will break a record for American cities
In Arizona's capital, temperatures have surpassed 110 F for the past 18 days.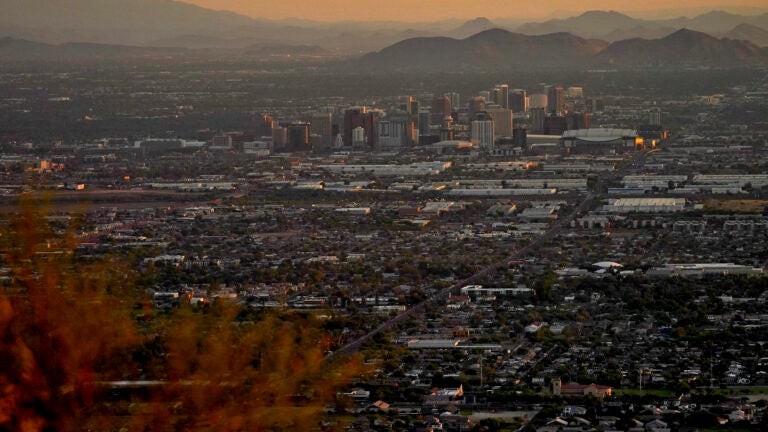 PHOENIX (AP) — Phoenix's relentless streak of dangerously hot days was finally poised to smash a record for major U.S. cities on Tuesday, the 19th straight day the desert city was to see temperatures soar to 110 degrees Fahrenheit (43.3 C) or more.
Nighttime has offered little relief from the brutal temperatures. Phoenix's low of 95 F (35 C) on Monday was its highest overnight low ever, toppling the previous record of 93 F (33.8 C) set in 2009. It was the eighth straight day of temperatures not falling below 90 F (32.2 C), another record.
It's "pretty miserable when you don't have any recovery overnight," said National Weather Service meteorologist Matt Salerno.
The length of Phoenix's heat wave is notable even during a summer in which much of the southern United States and the world as a whole has been cooking in record temperatures, something scientists say is stoked by climate change.
What's going on in a metropolitan area known as the Valley of the Sun is far worse than a short spike in the thermometer, experts said, and it poses a health danger to many.
"Long-term exposure to heat is more difficult to withstand than single hot days, especially if it is not cooling off at night enough to sleep well," said Katharine Jacobs, director of the Center for Climate Adaptation Science and Solutions at the University of Arizona.
"This will likely be one of the most notable periods in our health record in terms of deaths and illness," said David Hondula, chief heat officer for the City of Phoenix. "Our goal is for that not to be the case."
The last time Phoenix didn't reach 110 F (43.3 C) was June 29, when it hit 108 (42.2 C). The record of 18 days above 110 that was tied Monday was first set in 1974, and it appeared destined to be shattered with temperatures forecast above that through the end of the week.
"This is very persistent," said National Weather Service meteorologist Isaac Smith. "We're just going to see this streak continue it looks like."
No other major U.S. city has had a streak of 110 degree days or 90 degree nights longer than Phoenix, said weather historian Christopher Burt of the Weather Company.
NOAA climate data scientists Russ Vose and Ken Kunkel found no large cities with that run of heat, but smaller places such as Death Valley and Needles in California and Casa Grande in Arizona have had longer streaks. Death Valley has had an 84-day streak of 110-degree temperatures and a 47-day streak of nighttime temperatures not going below 90, Vose said.
Phoenix's heat wave has both long and short-term causes, said Arizona State University's Randy Cerveny, who coordinates weather record verification for the World Meteorological Organization.
"The long-term is the continuation of increasing temperatures in recent decades due to human influence on climate, while the short-term cause is the persistence over the last few weeks of a very strong upper level ridge of high pressure over the western United States," he said.
That high pressure, also known as a heat dome, has been around the Southwest cooking it for weeks, and when it moved, it moved to be even more centered on Phoenix than ever, Smith said.
All of the southern U.S. has been under a heat dome with temperature records shattered from California to Florida and the globe itself is the hottest its been on record for much of the summer.
The high pressure in the Southwest also prevents cooling rain and clouds from bringing relief, Smith said. Normally, the Southwest's monsoon season kicks in around mid-June with rain and clouds. But Phoenix has not had measurable rain since mid-March.
"Although it is always hot in the summer in Phoenix, this heat wave is intense and unrelenting," Jacobs said. "Unfortunately, it is a harbinger of things to come given that the most reliable projected impacts of climate change are those that are directly related to the increase in global temperatures. "
Since 1983, Phoenix's average daily summer temperature has increased 3.6 degrees (2 degrees Celsius), it's daily high temperature has gone up 3.2 degrees (1.8 degrees Celsius) and it's nighttime low has gone up 4.4 degrees (2.4 degrees Celsius), according to NOAA.
"The changing climate along with urban heating are certainly exacerbating the warmer temperatures and making them more frequent," Smith said.
And that's dangerous for many groups.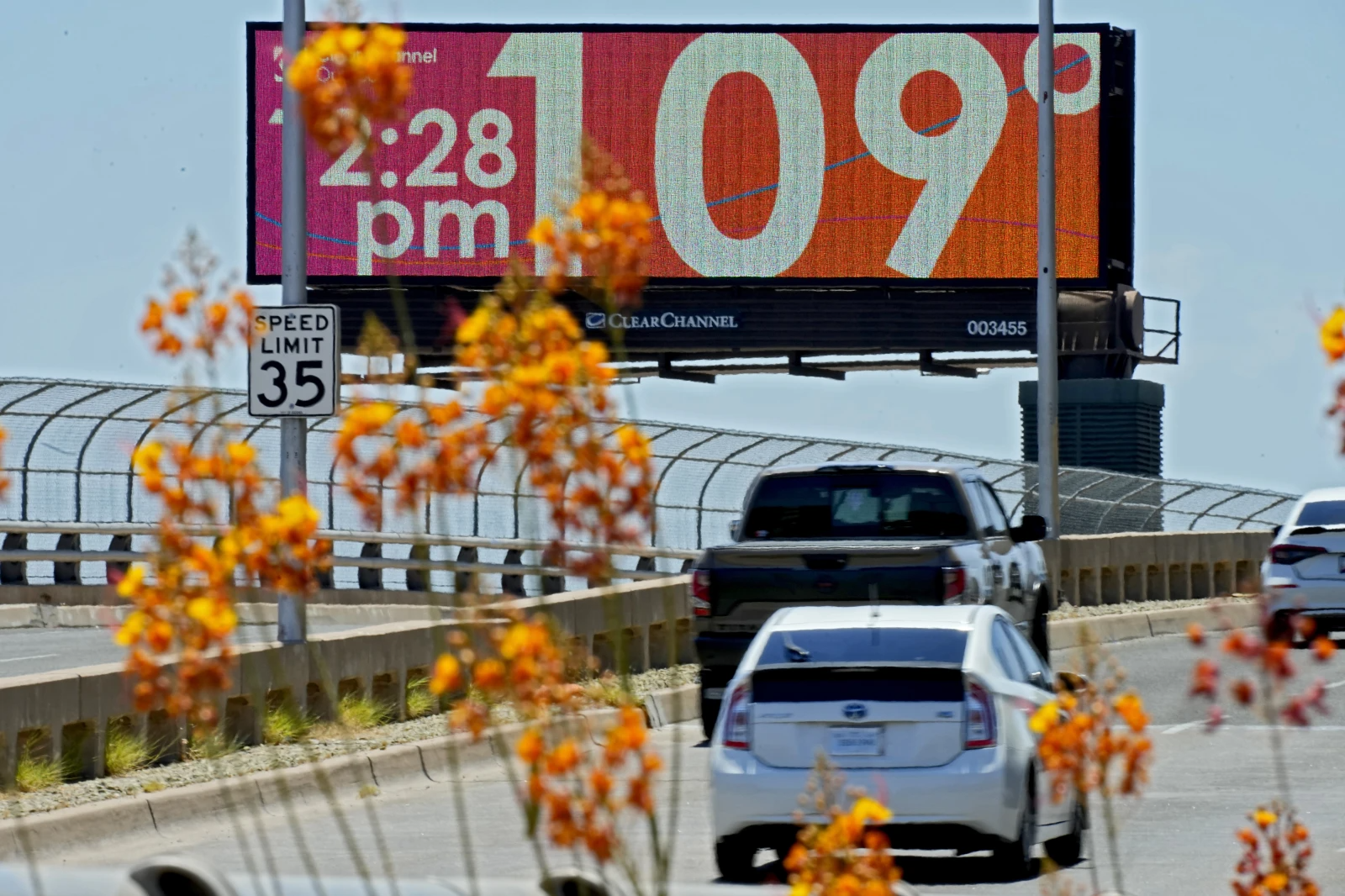 "Heat waves are deadly, especially for the homeless, for people who work outdoors or for those who have inadequate air conditioning," Jacobs said. "It is especially hard for older people and those with underlying health conditions to stay hydrated."
Such heat can hit Indian Country particularly hard. Jacobs said about 30% of the population of the Hopi and Navajo reservations lack running water and air conditioning and aren't near cooling centers. That's especially unfair because "tribal members have contributed very little to greenhouse gas concentrations," she said.
Another aspect of heat waves that disproportionately affects certain communities is the urban heat island effect, where cities are warming because of buildings and lack of trees and greenspace, said Dr. Jonathan Patz, a professor of health and the environment at the University of Wisconsin-Madison.
A study published two years ago in the journal Nature Communications found that people of color face more extreme temperatures compared to non-Hispanic white people, and poor people must deal with hotter temperatures than rich people.
Phoenix's majority Hispanic neighborhoods tend to have less tree canopy than other parts of the city.
And one of the hottest neighborhoods in the city is Edison-Eastlake, a historically Black neighborhood east of downtown that has become majority Latino, where in past years temperatures have reached as much as 10 degrees higher than other parts of the city.
Arizona State University researchers are conducting a heat study of the neighborhood, which is home to the largest collection of public housing in Arizona, to gauge whether temperatures ease as it undergoes redevelopment aimed at better protecting residents from extreme heat. Any conclusions so far have not been made public.
Hondula, the Phoenix heat officer, was involved in that study several years ago as a researcher at the university.
"It's very clear that heat has disproportionate impacts on some communities," he said. "That's where we can and should work."