Wickedpedia
What is Moxie's 'distinctively different' flavor?
"It's kind of this indescribable, indistinguishable mystery in your soda, and that's kind of what makes you keep wanting some more, because you can't quite put your finger on it."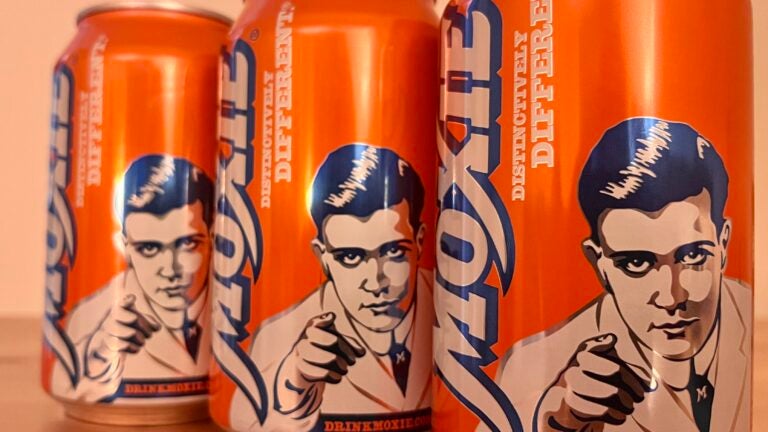 Frank Anicetti had a golden rule when it came to trying Moxie, New England's home-grown — and peculiarly polarizing — carbonated beverage.
"On the first taste, you may want to spit it out and throw it away. On the second taste, you may want to do the same, but don't. Wait for that third taste to allow the true flavor of Moxie to tickle the taste buds," Anicetti, known affectionately to Mainers as "Mr. Moxie," once said.
While it's the official state soft drink of Maine, Moxie's origins can actually be traced back to Lowell, Massachusetts, where Maine native Dr. Augustin Thompson invented "Moxie Nerve Food" as a patent medicine in 1876. The key ingredient was gentian root, an herb traditionally used to aid digestion and inflammation.
"They originally said that it would cure everything from halitosis to hangnails," cracked Merrill Lewis, a longtime Moxie fan and former president of the New England Moxie Congress — a fan club of sorts.
According to the University of Massachusetts Lowell, the drink was first bottled and sold commercially in 1884, and the carbonation came a year later. Now owned by Coca-Cola, Moxie proclaims itself the oldest continually produced soft drink in the U.S.
These days, Moxie taste-testing videos abound online, where one person on TikTok described the drink's smell as "root beer mixed with cleaning solution." Another on YouTube said Moxie "smells like a post-Civil War hospital, before anesthesia was invented," and described notes of anise and fennel seed.
And the flavor? As the soda's tagline puts it, "Distinctively different."
'Make mine Moxie!'
Along the way, the brand became known for its electric-orange packaging, quirky advertising, and "Moxie Boy" mascot. There was even the Moxie Horsemobile, a life-sized horse statue fixed to a car in an unusual feat of auto — or equine? — engineering.
"Somebody came up with the bright idea of mounting a horse on top of a car and driving it around," Lewis explained. "It was an advertising gimmick, and they had a fleet of these horsemobiles right up through the 1930s or so."
There were Moxie endorsements from Red Sox icon Ted Williams, President Calvin Coolidge, and author E. B. White, who is said to have written, "Moxie contains gentian root, which is the path to the good life."
And there was Frank Anicetti, a man who championed Moxie until his death in 2017 and loved the drink enough to create the Moxie Festival in Lisbon, Maine, in 1982.
Still going strong more than 40 years later, the annual festival draws tens of thousands of people with activities that include a parade, recipe contest, chugging contest, and even a Moxie 5K road race.
"People kind of like it because it's a challenging race, and Moxie is a challenging flavor, so it kind of goes hand in hand," explained Kate Madore, assistant director of Lisbon Parks & Recreation, which runs the festival.
As a cultural phenomenon, she explained, Moxie is almost a celebration of life in all its quirky, creative, offbeat, and mysterious ways.
"If you're somebody who doesn't want to go with the mainstream, you're gonna say, 'You know that bright orange bottle with a word that nobody really knows what it means? That's for me.' It's unapologetic."
OK, but what does Moxie taste like?
The ingredients list, which mentions "gentian root extractives" and "natural and artificial flavors," offers few clues to Moxie's taste.
"People are going to tell you that it tastes like castor oil," Madore said. "A lot of people describe it as having kind of a licorice flavor, but that can be off-putting for some people who don't like licorice. I've heard it described as like an herbal or a little bit more medicinal root beer."
Lewis offered a similar description: "One of our members describes it as root beer on steroids," he said. "There is a bittersweet component to it."
The bitterness, a result of the gentian root, has softened a bit over the years as the amount of sweetener in the formula fluctuated, he said.
But, Lewis added, "it's still got a little bit of a kick and an aftertaste that people either say is fantastic or blech." (For the record, he finds Diet Moxie superior in taste.)
Moxie's flavor continues to confound nearly 150 years after its creation, though Madore said a recent conversation turned up one of the more accurate descriptions she's heard.
"They said, 'It's like a cola with a mystery,'" she recounted. "And that mystery is what Moxie is — it's kind of this indescribable, indistinguishable mystery in your soda, and that's kind of what makes you keep wanting some more, because you can't quite put your finger on it."
Newsletter Signup
Stay up to date on all the latest news from Boston.com