Wickedpedia
How did Marylou's Coffee become a South Shore staple?
"I don't know and don't want to know how much sugar is in this drink, but sometimes you just have to treat yourself!"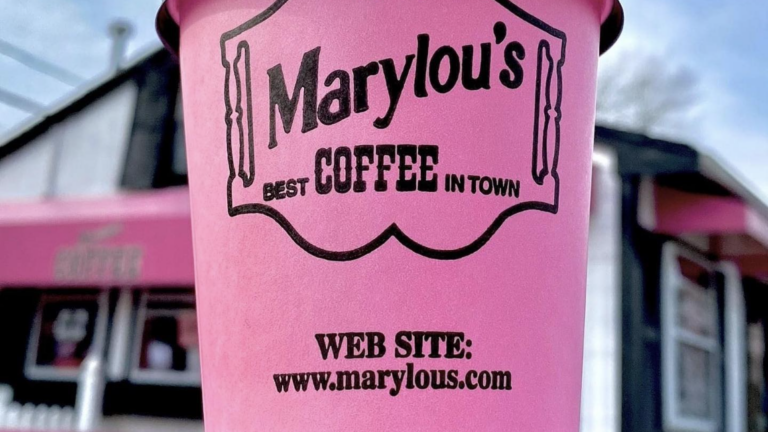 Some Bay Staters get their morning cup of coffee in the form of a large iced regular from Dunks, come snow or sunshine. For others, it's got to be Starbucks' latest seasonal concoction.
But for many on the South Shore, that morning jolt of caffeine comes packaged in a bright pink cup, served up by a perky barista and packing a walloping burst of flavor and sweetness.
And it all comes courtesy of Marylou's Coffee, home of the "Best Coffee in Town."
But how did Marylou's become a South Shore staple?
That story begins in 1986, when founder Marylou Sandry took over a convenience store in Hanover and transformed the single shop into a coffee empire. Marylou's now boasts 43 locations — stretching from Waltham down into Rhode Island — but the chain's biggest feat may have been building a cult following in solidly Dunkin' territory.
Today, Marylou's earworm jingles and fuchsia color scheme have become almost as recognizable as the coffee itself. But believe it or not, Marylou's signature color wasn't always pink.
In fact, it started out yellow.
"I thought it was bright and sunshiny, but a customer said it made us look jaundiced," Sandry told The Boston Globe in 2016. "Then I saw an article that talked about painting walls in prisons pink to calm the inmates, and thought, well, that's a good thing."
Sandry did not respond to Boston.com's interview requests.
From its early days, Marylou's made a name for itself by hiring cheerful, fun, warm, and upbeat employees almost exclusively.
"They have to be able to smile and be fun to be with," Sandry told The Enterprise in 2009. "We want our customers to feel they had a good time and want to come back."
Those same hiring practices raised eyebrows at the U.S. Equal Employment Opportunity Commission in 2012. But after investigating the coffee chain over its alleged tendency to hire young, pretty, and female employees, the agency cleared Marylou's of the discrimination charges.
Then, of course, there's the long list of specialty coffee flavors, which features notable standouts like the Funky Fanabla, Funny Bone, and A.O.K. Cookie. Nutty, caramel, minty, or fruity — whatever flavor profile you're after, Marylou's likely has something on the menu.
Boston.com recently asked readers to share their favorite Marylou's orders, and Minty Lou tied with Girl Scout Cookie for the most recommendations.
"This coffee might actually be better than a girl scout cookie!" Lindsey W. of Bourne said of the latter. "I do add a shot of espresso — their espresso is delicious, smooth with almost a chocolate nut flavor of its own. I don't know and don't want to know how much sugar is in this drink, but sometimes you just have to treat yourself!"
Other drink orders sparked similarly enthusiastic responses.
"Funny Bone EVERY. Single. Time," said Mikayla from Dorchester. "They make it so yummy and it tastes like a cookie in a cup. I <3 Marylou's. I live in Dot and I will drive to Quincy to get it."
Devin from Brookline said Almond Joy is "the only flavor I have ever had from Mary Lou's in 20 years. It just has the best combination of flavors, [in my humble opinion]."
Mary from Quincy raved about the Funky Fanabla, writing, "I would inject this subcutaneously if I could."
And Felicia from Peabody said she'll drive down to the nearest Marylou's in Waltham once a month for her favorite, a large iced Tiramisu with three creams.
"Sometimes I order a second one in a large black with no ice just so I can enjoy it again the next day!" she wrote.
As Marylou's gradually expands its reach in New England, the company is continuing to build a name for itself in a world where having two Dunkin' locations just 120 feet apart is considered totally normal.
"When I am not in my own territory and I'm traveling elsewhere in the world, I go to Dunkin' Donuts myself," Sandry admitted in her interview with The Enterprise. "They put out a decent product. I'm sure they're not afraid of me. But when I go away for any length of time, I can't wait to come home and have Marylou's Coffee."
Newsletter Signup
Stay up to date on all the latest news from Boston.com