World
Kurt Maetzig, German film director; at 101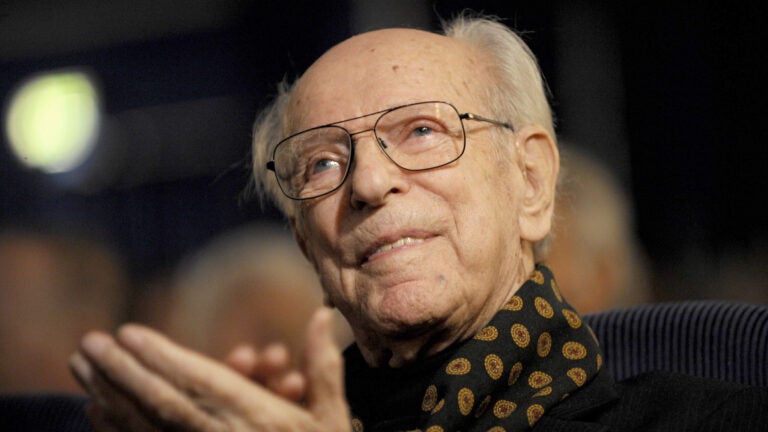 NEW YORK — Kurt Maetzig, a pioneering figure in East Germany's socialist film industry after World War II who became one of the country's most respected directors, not least for compelling Germans to acknowledge their Nazi past, died Aug. 8 at his home in Germany. He was 101.
German news organizations, quoting a family member, said he died in the village of Wildkuhl in the former East German state of Mecklenburg-Vorpommern, where he had lived for many years.
Dr. Maetzig was a founder of East Germany's main film studio at the close of World War II, and in a three-decade career he directed about 30 feature films and documentaries. In most of them he carefully observed the ideological boundaries set by the ruling Communist Party.
But his 1965 film, ''The Rabbit Is Me,'' pushed the limits of cinematic criticism by portraying hypocrisy in the criminal justice system. Party leaders attacked the film as counterrevolutionary, banned it, and urged him to issue a humiliating public self-criticism, which he did. He later said that he had feared imprisonment, but that he had come to regret his capitulation as an act of ''self-pollution.''
Dr. Maetzig's earliest films scrutinized anti-Semitism, corporate complicity with fascism, and other fault lines in German society that had opened the way to Nazi rule. Stephen Brockmann, a professor at Carnegie Mellon University and author of ''A Critical History of German Film'' (2010), said Dr. Maetzig's films had helped East German cinema make its most important contribution to postwar Germany: coming to terms with the Nazi past.
''Kurt Maetzig will be remembered as a creator of many excellent films, which at their best critically addressed the German past and present at a high level of artistic skill,'' Brockmann said.
Dr. Maetzig was born on Jan. 25, 1911, in Berlin and studied chemistry, engineering, and business administration in Munich, earning a doctorate in 1935. He got early experience in the motion picture industry by working during university holidays at his father's factory, which, in the way that a book publisher turns an edited manuscript into books for distribution to bookstores, copied edited movies to mass-produce them for theaters.
His early film activities were cut short when the Nazis revoked his work permit because his mother was Jewish, and in 1944 he joined the German Communist Party, which was then working underground against the Nazis.
At the end of World War II, with most of Germany in ruins, Dr. Maetzig cofounded a collective that aimed to get film production back up and running, a goal shared by the Soviet generals in control of Berlin's eastern sector. After the establishment of the state corporation known as DEFA, which would oversee East German film production for the next four decades, Dr. Maetzig became one of its core filmmakers.
His earliest films were newsreel documentaries on topics like the performance in Berlin of the Soviet Red Army Choir, according to a biographical website created by former DEFA colleagues in 2001.
His first feature film, ''Marriage in the Shadows,'' released in 1947, was a partly fictionalized retelling of the true story of an actor and his Jewish wife who committed suicide rather than accept deportation to the death camps. According to DEFA, it was the only postwar German film shown simultaneously in all four sectors — Soviet, American, British, and French — of occupied Berlin.
East Germany's leaders, including the party boss Walter Ulbricht, wanted films to show the inevitable victory of socialism and to feature worker heroes. Still, it was clear from several of Dr. Maetzig's early films, including ''Council of the Gods,'' which had its premiere in 1950 and focused on a chemical conglomerate that produced poison gas for the Nazi death camps, that he was allowed considerable creative freedom.
But in ''Ernst Thaelmann: Son of His Class'' and ''Ernst Thaelmann: Leader of His Class'' — twin films portraying the life of the leader of the German Communist Party, whom the Nazis murdered at Buchenwald — party leaders repeatedly interfered, demanding screenplay rewrites.
''Ulbricht and other party leaders sought to create an icon whose every thought, word, and action promoted proletarian revolution,'' Russel Lemmons, a professor at Jacksonville State University in Jacksonville, Ala., wrote in a 2007 study of the Thaelmann films.
Dr. Maetzig himself later acknowledged the damage wrought by the official meddling.
''It's terrible,'' he said of one of the films in a 1996 interview. ''When I saw it once again, I had red ears and was ashamed.''
In the early 1960s, Dr. Maetzig believed the party was encouraging artists to take a more critical view of socialist life. The Soviet leader Nikita Khrushchev, during a visit to East Germany, even told Dr. Maetzig at a reception that he should ''provoke a little'' to shake up the party, the filmmaker recalled in a 1999 interview.
It was in that context that Dr. Maetzig filmed ''The Rabbit Is Me,'' an exploration of official corruption in which a young waitress falls in love with a married judge who had jailed her brother as a subversive and was recognizable as one of the many opportunistic East German officials whose positions shifted with the ideological winds.
Before the film's premiere, however, Soviet hard-liners deposed Khrushchev and ordered a crackdown, and the film came under attack at the 1965 Communist Party summit meeting in East Germany. Dr. Maetzig was told to issue a public statement of self-criticism, which kept him out of prison and saved his career.
''I believed I was firmly in line with the party,'' he said publicly. ''It has only now become clear to me that I got out of line, and I don't even know if I've gotten to the bottom of it yet.''
Ulbricht published an open letter to Dr. Maetzig softening the official criticism.
''When I read the letter in the paper my first thought was, 'We'll make it, the trials are off, we won't all be going to prison.' '' Dr. Maetzig recalled later.
But there were other consequences.
''Distancing myself from the film, by means of this display of self-criticism, when the film so clearly reflected my own beliefs, was of course a disgraceful act of self-pollution and I lost many friends,'' Dr. Maetzig said.
Dr. Maetzig retired in 1976.
He was married four times and had three children, according to Ines Walk, who researched a biographical sketch for a German film website.