World
Secretary of State John Kerry says waiting on Congress makes Syria response more powerful, cites new evidence of chemical attack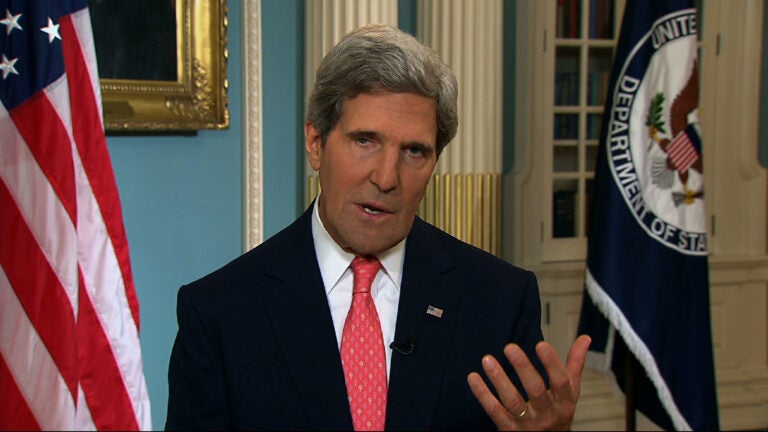 WASHINGTON — Secretary of State John F. Kerry said on Sunday urged lawmakers to approve strikes on Syria to preserve the "core to American credibility in foreign policy,'' underlining the gamble President Obama took in putting the question to a wary Congress.
Upping the stakes, Kerry pointed to what he characterized as new evidence that Syrian President Bashar al-Assad had used chemical weapons in an attack that allegedly killed 1,400 people last month: signatures of sarin gas on hair and blood samples taken from first responders in East Damascus.
As Kerry campaigned for the military action on five morning talk shows, he insisted that Obama's sudden decision to seek legislative approval, and to allow for more than week to begin debate, would help the administration build the case and make the military response to Syria "much more powerful.'' He predicted Congress would approve a resolution authorizing force against the Assad regime.
"This is a matter of national security. It's a matter of the credibility of the United States of America,'' Kerry said on CNN's State of the Union. "It's a matter of upholding the interests of our allies and friends in the region.''
Many in Congress had been pressuring Obama to seek legal authority before launching strikes. But several lawmakers argued on Sunday that Obama's shift in position, after declaring a "red line'' against chemical weapons and preparing for imminent strikes throughout the week, has already damaged the United States's credibility, emboldening Assad and other rogue leaders who might use or employ chemical and nuclear weapons.
"I'm afraid what is shown is weakness there,'' said Senator Saxby Chambliss, a Georgia Republican, on CBS''s Face the Nation. "The world is watching. Our allies are watching as well as our adversaries.''
The clash of views on the television talk shows provided a preview of the difficult road ahead that Obama faces in persuading Congress to approve his resolution to use force.
"After 12 years of war, post 9-11, folks do have fatigue and even a sense of skepticism about assertions with regard to, you know, presence of weapons of mass destruction.,'' said Senator Timothy M. Kaine, a Virginia Democrat who said he is likely to support Obama's resolution, on CBS.
There was debate among leading lawmakers over what Congress will do when the full House and Senate return to session Sept. 9, following a long recess. Several lawmakers said that if a vote were taken immediately, it might fail in the Republican-controlled House, making it crucial that Obama build popular support in the coming days. Congress has large factions of conservative Republicans and liberal Democrats who are leery of military intervention abroad as well as hawks who have argued Obama's response is inadequate. And public opinion is tepid, according to polls.
"If we get involved, you know, people say, 'Well, 100,000 people have died, we must act,''' said Senator Rand Paul, a Kentucky Republican generally opposed to military involvement overseas, on NBC's Meet the Press. "Well, if our weapons get involved, and we get involved, do you think more people will die or less people? I think the war may escalate out of control. And then we have to ask ourselves who is on America's side over there? If the rebels win, will they be American allies?''
But even as Kerry argued for support, he was on the defensive Sunday, advocating delay only three days after making the administration's most impassioned, and seemingly urgent case for military intervention.
"I made a powerful call for action,'' Kerry said on Fox News Sunday. "I never mentioned the word quick.''
Kerry argued that the delay would not hamper the military effort, which he and Obama have described as limited and intended to send a message to Syria, Iran, North Korea, and other countries that chemical weapons cannot be used with impunity. The US military, Kerry said, has assured the president that the effect of the strikes will not be dulled by waiting.
He said Assad is already "on the defensive. He's moving assets around. He's hunkering down.''
Kerry even insisted that reports of Assad's triumphant declarations that the US had cowered from a confrontation would backfire against the regime as Congress takes a closer look.
"The more he stands up and crows, the more he will help this decision be made correctly,'' Kerry said on ABC's This Week.
That argument may ultimately win the day with some of Obama's skeptics. Senator John McCain, an Arizona Republican who has been urging more aggressive action against Assad for more than a year, did not commit to supporting Obama's resolution Sunday. He criticized limited cruise missile attacks as "pin-pricks'' in the face of a civil war that has left 100,000 dead and he said that Obama had no real plan or strategy. But McCain signaled that he would eventually sign on.
"A reversal at this point has serious consequences as far as the steadfastness and purpose of this administration,'' McCain said on Face the Nation.
Likewise, Representative Mike Rogers, a Michigan Republican who chairs the House Intelligence Committee, predicted the House would approve the military strikes. Like many in Congress, he supports letting lawmakers weigh in before any strikes are launched and said Obama had made the right decision to wait for debate.
"This is a national security issue,'' he said on CNN. "This isn't about, you know, Barack Obama versus the Congress. This isn't about Republicans versus Democrats. This has a very important worldwide reach in this decision.''