World
Does Coke's New Ad Feature Exploited Workers for a PR Stunt?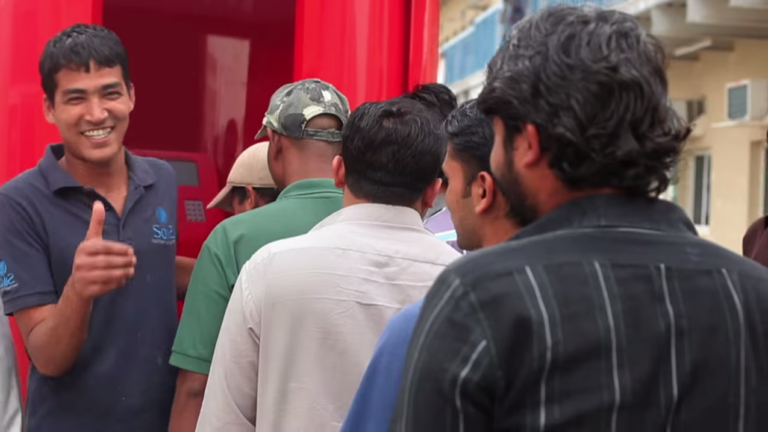 Coca-Cola wanted to help South Asian migrant workers in Dubai call their families. Workers there make an average of $6 per day, and a call home costs about 91 cents per minute, according to Coke.
The company's solution? Buy more Coke!
Coca-Cola installed phone booths that work on Coke bottle caps. One cap gives a worker three minutes of call time. The ad shows scores of happy workers taking time to call home in the brilliantly Coke-Red phone booths.
[fragment number=0]
Each cap gives you three minutes of phone time with your family. In Dubai, a 2-liter bottle of Coke costs about $1.39, according to cost-of-living website Expatistan. That makes a bottle-cap call cheaper than the $2.73 it would cost otherwise.
Is this a sweet gesture to help the lives of migrant workers and their families, or is this a corporate giant using the plight of some of the poorest workers in the world as a PR ploy? Is it both?
The 2014 Human Rights Watch report said the UAE has not made promised improvements in migrant worker living conditions.
[fragment number=1]
In September 2013, the group found that workers in the UAE had to pay illegal "recruitment'' fees to get work in the Gulf region. And in January 2014, a Human Rights Watch worker was denied entry into the UAE at all.
Also in January, a UAE company called in police to help break a strike from workers whose demands included more pay and the free food they were promised when they signed up for the jobs, according to Al Jazeera.
So behind that backdrop, are we really asking workers to have a Coke and a smile?
While the gesture does save the workers a little money, and Coke wasn't obligated to do anything at all about worker conditions in the area, some people who have watched the ad felt it was exploitative, including Wall Street Journal blogger Tom Gara:
[fragment number=2]
[fragment number=3][fragment number=4]
Others, however, took the gesture at face value and applauded Coke for the effort:
[fragment number=5]
[fragment number=6]