World
Israel Resumes Attacks After Militants Spurn Cease-Fire Plan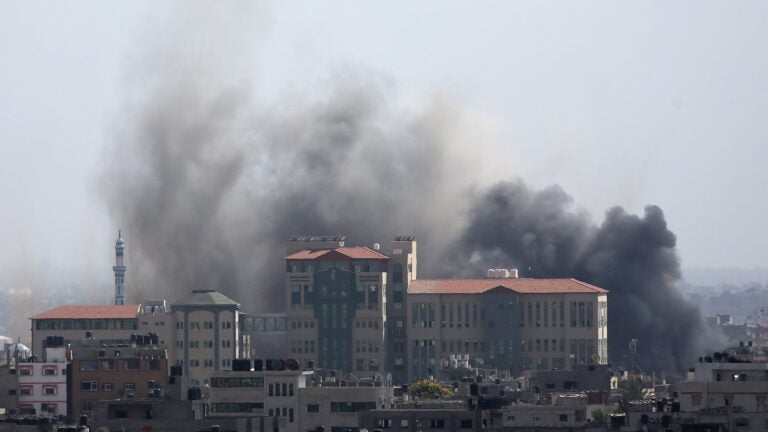 JERUSALEM — Hostilities between Israel and Palestinian militants in the Gaza Strip continued Tuesday, despite Israel's initial embrace of an Egyptian cease-fire proposal, which the Islamist Hamas movement appeared to reject.
Israel announced at 9 a.m. Tuesday that it had accepted the Egyptian initiative, but a barrage of nearly 50 rockets from Gaza continued to fly into its territory over the next several hours. By 3 p.m., Lt. Col. Peter Lerner, an Israeli military spokesman, confirmed that "we've resumed some striking in Gaza,'' but would not provide specifics. At least one airstrike hit Gaza City.
Prime Minister Benjamin Netanyahu of Israel had said earlier that he would respond with force if the rockets did not stop.
"We agreed to the Egyptian proposal in order to give the opportunity to deal with demilitarization of the strip from missiles, rockets and tunnels through diplomatic means,'' Netanyahu said, after a meeting with German Foreign Minister Frank-Walter Steinmeier. "But if Hamas does not accept the cease-fire proposal, as it looks now, Israel will have all the international legitimacy in order to achieve the desired quiet.''
Leaders of Hamas have not officially responded to Israel's acceptance of the Egyptian proposal, which would halt the aerial battle that began on July 7 and calls for Israeli and Palestinian delegations to travel to Cairo within 48 hours to negotiate further terms.
Mousa Abu Marzouk, a Cairo-based leader of Hamas, said in a message posted on Twitter around the time the rockets were flying that the organization was still "consulting'' and had "not issued an official position on the Egyptian initiative.''
A Twitter post, in Hebrew, by Hamas' military wing, the Izzedine al-Qassam Brigades, took responsibility for the rockets that were fired at Israeli cities Tuesday, adding, "We will continue to bombard until our conditions are met.''
The current hostilities, in which 185 Palestinians and no Israelis have been killed, are the third intense flare-up between Israel and the Palestinians in Gaza in less than six years. They began more than two months after the spectacular collapse of U.S.-brokered peace talks and a month after the swearing-in of a new Palestinian government that was based on a reconciliation pact with Hamas.
Tensions had been rising since the June 12 abduction and killing of three Israeli teenagers in the occupied West Bank, which Israel blamed on Hamas, and the July 2 kidnapping and killing of a Palestinian 16-year-old in an apparent revenge attack by extremist Jews.
In Gaza City, outside Shifa Hospital, which has treated many of the conflict's worst casualties and become a focal point of mourning and defiance, several dozen people cheered as a rocket ripped skyward, leaving a white contrail.
"Ya Qassam, ya habib,'' they chanted, referring to the Hamas military brigades that fire the rockets. "Strike, strike Tel Aviv.''
The response was a stark contrast from 2012, when an Egyptian-brokered cease-fire that ended eight days of cross-border violence was greeted by street parades celebrating it as a Hamas victory. A Hamas security official outside the hospital, who gave only a nickname, Abu Mahmoud, pointed at the rocket and said, "This is our celebration.''
He referred to the cease-fire proposal as "only a way for Egypt to save face'' and said bluntly, "We don't accept it.''
The Egyptian proposal, which was embraced by the United States, the Arab League and the Palestinian Authority, calls for border crossings into Gaza to "be opened,'' and for the movement of people and goods to be "facilitated once the security situation becomes stable on the ground.''
Some Israeli politicians criticized the cease-fire plan, saying that not enough damage had yet been inflicted on Hamas's infrastructure and weapons caches. Haaretz, an Israel daily, reported that the foreign minister, Avigdor Lieberman, and the economy minister, Naftali Bennett, had voted against it in the morning meeting of top ministers known as Israel's security Cabinet.
Uri Ariel, the housing minister who is in Bennett's far-right party, called the decision "a strategic mistake akin to building a train without paving the last kilometer.'' On Twitter, he cracked that previous Israeli operations in Gaza had led to quiet for three years and 18 months, while the latest calm lasted an hour — "impossible to say there is no progress.''
Danny Danon, the deputy defense minister and a frequent critic of Netanyahu from within the prime minister's own Likud Party, described the cease-fire as "a slap in the face of all the residents of Israel.''
And Isaac Herzog, the head of Israel's Labor Party and leader of the opposition in parliament, said: "If the cease-fire doesn't lead to forward movement in the peace process it is useless.''
But some analysts had said there were no downsides to Israel's embrace of the cease-fire: The Egyptian cease-fire would either lead to a genuine calm that benefits both sides or, if Hamas rejects the terms, provide Israel with cover to continue the conflict.
"If Hamas looks at the cards it has been dealt — and they are very weak cards indeed — resuming military operations against Israel is not a good hand to play,'' Michael B. Oren, Israel's former ambassador to the United States, told reporters on Tuesday in a conference call organized by The Israel Project, an advocacy group.
The developments followed a relatively quiet night, in which the Israeli military bombed 25 sites in Gaza, killing five people in the southern cities of Rafah and Khan Younis, according to the Gaza Health Ministry; about 1,400 others have been wounded.
Ashraf al-Qedra, the Health Ministry spokesman, and local journalists said that Ismail and Mohammed Najjar, relatives in their 40s who worked as guards on agricultural land in a former Israeli settlement in Khan Younis, were killed early Tuesday. In Rafah, drone strikes killed Atwa al-Amour, a 63-year-old farmer, and Bushra Zourob, 53, a woman who was near the target, a man on a motorbike, who was wounded.
An Israeli military spokeswoman said Tuesday that Israel had hit 1,609 targets in Gaza during the eight-day operation, and counted 1,090 rockets fired into Israel, 193 of which had been intercepted by the Iron Dome missile defense system.
That did not include the assault that began after Israel's acceptance of the cease-fire proposal: more than 30 rockets were fired between 9 a.m. and 1 p.m., the military said, mainly aimed at southern areas but also as far north as Haifa and Rehovot.
In Ashdod, a city not far from Gaza that has been pummeled throughout the week, a villa overlooking the sea was directly hit and five surrounding buildings were sprayed with shrapnel.
Gay Dery, 30, had just woken up and did not make it into the bomb shelter — he was lucky, he said, because it ended up being filled with flying debris. Johanna Hizkiya, 32, was still trembling an hour later as a soldier held her child near their home, which was covered in broken glass.
"Everything just flew in the air on us,'' Hizkiya said. "The door flew.''