World
Obama calls the way David Ortiz, Boston responded to terrorism 'one of my proudest moments as president'
"Probably the only time that America didn't have a problem with somebody cursing on live TV."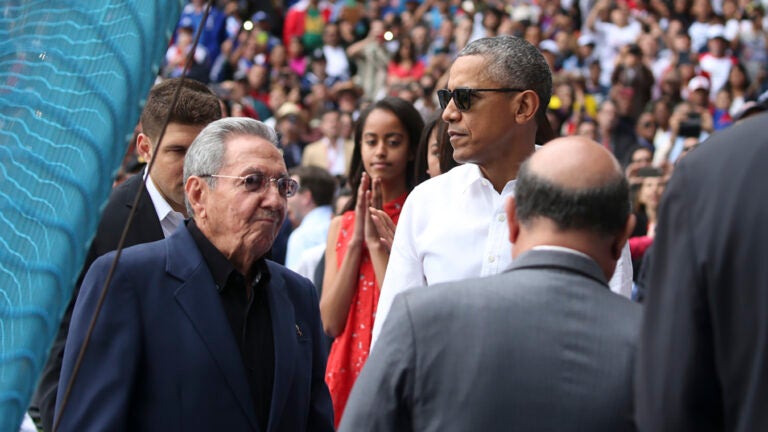 Hours after terrorist attacks hit Brussels, President Barack Obama was asked Tuesday for his reaction to the horrific events during a scheduled appearance at an exhibition baseball game in Cuba. Fitting with the location, the president praised the way Boston, in particular David Ortiz, responded to the 2013 marathon bombing.
"The whole premise of terrorism is to try to disrupt people's ordinary lives," Obama told a group of ESPN announcers Tuesday in the stands at the game, part of his landmark trip to Cuba.
http://espn.go.com/video/clip?id=15044660
"One of my most powerful memories and one of my proudest moments as president was watching Boston respond after the marathon," the president said, specifically noting David Ortiz's famous speech before the first game at Fenway Park following the attack.
"Probably the only time that America didn't have a problem with somebody cursing on live TV," Obama said Tuesday, "was when he talked about Boston and how strong it was and that it wasn't going to be intimidated."
During a ceremony before the April 20, 2013 game, Ortiz took the microphone and told the crowd: "This is our f[——] city, and nobody is going to dictate our freedom. Stay strong."
Even though the speech aired on live national TV, as well as radio, Federal Communications Commission chairman Julius Genachowski (a Brookline native) announced no punishment would be levied.
David Ortiz spoke from the heart at today's Red Sox game. I stand with Big Papi and the people of Boston – Julius

— The FCC (@FCC) April 20, 2013
"And that is the kind of resilience and the kind of strength that we have to continually show in the face of these terrorists," Obama said Tuesday.
By the end of the day, the attacks in the Belgian capital had claimed at least 31 lives.
But Obama assured that terrorists "cannot defeat America" and do not appeal to the vast majority of Muslims or people around the world.
"What they can do is scare and make people afraid and disrupt our daily lives and divide us," he said. "And as long as we don't allow that to happen, we're going to be OK."