World News
Powerful earthquake strikes Japan
The Japanese weather service reported the quake's preliminary magnitude as 7.1 but said there was no danger of a tsunami.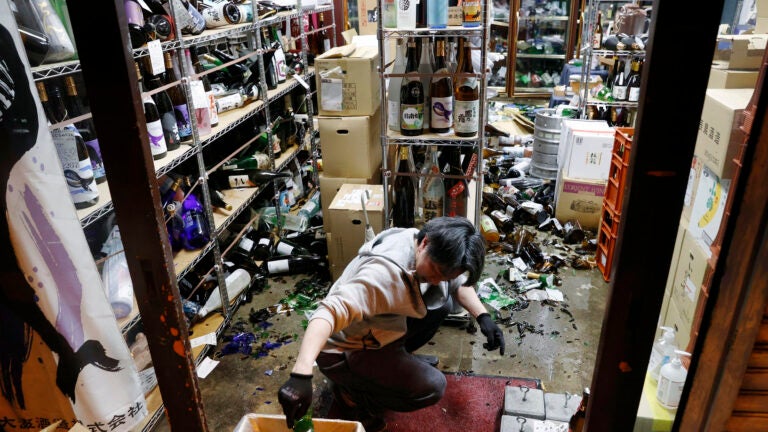 TOKYO — A large earthquake shook a broad area across eastern Japan late Saturday, with its epicenter off the coast of Fukushima, near where three nuclear reactors melted down after a quake and tsunami nearly 10 years ago.
The Japanese weather service reported the quake's preliminary magnitude as 7.1 but said there was no danger of a tsunami.
Coming a little less than a month before the 10th anniversary of what is known as the Great East Japan earthquake, the quake rattled the greater Tokyo area for about 30 seconds starting at 11:08 p.m. and was felt powerfully in Fukushima and Sendai.
No serious damage was immediately reported, but authorities warned residents to brace for aftershocks in the coming days.
The quake struck as Tokyo and nine other large prefectures are under a state of emergency to contain the coronavirus. Residents are encouraged to work from home and avoid going out at night, while restaurants and bars are closed at 8 each night.
Japan is also preparing to host the Summer Olympics, postponed by a year from 2020. The Games are scheduled to open July 23.
The prime minister's office immediately set up a crisis management office, and the Tokyo Electric Power Co., or Tepco, which operates the nuclear plants, said it was checking its monitoring posts in Fukushima to ensure that there were no radiation leaks.
In Minami Soma, one of the Fukushima villages evacuated after the nuclear disaster in 2011, NHK, the public broadcaster, reported that severe horizontal shaking lasted for about 30 seconds.
Tepco was checking all nuclear power plants in the affected region. According to NHK, the Kashiwazaki-Kariwa nuclear plant had suffered no damage.
According to Katsunobu Kato, chief Cabinet secretary to Prime Minister Yoshihide Suga, about 860,000 households were left without power across the affected areas. Several bullet train lines have been suspended.
Speaking on NHK, Takashi Furumura, a professor at the Earthquake Research Institute at the University of Tokyo, warned that a quake of this size could be followed within two or three days by another of similar scale.
He said the epicenter of Saturday night's quake was off the coast of Fukushima, likely about 37 miles below the sea.
Get Boston.com's browser alerts:
Enable breaking news notifications straight to your internet browser.