World News
Here's how to help Afghan refugees right now
"We want to be ready to welcome these families wherever they go."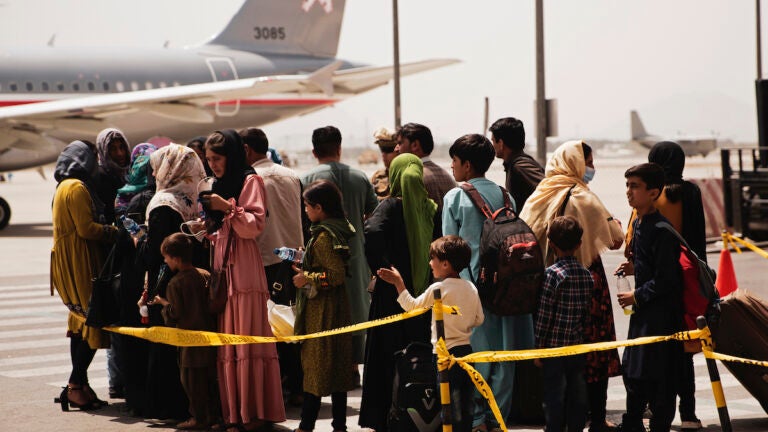 As the Taliban seized control of Afghanistan's capital city of Kabul this week, tens of thousands of Afghans are desperately trying to flee the country.
Afghan citizens have flooded the city's airport, with photos and videos that have now ricocheted around the world depicting some even jumping on a departing aircraft.
The Pentagon, on Thursday, said about 7,000 people had been evacuated since the start of the United States's evacuation program on Aug. 14, with a total of around 12,000 people having been moved out of the country, so far, CNN reports.
The Biden Administration has said that 2,000 Afghan special immigrant visa applicants — individuals that worked with the U.S. government over the past two decades — and their families have been relocated to military bases since mid-July, according to The New York Times.
Still, another 18,000 people are amidst the application process. Those individuals also have relatives eligible to accompany them — at least 53,000 more people, the newspaper reports. (Overall, some 300,000-plus Afghan civilians have assisted American forces in the last 20 years, although only a minority qualify for refugee status, according to the International Rescue Committee.)
Those slated to arrive in the United States won't be landing in Massachusetts specifically, but people in the Bay State who want to help Afghan citizens and refugees amid the turmoil have options to do so, Daniel Pereira, director of communications for the Massachusetts Immigrant and Refugee Advocacy Coalition, told Boston.com.
Pereira recommends supporting nonprofit organizations such as Women For Women International and the Lutheran Immigration and Refugee Service.
Women For Women International is accepting donations to support women in Afghanistan, which as its website underscores, is "one of the most difficult countries in the world in which to identify as a woman."
The group's "Stronger Women, Stronger Nations" program has reached over 127,000 women throughout the country since 2002, assisting women in learning their rights, earning a living, and influencing decision-making in their households, among other initiatives.
LIRS, meanwhile, is working to support the United States's Afghan allies. The organization is calling for volunteers to help support visa holders being evacuated to the U.S. (with ports of entry in Washington state, the Washington D.C. area, and Texas).
"We want to be ready to welcome these families wherever they go," the organization says on its website.
LIRS is also accepting monetary donations to support refugees: "When our Afghan allies and their families arrive as 'walk-ins,' they often have no money, nowhere to stay, and nothing to eat. Unfortunately, there is typically a 5-7 day gap between the families' arrivals and the services they are eligible to receive through the United States resettlement program."
A donation to "Neighbors in Need: Afghan Allies" will help provide clothing, housing assistance, and other resources for arriving refugees, LIRS says.
Also taking donations is the International Institute of New England, which expects "many more families to be resettled" in the region in the coming months, according to its website.
"While many Afghans remain in their home country as they try to secure Special Immigrant Visas to travel to the U.S., thousands of others have already fled Taliban violence for Pakistan, Turkey and other countries, with hopes to resettle through the P-2 Refugee program," the institute says. "Today, we have a moral responsibility to help them find safety in the United States."
With the backlog of thousands of visa applicants, Pereira said Massachusetts residents can also step up by calling on their government to expedite and expand visa processing.
"It's a really, you know, an important and valuable resource or pathway forward for people in Afghanistan who might be particularly at risk to get a visa to the United States and don't have one," he said.
He recommended writing to representatives in Congress, senators, and the Biden Administration to increase political pressure.
In Massachusetts, the state government appears poised to do what it can.
On Tuesday, Gov. Charlie Baker, in a tweet, wrote that the state "is ready to assist Afghan refugees seeking safety and peace in America."
Newsletter Signup
Stay up to date on all the latest news from Boston.com