World
'Afghan Girl' from National Geographic cover evacuated to Rome, Italian government says
In 1985, a photograph of Sharbat Gula jolted governments and society to acknowledge the human price of the conflict in Afghanistan.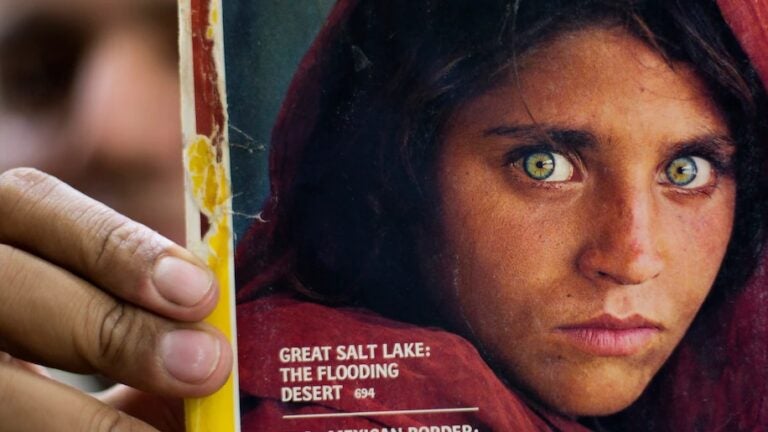 Two piercing green eyes and a penetrating stare stopped the world in its tracks in 1985. A photograph of Sharbat Gula became immortalized on the cover of National Geographic magazine, jolting governments and society to acknowledge the human price of the conflict in Afghanistan.
The haunting expression, a mixture of pain and resilience, of a child thought to be around 12, was dubbed the "Afghan Girl." She became a symbol of war, displacement, and defiance after American photographer Steve McCurry captured her image in a refugee camp in Peshawar, on the Afghan-Pakistan border.
More than 30 years later, Gula is displaced once again — as Afghanistan reels from conflict and instability after the hurried withdrawal of U.S. troops and the Taliban takeover in August.
Amid the upheaval, Gula, who had been living in Afghanistan since 2016, was offered a safe haven in Italy, the Italian government said this week.
"Afghan citizen Sharbat Gula has arrived in Rome," a statement from Italy's presidency of the council of ministers said. It added that she had come to "symbolize the vicissitudes and conflict of the chapter in history that Afghanistan and its people were going through at the time."
The Italian government acted after Gula made a plea for help to leave Afghanistan, it said, and it had worked with local and international charities and civil society to evacuate her.
Despite her face being internationally recognizable, Gula's identity and name were only found out and made public in 2002 after McCurry and a National Geographic team returned to the region to track her down. McCurry took a follow-up portrait of Gula and noted that despite aging, her eyes still powerfully glared.
Hers has seemingly not been an easy life. A widow in her early 50s and a mother of four, she was arrested in Pakistan in 2016 after police said she had forged national identity documents to live in the country, which she denied. She was jailed and later ordered to be deported.
In a high-profile homecoming, former Afghan president Ashraf Ghani welcomed Gula back "to the bosom of your motherland," in a grand reception. She was seen sitting in a palace armchair wrapped in a peacock-blue burqa as Ghani presented her with a key to an apartment.
Gula was one of millions of Afghan refugees who fled conflict and made neighboring Pakistan a home — although many have faced poor treatment and lack access to state facilities, such as health care and education, say aid workers. According to the United Nations' refugee agency, Pakistan hosts some 1.4 million Afghan refugees, making it the third-largest host of refugees behind Turkey and Colombia.
Italy was one of several Western nations that airlifted Afghans out of the country over the summer, as striking scenes saw hundreds of Afghans scramble to Kabul's main airport to seek international evacuation and safety. Human rights activists have said Gula was at risk given her high profile.
Although she is one well-known case, Italy's government said Gula was part of a "wider evacuation programme in place for Afghan citizens and the Government's plan for their reception and integration."
Photographer McCurry called Gula "the symbol of Afghan refugees" and said he was "delighted" to have worked with charitable organizations and philanthropists to help bring her to Europe. In a stark social contrast from the 1980s, cryptocurrency and NFTs were used to help fund her evacuation.
"We are grateful for this humanitarian gesture of the Italian government," McCurry added in a statement on social media.
McCurry took Gula's photograph in 1984 after several months of travel in the region crossing borders from Pakistan to Afghanistan, just as the Russians were closing the country to foreign journalists. After time spent embedded with mujahideen fighters, McCurry shared some of the first images of the Afghan conflict with the world, with Gula's image humanizing the conflict and later becoming synonymous with his career as an award-winning war photographer.