World
Mark your calendars: A total solar eclipse is due exactly one year from today
If you miss the solar eclipse on April 8, 2024, you'll have to wait another 20 years to catch one.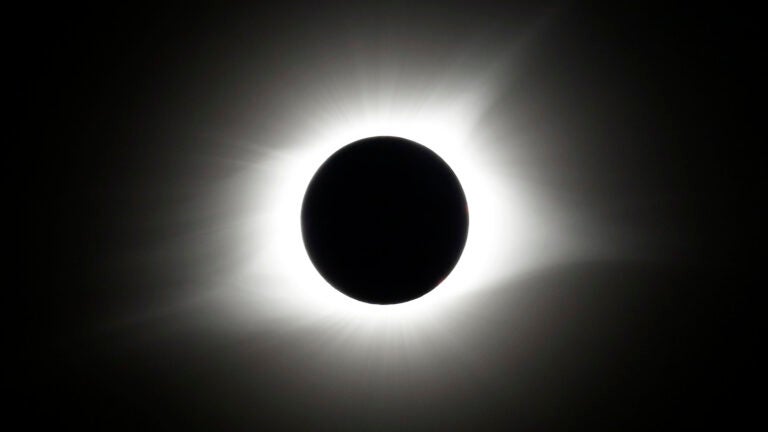 The first total solar eclipse to happen since 2017 is due to take place precisely one year from Saturday, on April 8, 2024.
According to NASA, next year's eclipse will pass over North America, starting over the South Pacific Ocean and then stretching across Mexico, the United States, and Canada.
It will be the first solar eclipse in the U.S. since Aug. 21, 2017. After April 8, 2024, it'll be another 20 years before a total solar eclipse sweeps across the U.S., and that one will only be visible in Montana and the Dakotas.
A solar eclipse happens when the moon passes in between the Earth and the sun, blocking out the sun's light. Viewers can see the eclipse if they're located where the moon's shadow completely covers the sun — a 115-mile wide area known as the "path of totality."
Nasa reports that Mexico's Pacific Coast will be the first location in continental North America to glimpse the solar eclipse. That will happen around 11:07 a.m. PDT.
In the U.S., the eclipse is expected to pass over Texas first, arriving around 12:23 p.m. CDT before traveling northeast to New England. According to NASA, the eclipse will then cross up through Oklahoma, Arkansas, Missouri, Illinois, Kentucky, Indiana, Ohio, Pennsylvania, New York, Vermont, New Hampshire, and Maine.
From Maine, the eclipse will enter Canada in Southern Ontario and continue through Quebec, New Brunswick, Prince Edward Island, and Cape Breton.
While total eclipses occur every year or two, they're typically not observable because they happen in remote areas. Other types of eclipses are also common; one is due later this year. The AP reports that an annular eclipse, which makes the sun appear like a ring of fire, will happen in the western U.S. on Oct. 14, 2024.
When New Englanders can see the solar eclipse on April 8, 2024
The April 8, 2024, solar eclipse will arrive in New England during the afternoon, and will be at least partially visible for about two-and-a-half hours. But viewers in Vermont, New Hampshire, and Maine in the path of totality will be able to see a total solar eclipse for about four-and-a-half minutes. Here's what to know.
Vermont
According to NASA, the eclipse will start to be visible in Burlington, Vermont at 2:14 p.m. EDT and peak at 3:27 p.m. EDT before ending around 4:37 p.m. EDT.
New Hampshire
Lancaster, New Hampshire will begin to see the eclipse around 2:16 p.m. EDT, with maximum visibility due at 3:29 p.m. EDT. The eclipse will last until 4:38 p.m. EDT.
Maine
The eclipse will begin to appear in Caribou, Maine around 2:22 p.m. EDT, will peak at 3:33 p.m. EDT, and will wrap up around 4:40 p.m. EDT.
NASA says sky gazers should wear specialized eye protection, or "eclipse glasses," while viewing the solar eclipse to avoid serious eye injury.
Newsletter Signup
Stay up to date on all the latest news from Boston.com