World
Biden brings some Boston energy to Ireland with raucous Dropkick Murphys entrance
President Joe Biden chose the right entrance music for his speech at an Irish cathedral Friday.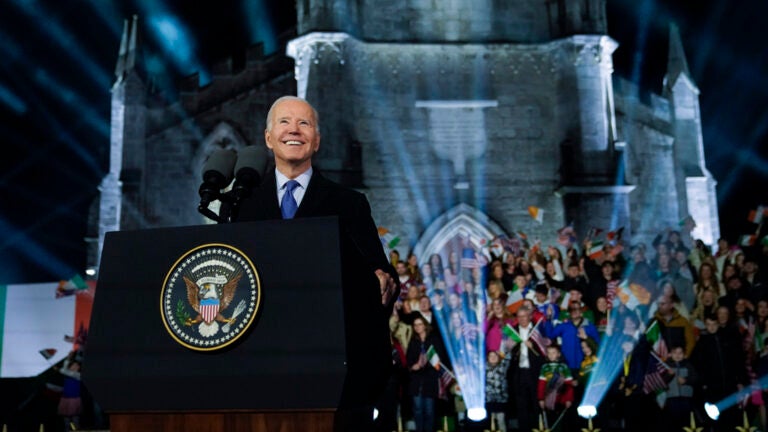 While wrapping up a four-day trip to Ireland Friday, President Joe Biden made an entrance that rivals that of a WWE star — or a rowdy night at a Boston pub.
President Biden walked onto stage in the Irish city of Ballina, County Mayo, as the Dropkick Murphys' iconic song "Shiping Up to Boston" and its unmistakable bagpipes blared to a crowd of fired-up revelers. And if the cheers and flying Irish flags were any indications, Biden's team made the proper musical selection.
Once at the podium, Biden opened his speech with a nod to an Irish tradition of placing a light in the window to guide strangers in the night by telling the crowd, "Mary, I see the light."
Social media users likened Biden's entrance to the type of badassery seen in the UFC or WWE, with one person tweeting, "Biden enters like McGregor when he was winning!" Another person posted, "Joe Biden coming out to Shipping up to Boston is surreal. A future WWE Champion in the making."
Another person said, "Whoever advised President Biden to come out to Shipping Up To Boston — you're an absolute ~legend."
One woman wrote, "Dropkick Murphys are one of my favourite bands ever. Joe Biden in Ireland coming out to 'I'm Shipping Up to Boston' is pretty awesome."
The president's Friday night speech at St. Muredach's Cathedral marked the last stop on his Irish tour.
Biden won't actually be shipping to Boston anytime soon — the president's next stop is Delaware, where he's expected to stay a few days at his home outside of Rehoboth Beach.
Newsletter Signup
Stay up to date on all the latest news from Boston.com