World News
Live Updates: Massachusetts reacts to Israel-Hamas War
Many in Massachusetts are feeling the impacts of the war.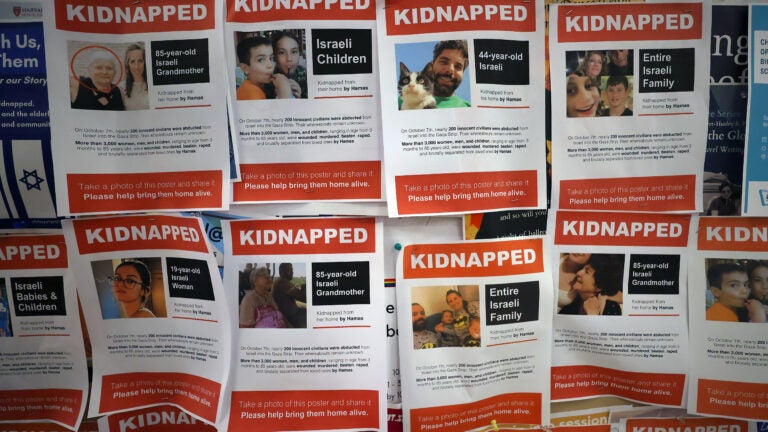 Fighters with the militant group Hamas rushed out of the Gaza Strip Saturday, sweeping through Israeli territory in a brutal surprise attack. Israeli Prime Minister Benjamin Netanyahu has said that the country is now at war, calling up more than 300,000 reservists. Thousands died in the initial attack and the days after, with Israeli troops retaking villages early this week and amassing at the border of the enclave.
The war sent reverberations around the globe, affecting many in Massachusetts. Follow here for live updates.
Students gathered on the MIT campus Friday afternoon for a vigil recognizing Palestinian lives lost in Gaza this week as Israel continues its bombardment of the area.
According to The Boston Globe, the event lasted 45 minutes and was attended by more than 100 people, many of whom wore masks to hide their identities. Attendees told the newspaper they feared retaliation for voicing their support for Palestinians. One of the speakers reportedly said the gathering was meant to serve as a space of "solace."
"You can condemn Hamas and get mad at whatever they do, but they are not the Palestinian government, they are just one group," a Bentley student told the Globe. "It doesn't mean Palestinians deserve to die at their cost."
Another student told the newspaper his family lives in one of the territories.
"There's a lot of fear and a lot of pain in this space," he said. "I just wish we didn't have to mourn with a mask on."
Cambridge on Friday also saw a Shabbat service held in solidarity with Israel on the Science Center Plaza at Harvard, according to the Globe.
The Gaza Health Ministry said Friday that roughly 1,900 people have been killed in the territory since the war between Hamas and Israel began. The violence began with an incursion by Hamas into Israel on Saturday, during which the militants killed more than 1,300 Israelis.
Fliers have been placed around MIT's campus showing pictures of the victims abducted during the Hamas attacks on Israel last weekend.
The Boston Globe reports that the posters were put up by the student group Mishelanu.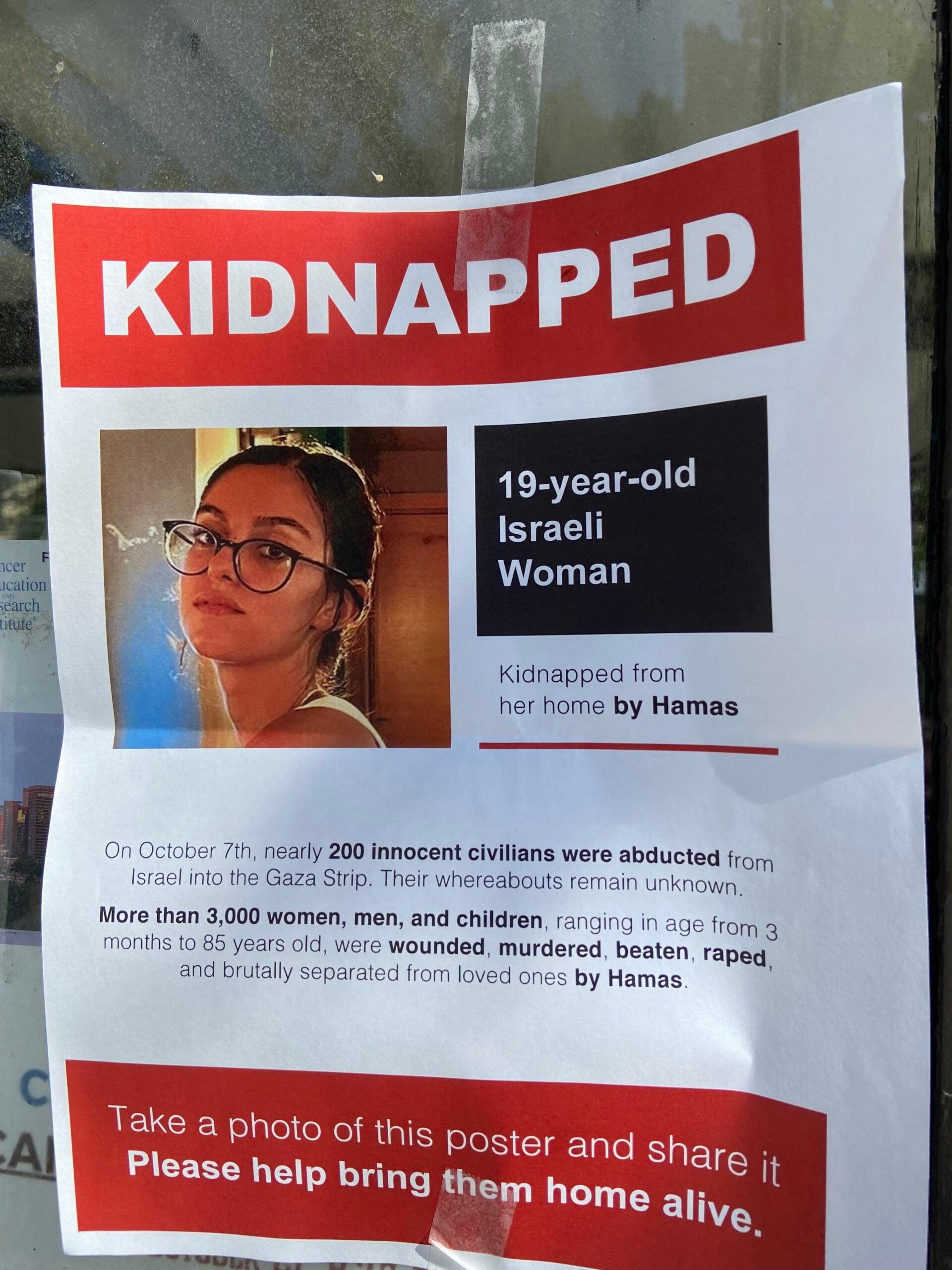 "Their whereabouts remain unknown," the fliers read. "More than 3,000 women, men, and children, ranging in age from 3 months to 85 years old, were wounded, murdered, beaten, raped, and brutally separated from loved ones by Hamas."
The fliers also ask that passersby take photos of the posters and share them.
As of Friday, officials said that more than 1,300 people have died following the brutal attacks by Hamas. Nearly 1,800 Palestinians have also died and more than 7,300 are injured from Israeli airstrikes in Gaza.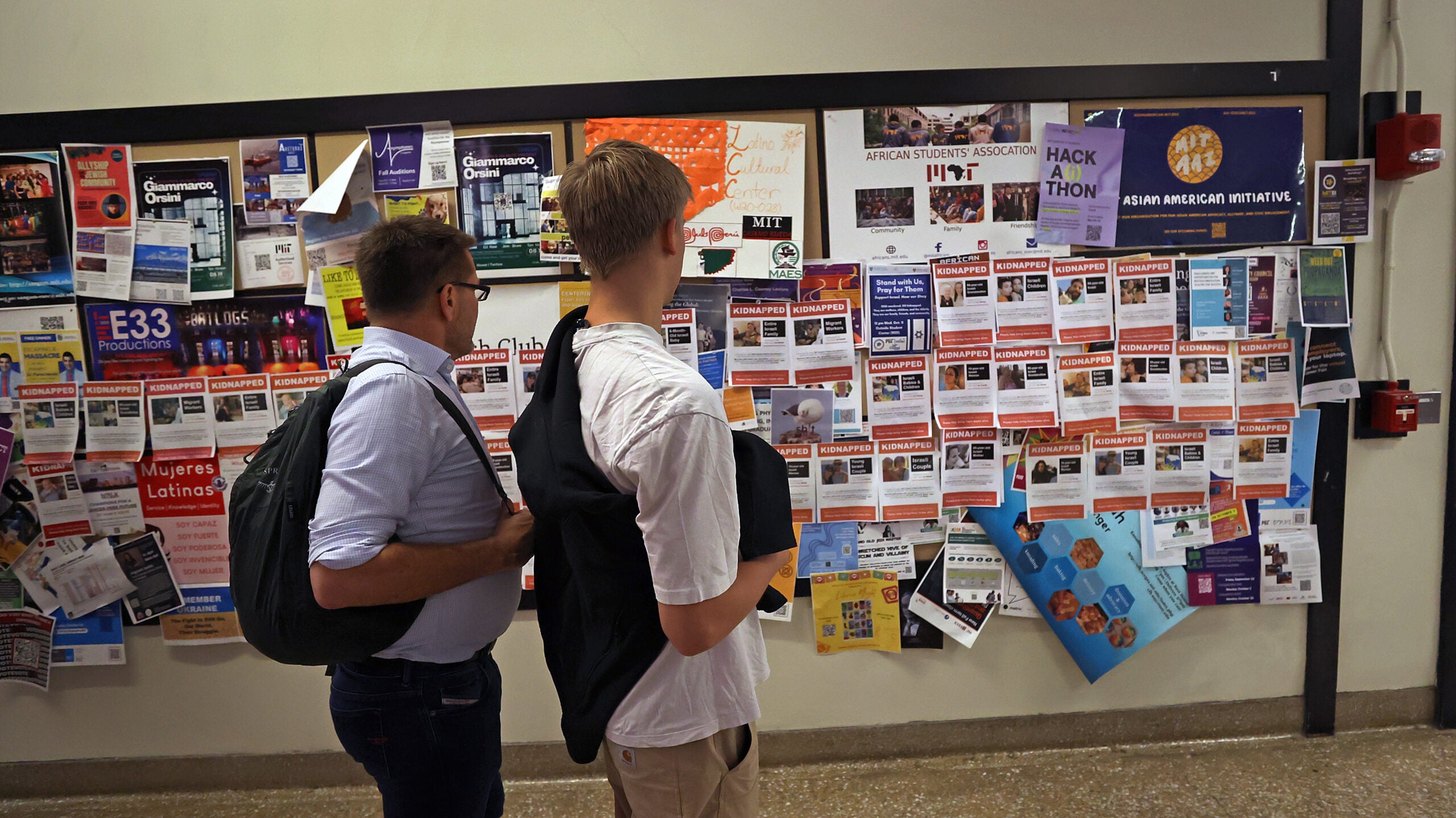 Law enforcement officials said they are increasing their security presence around Jewish institutions throughout metro Boston as a video circulates online from Hamas that calls for a "global day of rage."
In the video, Hamas leader Khaled Mashal called on Muslims worldwide to protest in the streets on Oct. 13 and show support for Hamas' deadly attack on Israel.
State Police, the Boston Police Department, Newton police, and Brookline police told The Boston Globe their agencies "remain vigilant" in case any threats are made to Jewish institutions or at school campuses.
Law enforcement officials and the Anti-Defamation League said they were not aware of any credible threats made to Massachusetts at this time.
"We will continue to communicate with and advise our partners, including the ADL and other organizations, of any potential threats," State Police said in a statement. "Additionally, we are prepared to support communities and educational institutions with protest and civil disorder response if needed."
A former Massachusetts resident who now lives in Israel is reportedly waiting on news of five family members who were kidnapped by Hamas militants during their attack on Israeli territory near Gaza Saturday.
Abbey Onn moved to Israel from Brookline eight years ago, WCVB reported. Living with her family north of Tel Aviv, Onn has been periodically going in and out of a bomb shelter since the war began.
But five of her relatives were reportedly abducted from their kibbutz near the Gaza border. Carmela Dan, an 80-year-old with a heart condition, is missing, along with Ofer Kalderon, her 50-year-old son-in-law, and her three grandchildren. They are 16-year-old Shar Kalderon; 13-year-old Noya Dan; and 12-year-old Erez Kalderon, according to WCVB.
Erez Kalderon's abduction was recorded on video that was later posted online, Reuters reported. The video shows gunmen pinching the boy, who flinches. He did not appear to have blood on him in the video.
"It was so hard to watch … I never felt like this, I don't even have tears any more in my eyes, I can't cry because I cried so much," she told Reuters. "He had his pajamas on, he just woke up in the middle of the night and someone came and took him."
The members of Hamas reportedly used smoke grenades to drive the family from their homes before kidnapping them. Other family members at the kibbutz sealed themselves in a bomb shelter until Israeli soldiers arrived.
"Those are young settlers, keep them here. Don't hurt them, 100%, be wise with people like these, this is a child," a man can be heard saying in Arabic in the video of Erez Kalderon's capture, according to Reuters.
The people of Palestine are not the same as Hamas, Onn told WCVB, a message that she often reiterates to her children. But Hamas is a terrorist organization that should be denounced, she said.
"If you are seeing this and you have a voice, raise your voice against terror. This is not a Palestinian-Israeli issue. This is terror," Onn said.
Hamas is believed to be holding about 150 hostages in Gaza, as Israeli rockets decimate the small enclave in retaliation for Saturday's attack. Israel cut off access to electricity, food, fuel and water. Gaza's only power station ran out of fuel Wednesday, CNN reported, as the humanitarian crisis there worsens.
After backlash over a controversial letter from more than 30 Harvard student groups — in which they blamed Israel for the violence that erupted in the Middle East — some of those groups have removed their names from the co-signed letter posted over the weekend.
The students in those groups were also reportedly doxxed, and The Boston Globe reports that trucks from an out-of-state conservative group drove around Harvard University's campus with an LED screens that displayed the students' names and called them "Harvard's Leading Antisemites."
According to the student newspaper the Harvard Crimson, a handful of groups have distanced themselves from the Palestine Solidarity Committee's letter, with some of those groups saying that there was "miscommunication" and the lack of a "formal process" when signing groups onto it.
Meanwhile, PSC said in an Instagram post that the group has received in its inbox racist hate speech and death threats.
The personal information of students in these groups was also posted online amid a call from some to publicly shame and blacklist from employment the students responsible for the letter.
"I have been asked by a number of CEOs if @harvard would release a list of the members of each of the Harvard organizations that have issued the letter assigning sole responsibility for Hamas' heinous acts to Israel, so as to insure that none of us inadvertently hire any of their members," tweeted hedge fund manager Bill Ackman.
Harvard officials said in a statement that they are aware of the students' safety concerns "and have alerted authorities."
Superintendents at two school districts in Massachusetts are facing backlash for statements they issued on the war between Israel and Hamas, with members of their communities saying the officials did not sufficiently condemn the surprise attacks by the militant group on Israeli civilians that left at least 1,200 dead and saw more than a hundred people taken hostage.
Officials in Cambridge and Lincoln-Sudbury are being criticized for letters issued to their communities, according to The Boston Globe.
Cambridge Superintendent Victoria Greer reportedly noted in a letter to the community that the district has students and staff with both cultural and family ties to Israel and Palestine, saying, in part, "our thoughts and hearts are with the Israeli and Palestinian people, particularly those near and far who have been impacted by the unrest."
Miriam Goldstein, an Arabic language and literature professor at The Hebrew University of Jerusalem who has children in the district and serves as a visiting professor at Harvard and Yale, told the Globe she was appalled by Greer's statement, saying the superintendent should issue a new letter.
"She ignored the fact that this was a one-sided, unprecedented assault, an unprovoked assault, on innocents, on civilians," Goldstein told the Globe. "She wasn't making a statement about ordinary Palestinians. This is not a statement about what we say about Palestinians. She needed to make a statement that this was an assault by the Hamas terrorist group … she needed to condemn this atrocity in a very specific way, not to speak generally about atrocities."
Lincoln-Sudbury Superintendent Andrew Stephens issued a second letter to his community after receiving blowback for not acknowledging that Hamas militants killed hundreds of Israeli civilians in the attack in his first message. Instead, according to the Globe, in the first letter Stephens said he was writing with "a large measure of sadness over the events that occurred over the past few days," and to "acknowledge the violent conflict occurring between Israel and Palestine. … We have members of the LS Jewish and Muslim communities who are directly impacted by this conflict and its consequences both from an affinity standpoint, and from the fact that folks here may have family and friends who live in that area."
In his second message, according to the newspaper, Stephens acknowledged that his previous message had not made clear the fact that the "attacks on Israel over the past weekend were perpetrated by terrorists and resulted in violence and atrocities that have shocked the global community."
"These attacks, which do not represent the views of many Palestinians and Muslims, should be condemned and were impactful at a deeply personal level to many people in our school and community," he wrote. "My communication was an attempt to acknowledge that and the fact that many Israelis and Palestinians are and will be impacted by these events and those that will follow in the coming weeks, months, and years."
A Tufts University student group has now come under fire over an alleged email from the group that supported the attacks made against Israel over the weekend.
A screenshot of the email purportedly from Tufts Students for Justice in Palestine was shared by the Anti-Defamation League of New England on X Tuesday afternoon. The Tufts SJP email, which also promoted a Palestine solidarity rally outside of Cambridge City Hall, said the attack made by "liberation fighters" against Israelis had exhibited "the creativity necessary to take back stolen land."
ADL New England said it learned of the statement when it was forwarded the email.
In response, the university said it stood against the statement made by Tufts SJP. "We strongly disagree with and denounce SJP's statement and want to make clear that no student group speaks for the university," wrote Tufts spokesperson Patrick Collins in an email.
Boston.com reached out to Tufts SJP for comment, but the group didn't respond by press time. Read the full story on Boston.com.
A Lexington woman says her ex-husband and his brother were killed by Hamas militants in Israel, leaving her 11-year-old son without a father.
Liat Wachs told CBS Boston that she was celebrating the Jewish holiday of Sukkot Saturday when she got the news. Wachs received a call from her brother, who said that gunmen stormed into Netiv HaAsara, a settlement near the Gaza border. Igal Wachs and his brother Amit, both dual Israeli-American citizens, were reportedly killed by Hamas.
The two men were part of the settlement's security team and likely went out to confront the assailants, Wachs told CBS.
"My husband was murdered trying to defend, and my son doesn't have a father," she told the station. "It's horrible. This is Holocaust what happened."
Scores of flights are being canceled as war continues to rage in Israel and Gaza, stranding Americans there. That includes a group of 32 parishioners from Mary, Queen of the Apostles Parish at Immaculate Conception Church in Salem.
The church said Monday on Facebook that the group in Israel is planning "to leave early and is in that process."
The group traveled to Israel Friday, just one day before Hamas militants executed a brutal surprise attack.
"We saw the missiles and explosions, but they were far from us," Mary Martinez, a member of the group, told NBC10 Boston. "There are a lot of people panicking, and some don't want to go outside… Most of us are calm, confident in God, that we will leave here."
The group is reportedly in Nazareth, a northern city more than 100 miles from Gaza. They are in touch with U.S. Rep. Seth Moulton, who told NBC he is leveraging a good relationship with the State Department to get the group home quickly. They are exploring options that would take them through Jordan or Turkey.
Moulton, who denounced the attacks and said he stands firmly with Israel, said that Americans in Israel should notify the U.S. embassy in Jerusalem and fill out an online form.
"Thank you everyone for your prayers. For those who are not there, please know that the Archdiocese is working closely with Father and the tour operator to safely get all of our pilgrims home. We understand this is a difficult and anxious situation. We are grateful for the support from the Archdiocese and will continue to monitor the situation closely," the church said in a Facebook post Tuesday.
Also among those trying to secure a flight back to America is Boston resident Sonia Burkin. She traveled to Tel Aviv with more than 200 friends and family members to see her son get married, 7News reported.
The family has been awoken by sirens and the sounds of Israel's missile defense system striking down Hamas rockets. Burkin and her family were forced to go into a bomb shelter on four separate occasions in one night, she told the news station. About 30 of the wedding guests were still trying to book flights as of Tuesday night.
"You can still hear the explosions and some of them felt right next door," Burkin told 7News. "I hope they weren't right next door."
Loud boos erupted at a pro-Israel rally on Boston Common Monday as Sen. Ed Markey called for a de-escalation of violence in the Middle East nation.
Markey denounced the "heinous attacks" and "vicious murders" by Hamas, calling for the release of hostages. But he also warned against antagonizing the Islamist militant group, which the U.S. Department of State has designated a foreign terrorist organization. "Hamas wants continued instability, not normalization," Markey said, according to the Globe.
His call for a "de-escalation of the current violence" drew a chorus of boos from the audience, which derailed his remarks for nearly a minute.
Markey isn't the only lawmaker to call for de-escalation in the midst of an increasingly bloody conflict; other left-learning politicians — including several members of "The Squad" in the House of Representatives — have pushed similar rhetoric. But as the death toll mounts, there's been increasing skepticism about the prospect of peace.
Read the full Boston.com story here.
Harvard University released a statement following the backlash over a letter penned by student groups that blamed the Israeli government for the violence that erupted over the weekend.
Claudine Gay, the school's president, said in a statement that she condemns "the terrorist atrocities perpetrated by Hamas" and that student groups do not speak for Harvard as a whole.
The statement, published Tuesday afternoon on Harvard's website, comes days after more than 30 student groups made public a letter that called Israel's government an "apartheid regime."
The letter has since received an outpouring of criticism from lawmakers of both parties, current and former Harvard faculty, and other organizations. Critics also called out Harvard leadership for not condemning the letter. Even after the statement, one of those critics, former Harvard president Lawrence Summers, said in a tweet that the "delayed statement" from the administration "fails to meet the needs of the moment."
Harvard University released a statement following the backlash over a letter penned by student groups that blamed the Israeli government for the violence that erupted over the weekend.
Three Northeastern University students were evacuated from Israel with the help of the school's global safety team, according to Northeastern.
University officials said two students, Jesse Ruigomez and Keren Doherty, were in Tel Aviv for co-op programs at the time of the attacks. The global security team was able to give the students a ride to the airport as well as security detail.
Doherty told Northeastern Global News that she was with her parents, who were visiting her in Tel Aviv, when sirens went off Saturday and they had to hide in a bomb shelter that morning.
The third student, Joshua Einhorn, was in Jerusalem visiting family, Northeastern officials said. Einhorn has been studying in Greece and already had a flight scheduled to Athens for Sunday prior to the attacks.
He also had to hide in a bomb shelter Saturday with his family, but said he received text messages from Northeastern's global safety team to make sure he was safe and that his flight was still on schedule.
A letter penned by dozens of Harvard University student groups is drawing an outpouring of criticism from political leaders on both sides of the aisle, former and current Harvard faculty, and other organizations.
The letter was released to the public Sunday by Harvard Undergraduate Palestine Solidarity Committee and was co-signed by more than 30 groups.
"We, the undersigned student organizations, hold the Israeli regime entirely responsible for all unfolding violence," read the letter, which continued by saying that for decades Gazans have lived in an "open-air prison" because of a blockade imposed by the Israeli government.
U.S. Rep. Seth Moulton, a Democrat representing Massachusetts, said he'd never "been more embarrassed by my alma mater" because of the letter.
"You can stand up for Palestinian rights while condemning Hamas terrorists, just as you can fiercely criticize the extremist, anti-democratic actions of the Netanyahu government while supporting the nation of Israel's right to defend itself from people, terrorist groups and states that want it wiped out of existence," Moulton said in a statement on X, formerly Twitter.
Republican U.S. Senator Ted Cruz, also a Harvard alum, called the letter antisemetic in a tweet.
The growing backlash didn't just condemn the letter, but Harvard's administration for remaining silent on the matter. University leadership released a general statement about the conflict but did not address the controversial student groups' letter. Former Harvard president Lawrence Summers, also former U.S. Secretary of the Treasury, said in a tweet that leadership silence "coupled with a vocal and widely reported student groups' statement blaming Israel solely, has allowed Harvard to appear at best neutral towards acts of terror against the Jewish state of Israel."
Needham man travels to Israel to serve with daughters (Oct. 10)
Boaz Arbel, a Needham resident who formerly served as an officer in the Israeli Air Force, is back in his home country after reenlisting into military service. Arbel, a 53-year-old technology executive, told Boston 25 News that he is joining his four daughters, all between the ages of 21 and 26.
Arbel said his daughters all chose to serve with the Israeli Defense Forces after graduating from high schools in Greater Boston. He took a direct 10-hour flight to Israel on a plane for those reenlisting in the military to returning to the country for funerals, according to 25 News.
"For me, it's coming back to four daughters who are all serving right now," Arbel told 25 News. "We are not going to surrender."
Mass. man's family taken hostage by Hamas (Oct. 10)
A Needham man returned from visiting family in a war-torn Israel over the weekend and told ABC affiliate WCVB that several of his relatives were captured by Hamas following the group's surprise deadly attack.
Jason Greenberg said his aunt, cousins, nieces, and a 12-year-old nephew — who live on a kibbutz near the Gaza border — were among the reported 150 hostages taken by Hamas fighters.
"There's nothing more that we'd like to be able to do than to help them, and there's literally nothing we can do right now," he told the news station.
Greenberg was visiting his father, sister, and her family north of Tel Aviv at the time of the surprise attacks. He was able to get his father out of Israel and to Massachusetts and said his sister and her family are safe.
Israeli officials have yet to release specific details about the hostages and the exact number of those abducted, the New York Times reports, but said the civilians taken include women and children. After Israel declared war in response to the surprise attacks, Hamas on Monday threatened to kill a hostage every time the Israeli government hits Gaza with airstrikes "without warning."
"Let these people go, please," Greenberg said. "They've done nothing to you."
CNN reports that more than 100,000 Gazans have been displaced because of Israeli airstrikes.
A retired Brandeis professor said Monday that his daughter and son-in-law were killed in Israel over the weekend. Ilan Troen, who taught Israeli studies at the Massachusetts university before moving back to Israel, said the attack amounted to a "pogrom."
In an interview with CNN, Troen described being on the phone with his daughter, 50-year-old Deborah Mathias, in the moments before she died. Her husband, 49-year-old Shlomi Mathias, was also killed. Troen's grandson, who sustained a gunshot wound to the stomach, spent an entire day texting with family as he hid from the fighters.
"We were on the phone with Deborah as she was killed. We were on the phone the entire day with our grandson, Rotem, as he lay first under her body and then found a place to escape under a blanket in a laundry," he told CNN. Read the Boston.com report here.
Newsletter Signup
Stay up to date on all the latest news from Boston.com