World News
On Israel, progressive Jews feel abandoned by their left-wing allies
The war is bringing to a head more than a decade of tensions about Israel on the American left.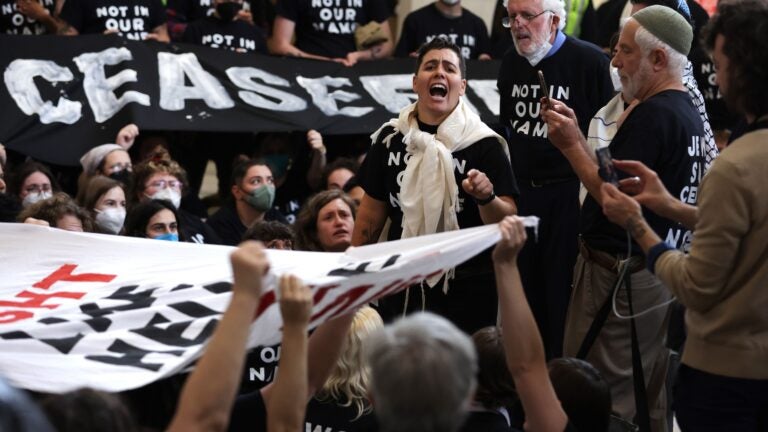 Progressive Jews who have spent years supporting racial equity, gay and transgender rights, abortion rights and other causes on the American left — including opposing Israeli policies in the Gaza Strip and the West Bank — are suddenly feeling abandoned by those who they long thought of as allies. This wartime shift represents a fundamental break within a liberal coalition that has long powered the Democratic Party.
In Los Angeles, Rabbi Sharon Brous, a well-known progressive activist who regularly criticizes the Israeli government, described from the pulpit her horror and feelings of "existential loneliness," her voice breaking. "The clear message from many in the world, especially from our world — those who claim to care the most about justice and human dignity — is that these Israeli victims somehow deserved this terrible fate."
In Atlanta, a Jewish mother involved in local politics wrote an open letter lamenting that her child's progressive private school had not addressed the attacks in Israel with the same kind of empathy it showed after local killings of Asian Americans. "Our people are butchered, and no one speaks to it?" she wrote. "I don't know if I'm seething or just sad."
And as the Hamas attacks in Israel were still underway, leaders of the New Israel Fund, which supports progressive Israeli and Palestinian groups, fielded calls from American supporters demanding that the organization label Israel an "apartheid state" — even as they waited to learn if colleagues in another organization, hiding in Israeli bomb shelters, had been killed.
Many of the most inflammatory comments came on social media, from progressive groups that responded to the immediate aftermath of the massacre of Israeli civilians by skipping even a moment of mourning and instead moving immediately to try to justify the attack.
"When a people have been subject to decades of apartheid and unimaginable violence, their resistance must not be condemned, but understood as a desperate act of self-defense," Black Lives Matter Los Angeles posted on Facebook, in its first response to the attack. A reproductive-rights group sharply criticized the "Zionist occupation," saying that the Israeli government denied "Palestinians control over their bodies" and that "there can be no justice, peace or reproductive freedom underneath colonial occupation." A number of socialist organizations across the country did not directly condemn the killings by Hamas.
And many protests have included chants of "From the river to the sea, Palestine will be free," a slogan that leaves no place for the state of Israel to exist in its own land.
From email listservs of progressive Jewish groups to protests on university campuses to social media campaigns by prominent liberal Jewish celebrities like Sarah Silverman, the war is bringing to a head more than a decade of tensions about Israel on the American left.
Interviews with dozens of liberal Jewish leaders and voters, and a review of social media posts, private emails and text chains of liberal Jewish groups, reveal a politically engaged swath of American Jewry who are reaching a breaking point. They have long opposed the Israeli government's occupation of the West Bank and Gaza, supported a two-state solution and protested the right-wing government of Benjamin Netanyahu.
But in the Hamas attacks, many saw an existential threat, evoking memories of the Holocaust and generations of antisemitism, and provoking anxiety about whether they could face attacks in the United States. And they were taken aback to discover that many of their ideological allies not only failed to perceive the same threats but also saw them as oppressors deserving of blame.
"I am in such a state of despair. In my generation, we have been warned how quickly people would turn on us, and we just thought no way," said Nick Melvoin, 38, a member of the Los Angeles Unified School Board who is now running for Congress and keeps a framed picture of Rabbi Abraham Joshua Heschel marching with Martin Luther King Jr. in his office. "Now we see, this is how that happens: when you dehumanize the group. This indoctrination that many of us have been warned about hit us like a ton of bricks."
The most rattling episodes have occurred on college campuses or on social media, where statements from small organizations have been amplified across the globe. But during a worldwide conflict, those statements have taken on totemic status, heightening fears that they are a precursor to a more treacherous and lasting shift in the standing of Jews in America.
Eric Spiegelman, a lawyer and podcast producer in Los Angeles who has serves on municipal boards, was enraged by the protest in New York City promoted by the Democratic Socialists of America after the attack. He sent hundreds of letters to Los Angeles city officials urging them to denounce the organization and label it a "hate group." The DSA has since backed away from the protest and apologized "for not making our values explicit."
"It's like I belong to this political organization that believes in three things: affordable housing, raising the minimum wage, and the wholesale murder of Jews," said Spiegelman, his voice dripping with sarcasm as he condemned local leaders who are affiliated with the group. "Two out of three ain't bad!"
With President Joe Biden making a personal show of support through an unprecedented wartime visit to Israel this week — and promising the country billions in aid — traditional Democratic support for Israel is not in doubt. The crisis has largely unified the Democratic Party establishment, including many progressive elected officials. Polling since the attacks indicates strong national backing for Israel, including a notable uptick in support among Democrats.
Still, cracks have begun to emerge among the Democratic coalition. Younger and more liberal voters remain more focused on the Palestinian cause than older generations, a split that emerged in the last two decades and accelerated during the Trump administration. Among them are many American Jews who are far more critical of Israel than their forebears and have flocked to groups like IfNotNow and Jewish Voice for Peace, which staged a protest in the U.S. Capitol calling for a cease-fire and has repeatedly accused Israel of planning genocide in Gaza.
"We need to remember that anyone dehumanizing Israelis rightly has zero representation in the United States government, while many federal officials have been dehumanizing Palestinians for decades," Eva Borgwardt, the political director of IfNotNow, said in an interview.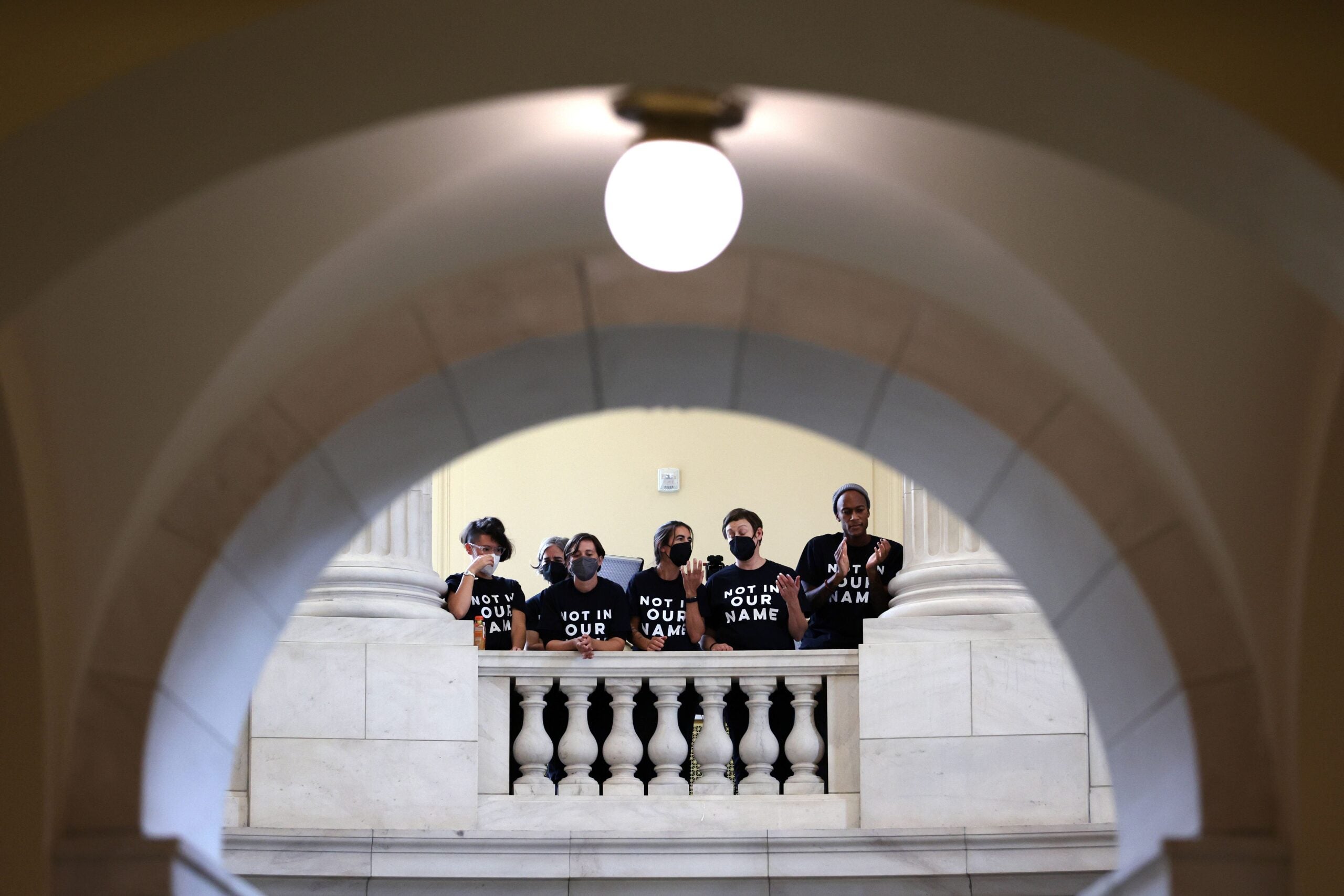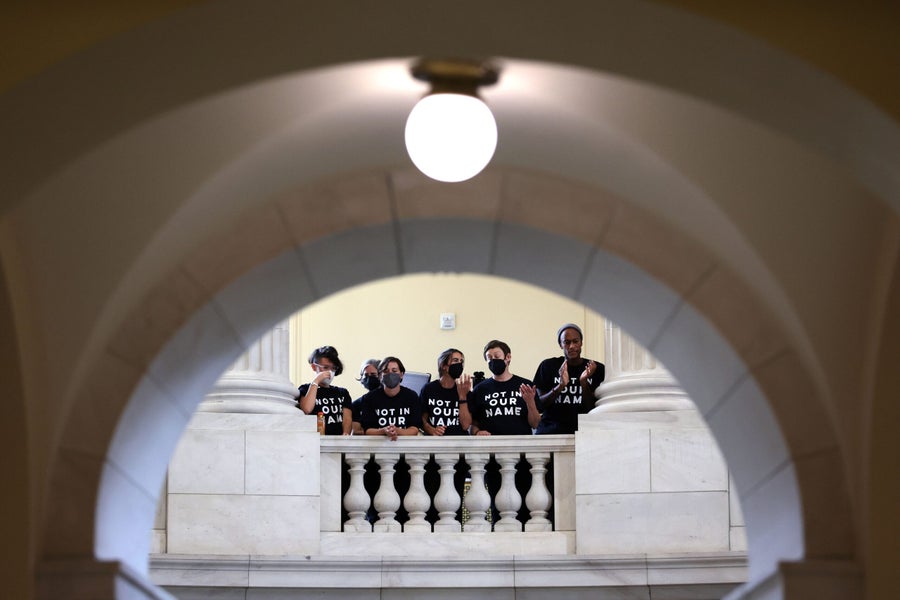 Attitudes toward Jews' place in the progressive firmament are intertwined with their understanding of race and power in America. More than 90% of American Jews are white, and the country remains among the safest places in the world for Jews, despite a well-documented rise in antisemitic incidents in recent years. Some Jews see their safety as precarious, but some of their allies focus on their privilege.
By contrast, many progressive activists have long expressed an affinity and identification with Palestinians, viewing them as a minority group whose plight is ignored or dismissed by those with more power.
"The left doesn't have a level of sophisticated understanding of antisemitism that we need if we are going to defeat white nationalism and fascism in this country," said Joanna Ware, the executive director of the Jewish Liberation Fund, a philanthropic group created in 2020. "It has been painful to see some people I consider friends or comrades seeming to have a hard time empathizing with Israelis and, by extension, Jews in the United States."
Still, Ware said she would not hesitate to work with groups on the progressive left for racial justice and other causes. Other activists are less certain.
Daniel Sokatch, executive director of the New Israel Fund, who has spent decades in progressive politics, said the silence from many on the left, as well as the arguments from others that the attacks were justified, were "beyond shocking."
"It felt like betrayal, not of us as allies, but of the values we all stand for," Sokatch said. He added, "On a personal level, I would think twice before just showing up in certain corners of the political world. I would want to check and understand who was there and how they felt about these things."
Even leading Democrats appear to recognize the difficulty in speaking about Israel to young people who may not be inclined to support the country.
Two days after somberly standing behind Biden in the White House as he denounced the attack as "sheer evil," Vice President Kamala Harris spoke Oct. 12 to an auditorium filled with Latino and Black students at the College of Southern Nevada in Las Vegas as part of a fall tour focusing on young voters of color. For nearly an hour, she addressed pressing concerns such as climate change and student loans and offered a passionate defense of diversity, equity and inclusion efforts. She made no mention of the attack in Israel.
Jewish liberals are distressed both by what is being said and what was left unsaid in the initial statements from universities, schools and corporations after the attack. Almost two weeks later, a number of prominent institutions, including several elite colleges, are still releasing statements clarifying their positions after outcries from Jewish parents, donors and alumni.
On Oct. 10, Bo Lauder, the head of Friends Seminary, an exclusive New York City private school, wrote to parents acknowledging the "failing" of his first response and stating, "Let me be clear: The attacks on Israel by Hamas terrorists were wrong and indefensible, and Friends Seminary condemns, in no uncertain terms, the killing, kidnapping and torture of innocent civilians."
The lack of more forceful and instantaneous condemnation shocked some liberal Jews, who remembered the outpouring of support from other Americans after the 2018 mass shooting at a Pittsburgh synagogue by a gunman inspired by the far-right.
Since the Pittsburgh shooting, Boaz Munro, 36, who works in technology in San Francisco and is the grandson of Holocaust survivors, has frequently urged other Jews to speak out about what he sees as an impulse in some quarters of the left to downplay or ignore antisemitism.
While he praised advances in the "racial discourse" in the past decade, Munro suggested that Jews had been left on the sidelines in that discourse because they were not seen as threatened or deserving of protection in the same way that Black and Latino people are.
"The way the discourse plays out, the Jews end up in the top of the hierarchy," Munro said. "It's not even about Israel. It's just about being Jewish: You're white. You access whiteness."
This article originally appeared in The New York Times.
Sorry. This form is no longer available.
Extra News Alerts
Get breaking updates as they happen.