World News
Aid agencies say they can't send food and other supplies to Gaza because of communications blackout
The U.N. agency for Palestinian refugees said no aid deliveries would be able to enter from Egypt on Friday because of the difficulties coordinating them without phones or internet.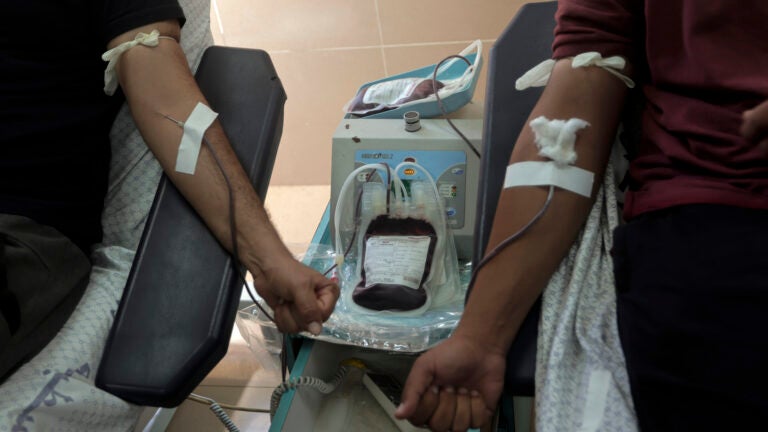 RAFAH, Gaza Strip (AP) — Aid agencies said they had to stop deliveries of food and other basic necessities to Gaza on Friday, warning of the possibility of starvation a day after internet and telephone services collapsed in the besieged enclave because of a lack of fuel.
The communications blackout largely cuts off Gaza's 2.3 million people from one another and the outside world — and paralyzes the coordination of aid, which humanitarian groups were already struggling to deliver because of the fuel shortage.
Israeli forces, meanwhile, have signaled they could expand their offensive toward Gaza's south even while pressing operations in the north. Troops have been searching the territory's biggest hospital for traces of a Hamas command center the military alleges was located under the building.
They have shown what they said were a tunnel entrance and weapons found inside the compound but not yet any evidence of the command center, which Hamas and staff at Gaza City's Shifa Hospital deny existed.
The war, now in its sixth week, was triggered by Hamas' Oct. 7 attack in southern Israel, in which the militants killed more than 1,200 people, mostly civilians, and captured some 240 men, women and children.
On Friday, the military said it found the body of another hostage, identifying her as Cpl. Noa Marciano. Marciano's body was recovered in a building adjacent to Shifa, the military said, like that of another hostage found Thursday, 65-year-old Yehudit Weiss.
More than 11,400 Palestinians have been killed in the war, two-thirds of them women and minors, according to Palestinian health authorities. Another 2,700 have been reported missing, believed buried under rubble. The count does not differentiate between civilians and militants, and Israel says it has killed thousands of militants.
Aid dries up
Since the war began, Gaza has received only 10% of its required food supplies each day, and dehydration and malnutrition are growing with nearly all residents in need of food, said Abeer Etefa, a Mideast regional spokeswoman for the United Nations' World Food Program.
"Food production has come to an almost complete halt, markets have collapsed, fishermen cannot access the sea, farmers cannot reach their farms," she said Thursday from Cairo. "People are facing the immediate possibility of starvation."
The breakdown of the communications network only worsened the situation. The U.N. agency for Palestinian refugees, or UNRWA, said no aid deliveries would be able to enter from Egypt on Friday because of the difficulties coordinating them without phones or internet.
"We have seen fuel and food and water and humanitarian assistance being used as a weapon of war," said agency spokesperson Juliette Touma. It is "outrageous that humanitarian agencies are reduced to begging for fuel."
Fuel is needed for electricity generators that run everything from communication systems to water and sewage pumps.
Israel has barred fuel shipments into Gaza since the beginning of the war, but permitted a limited shipment to UNRWA earlier this week for trucks delivering food after the agency's fuel reservoir ran dry.
Strikes in the south
Following the surprise attack by Hamas, Israel has focused its air and ground assault on northern Gaza, vowing to remove Hamas from power and crush its military capabilities.
In recent days, Israel's military has indicated it could expand operations in the south, where most of the population has taken refuge.
"We are close to dismantling the military system that was present in the northern Gaza Strip," Chief of Staff Lt. Gen. Herzl Halevi said Thursday. Israeli forces dropped leaflets Wednesday afternoon telling Palestinians in areas near the southern town of Khan Younis to evacuate.
Halevi said that while "there remains work to be completed" in the north, more and more places would be targeted in the fight against Hamas.
Two homes east of Khan Younis were hit by Israeli strikes late Thursday and early Friday, according to survivors.
An Associated Press journalist witnessed three dead and dozens wounded, including babies and young children, from Friday's strike being brought to the city's main hospital. The attack late Thursday killed 11 members of a family that had fled the main combat zone in Gaza City, whose bodies were also brought to the main hospital.
Overall, 35 people were killed in Khan Younis and Rafah, which is farther south, said Mohamed Zaqout, an official with the Health Ministry in Hamas-controlled Gaza.
Most of Gaza's population is crowded into the south, including hundreds of thousands who heeded Israel's calls to evacuate the north to get out of the way of its ground offensive. In all, some 1.5 million people have been driven from their homes.
If the assault moves into the south, it is not clear where people would go, as Egypt refuses to allow a mass transfer onto its soil. The Israeli military has called on people to move to a "safe zone" in Mawasi, a town on the Mediterranean coast a few square kilometers (square miles) in size.
The heads of 18 U.N. agencies and international charities on Thursday rejected that proposal, saying that concentrating civilians in one area while hostilities continue was too dangerous. They called for a cease-fire and unimpeded entry of humanitarian aid and fuel.
Searching Shifa
Israel's troops stormed into Shifa on Wednesday, and have been searching the complex. The Health Ministry in Hamas-run Gaza said the troops searched underground levels of the hospital Thursday and detained technicians who run its equipment.
Israel faces pressure to prove its claim that Hamas set up its main command center in and under the hospital, which has multiple buildings over an area of several city blocks. The U.S. has said it has intelligence to support the claims.
So far, Israel has mainly shown photos and video of weapons caches that it says its soldiers found in the hospital.
On Thursday, the military released video of a hole in the hospital courtyard it said was a tunnel entrance. It also showed several assault rifles and RPGs, grenades, and ammunition clips laid out on a blanket that it said were found in a pickup truck in the courtyard. The Associated Press could not independently verify the Israeli claims.
The allegations are part of Israel's broader accusation that Hamas uses Palestinians as human shields across the Gaza Strip, contending that is the reason for the large numbers of civilian casualties during weeks of bombardment.
As the war continues to inflame tensions elsewhere, Israeli troops clashed with Palestinian gunmen in Jenin in the occupied West Bank, killing at least three Palestinians. The fighting broke out late Thursday during an Israeli raid.
Israel's military said five militants were killed. The Palestinian Health Ministry said three people died. The militant Islamic Jihad group claimed the three dead as members and identified one as a local commander.
Mroue reported from Beirut, and Rising from Bangkok. Edith M. Lederer in New York, and Julia Frankel in Jerusalem contributed to this story.
Extra News Alerts
Get breaking updates as they happen.