Boston Marathon
Boston Marathon block party awaits runners at Mile 15
Co-host Andrew Gates says a 'non-zero number' of runners have been known to take a Jell-O shot on their way to Heartbreak Hill.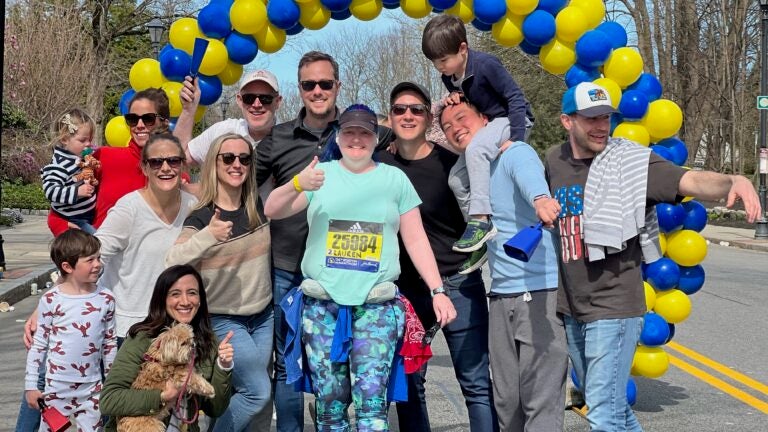 Wellesley resident Andrew Gates and his family knew they were going to make the most of a house along the Boston Marathon route before they even bought it.
"When we were looking at the house and we were going to buy it, it came to us immediately: 'We'll throw a marathon party,'" Gates said.
Frankly, he said, he's surprised more people living along the route don't.
After Gates and his family moved to Wellesley just over two years ago, he and his neighbors decided to spend marathon Mondays sharing food, drinks, and cheering on runners. The party doesn't end until the last runner goes through the 10-foot blue-and-yellow balloon arch Gates makes by hand each year.
Now awaiting his fourth route-side marathon, Gates and the unofficial Wellesley Farms Recreation Committee are even more excited to get the party started. In the coming days, the neighbors will hammer out the final details of April 17 over a marathon-planning cocktail hour.
"We just make a whole day of it and embrace all that it is," Gates said.
The annual block party occurs in Gates's 0.2-acre driveway and front yard, located along Mile 15 of the marathon route just moments before the infamous Heartbreak Hill. When runners pass the block party, Gates said they're often "all smiles" — and the neighborhood event seeks to make everything better.
"We want to make it really fun for folks who are coming past us," Gates said. "We've been really lucky with the weather so far … but even if it was pouring rain, I'd imagine we'd still find a way to make it fun."
Complete with games, food, and Jell-O shots, the event gathered roughly 100 people over the course of last year's marathon. This year, Gates predicts as many as 150 will stop by.
But, it's not just the neighborhood who's invited. Last year, Gates recalled a Quincy man and his son joined the party despite only needing to use a bathroom that wasn't a portable toilet.
This year, Gates said, the block party will be bigger than ever. He and his family are renovating their home and temporarily living in the house across the street, meaning they've got both sides of the route covered.
And his neighbors plan to block off nearby side streets for kids' games and bounce houses, ensuring the whole neighborhood has a chance to play.
Gates said he hopes the annual gathering acquires a reputation.
"We want this little section of the marathon route to be a thing people know about," he said.
Address Newsletter
Our weekly digest on buying, selling, and design, with expert advice and insider neighborhood knowledge.