Developments & Construction
Sales gallery opens at condo development at former Anthony's Pier 4 site
There will be a mix of residences, ranging from one- to four-bedroom units, all of which have water views and private outdoor space.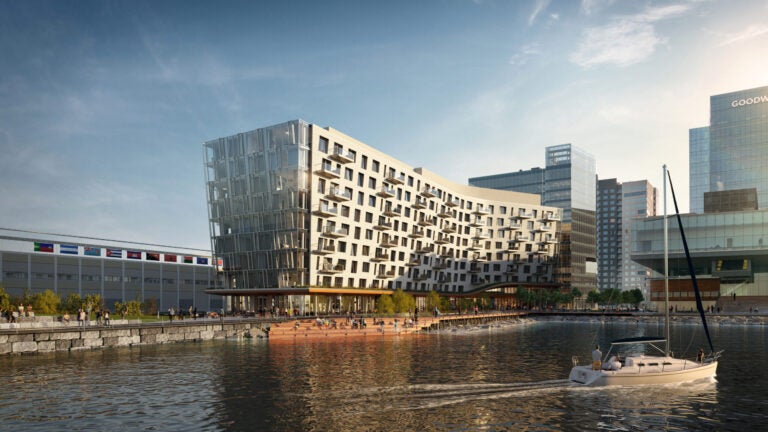 "Pier 4 — Dining Par Excellence.''
"Modern Dining Amid Nautical History.''
"More honors for a gourmet's paradise.''
"The kings of Boston's waterfront.''
This was how the Globe described the famous Anthony's Pier 4 in the 1960s and '70s.
The Seaport restaurant, which opened in 1963, hosted celebrities like Elizabeth Taylor, Joe DiMaggio, Frank Sinatra, Richard Nixon, and Judy Garland. You could see their photos with owner Anthony Athanas and his sons lining the walls of the entryway. It was a Boston institution.
"Anthony's Pier 4 will close for good in August.''
"Developer plans for luxury condos, park on site of Anthony's Pier 4.''
"Anthony's Pier 4 will fall to wrecking ball.''
Those are the headlines the Globe published more recently.
Pier 4, as the building under construction is called, is expected to open in fall 2018 and is being developed by Tishman Speyer. Its location is noteworthy, not only because of the site's former glory as a beloved restaurant, but also because it is flanked by water on three sides. If you ever dined at Anthony's Pier 4, you may remember the views.
Once built, the luxury development will include the nine-floor building, which will have 106 condos and 17,000 square feet of ground-floor retail space, valet and self-parking, and a one-acre park. There will be a mix of residences, ranging from one- to four-bedroom units, all of which have water views and private outdoor space. Two-bedroom homes will start at $2 million-plus, but prices are discussed only in a one-on-one appointment with the sales team.
The pier is a construction zone, but you can get a pretty good sense of what life will be like, thanks to a sales gallery tour. If you schedule an appointment to visit the site, you will be greeted by a concierge — something to get used to if the building becomes your new home.
The concierge will pick you up at the edge of the construction site and drive you to the sales gallery at the edge of the pier.
Enter the sales gallery and note the picture wall of celebrities from Anthony's Pier 4. To the right of the photo wall is a video room, meant to be a space for potential buyers to chat with the sales team. The rest of the sales gallery is filled with a to-scale model of the building and the park, swatches, two model kitchens, and a model balcony that overlooks the water.
The models showcase the building's unique shape and design, along with its white-brick facade. It is constructed out of concrete instead of steel for noise reduction.
There will be a two-story foyer, along with a second-floor amenity level, which will include a fitness center, a yoga studio, virtual golf, and a dog spa.
Each of the 106 condos will have a master bath with Tuscany and white marble and porcelain tile. There is walnut flooring in the bedroom and living spaces. Buyers can choose between two kitchen styles: one with wood accents and one that is white.
The penthouse units have upgraded kitchens, higher ceilings, and direct access to private rooftop terraces.
As for the public space, the park is planned for next to the Harborwalk. The development's 17,000 square feet of retail space will probably include a restaurant — drawing diners back to the seaside spot.
"When you dine at Boston's inimitable Pier 4 Restaurant, you enjoy not only food par excellence but you can revel in the city's waterfront scenery with its port and air traffic,'' the Globe wrote in 1968.
The new residents at Pier 4 will be able to do just that — from their homes.
Megan Turchi, a reporter for realestate.boston.com, can be reached at [email protected]. Follow her on Twitter @meganturchi.