Developments & Construction
One of Boston's biggest developers is planning a new tower in Southie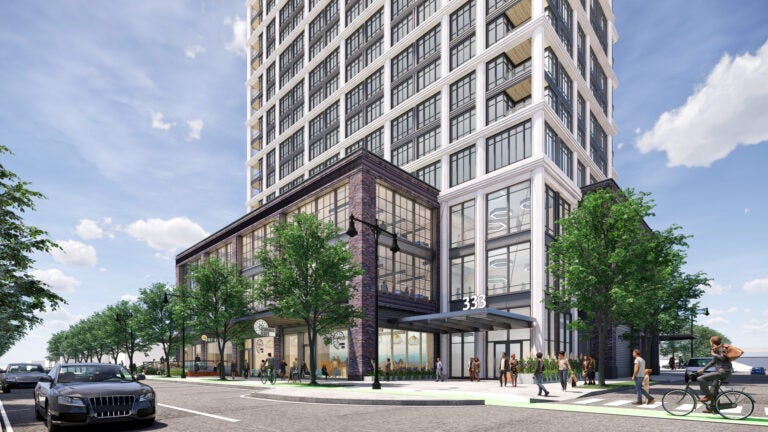 National Development has filed papers to build a 21-story tower in South Boston, as part of the Newton-based real estate firm's plans to transform an industrial stretch of Dorchester Avenue.
Located roughly a half-mile south of the Broadway MBTA station, the 254-foot tower at 333 Dorchester Ave. would include 265 apartments, 47,000 square feet of office space, and 14,500 square feet of retail split between grocery and restaurant space. The project also includes pedestrian-oriented street improvements, green space, and an underground parking garage with 76 spaces.
"Demand to work and live in this neighborhood has never been higher, and we are planning for the next generation of this area to meet the needs of both current and future residents," Ed Marsteiner, a managing partner at National Development, said in a statement.
National Development — the same firm behind the nearby Ink Block redevelopment in the South End — originally filed a letter of intent to city officials in December. And on Friday, they sent a project notification form to the Boston Planning and Development Agency.
According to the form, the estimated cost of the tower is $210 million.
The filing also starts a 30-day public comment period; after more than a year of planning, Marsteiner says that National Development is "eager to continue working closely with neighbors in South Boston."
The 317,000-square-foot project is the first phase in National Development's master plan to redevelop its 5.4-acre property at 323-345 Dorchester Ave. — and one of the first large-scale developments of a larger effort to transform the industrial corridor into "a residential and commercial extension of the South Boston neighborhood."
BPDA officials have identified the stretch of Dorchester Avenue between Broadway and Andrews stations — currently home to mostly low-rise, industrial buildings — as an area that could accommodate more dense development in the housing-strapped Boston area.
According to the Boston Business Journal, National Development has spent more than $40 million over the past 18 months acquiring properties around the intersection of Dorchester Avenue and Old Colony Avenue. Last June, the developer announced that Tatte Bakery and Cafe will open a massive test kitchen and cafe anchoring a separate development across the street from the 333 Dorchester Ave. tower.