Developments & Construction
Amazon's South Boston proposal is the latest in a string of industrial projects
Amazon plans to convert aformer Blue Cross Blue Shield warehouse into a last-mile delivery hub.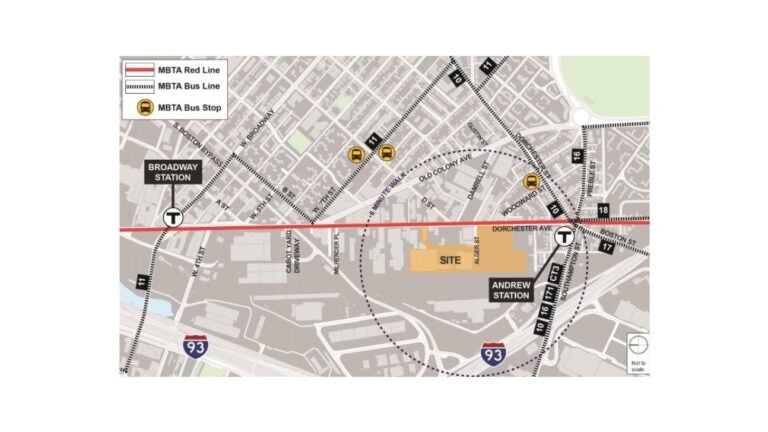 Amazon plans to convert a 96,000-square-foot former Blue Cross Blue Shield warehouse near the Dorchester-South Boston border into a last-mile delivery hub for the Boston region.
The conversion of 4 Alger St., near where Dorchester Avenue and D Street intersect, could be completed as soon as late 2020.
The project, which Amazon is working on with Boston-based Core Investments, would also involve the demolition of an auto center and an industrial property that Target uses, according to the Boston Business Journal. Moreover, Amazon would take over a large parking lot at 511 Dorchester Ave.
Amazon is leasing the space from Core for 10 years — without the option of an extension, a condition of the necessary zoning approval for the project to move forward.
Part of a larger project dubbed On the Dot, the conversion reflects Amazon's veritable industrial shopping spree in the Boston area and just beyond, even before the pandemic had so many people staying home and ordering more products online. The company announced in late April that it was hiring more than 75,000 warehouse workers to meet the demand — right around the time its stock hit a record high.
"Amazon has been the story of quarter four in Greater Boston," brokerage Colliers International said in a 2019 report on the market for industrial properties in the region. That market closed the year with a vacancy rate of just over 9 percent, the lowest in five years.
In October, the e-retailer leased 800,000 square feet-plus at a former Necco factory in Revere — the region's biggest industrial lease least year, according to Colliers. Amazon also took 300,000 square feet in Bellingham, and it's moving forward with a conversion of an approximately 165-acre site in North Andover in the Merrimack Valley. A 1.7 million-square-foot delivery warehouse in Fall River opened in 2016.
The company also has numerous office and R&D sites around the region, including in Kendall Square and Fort Point. Moreover, Amazon expects to open a 17-story office building for up to 2,000 employees at the Seaport District's 111 Harbor Way next year.
The firm, though, famously passed over Massachusetts in 2018 during its search for a second headquarters, and it also nixed plans for a warehouse in Braintree last fall.
Its latest project at 4 Alger would be used as a kind of waystation for orders on their way to any number of neighborhoods, including the Seaport (just over 1 mile away) and downtown (about 2 miles north). The site is also near the Red Line's Andrew stop. The warehouse would be smaller than those larger complexes, which are used for filling orders.
"We are excited to increase our investment in the Boston metro area with a new delivery station that will provide fast and efficient deliveries and create hundreds of job opportunities for the talented local workforce," an Amazon spokeswoman said. The company declined to provide further details.
Amazon's partner on the proposed project, Core Investments, owns the 22-acre site that includes the former Blue Cross Blue Shield warehouse and other buildings. The firm is also co-developing the nearby Washington Village project with Samuels & Associates. That 5-acre mixed-use development is due to start construction in the next few months, Core said.
"In addition to leasing space in the warehouse and an adjacent building, Core Investments has been spending hundreds of thousands of dollars over the last several years to clean up and improve the property it owns on the west side of Dorchester Avenue, a former industrial area that had declined but now houses about 40 companies in renovated space," the company said in a release.
Core is planning to start environmental work on the 4 Alger warehouse conversion immediately, with the internal work starting mid-summer. It could be delivered to the e-retailer in late 2020, according to a spokesman.
Subscribe to the Globe's free real estate newsletter — our weekly digest on buying, selling, and design — at pages.email.bostonglobe.com/AddressSignUp. Follow us on Facebook, Instagram, and Twitter@globehomes.