Developments & Construction
Preliminary construction has started on the Boylston Street complex over the Mass. Pike
The two-tower development would be the first project over the Massachusetts Turnpike in Boston in a generation.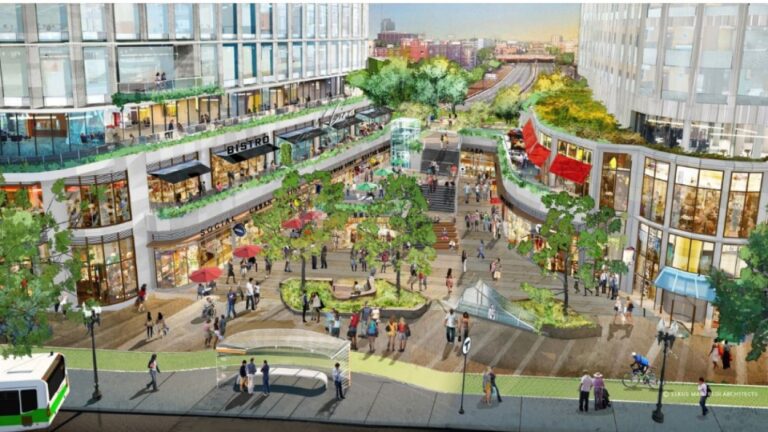 Preliminary construction started this week on a two-tower development that would be the first project over the Massachusetts Turnpike in Boston in a generation.
Developer Samuels & Associates plans to construct a 15-story, 435,000-square-foot office building and a 13-story, 150,000-square-foot hotel, along with 50,000 square feet of retail, on a deck over where the Mass. Pike intersects with Boylston Street and Massachusetts Avenue in Back Bay.
When finished, 1001 Boylston St. will be the largest development over the turnpike since Copley Place opened in early 1984. Numerous such attempts between then and now have collapsed due to financing and engineering challenges. Speculation surrounding this particular site — dubbed Parcel 12 — dates to at least the early 2000s.
It hasn't exactly been a smooth ride for Samuels & Associates either. The developer and a partner won the air rights for the project from the Massachusetts Department of Transportation in 2013. Samuels & Associates has been working toward construction since, and first broached its current plans in city filings in 2018. It announced last week that it had secured $700 million in financing, enabling that construction work to start. It's scheduled to wrap in 2023.
The construction, especially of the deck, will mean lane closures along the turnpike, and Samuels & Associates hopes to be out with a traffic plan within the next few weeks, according to The Boston Globe.
When it's finished, the project will bring major streetscape changes such as wider sidewalks, fresh bike lanes, a relocation of the turnpike's westbound onramp from Mass. Ave. to Newbury Street, a new entrance for the Hynes Green Line stop, a renovated pedestrian tunnel to Hynes Convention Center from that stop, and a half-acre publicly accessible plaza. Samuels & Associates — one of the city's more prolific developers of late, especially in Fenway — is touting that expanse in particular.
"Not only will it repair the scar created when the Mass. Pike was constructed, it will establish the largest new public open space in the area in many decades," Steve Samuels, Samuels & Associates chairman, said in a statement.
Online automotive platform CarGurus agreed in December to an approximately 275,000-square-foot, 15-year lease to anchor the office portion of the project. It will be consolidating its headquarters from three locations in Cambridge, where the company was founded in 2006.
An outpost of the Amsterdam-based citizenM hotel brand will use the other tower. It will be the second citizenM in Boston — and one of the few in the United States — after a 272-room one that opened late last year in the Hub on Causeway development over and around TD Garden. The new hotel will have 390 rooms.
Another project involving decking over the turnpike — the five-building Fenway Center along the highway from Beacon Street to Brookline Avenue — is also due to wrap during the first half of this decade. Meredith Management and IQHQ, which focuses on developing life sciences properties, plans to finish work on the Kenmore Square project in 2024. Like with 1001 Boylston, Fenway Center has been many challenge-filled years in the making.
Subscribe to the Globe's free real estate newsletter — our weekly digest on buying, selling, and design — at pages.email.bostonglobe.com/AddressSignUp. Follow us on Facebook, Instagram, and Twitter @globehomes.