Developments & Construction
As Suffolk Downs development gets BPDA approval, negotiations remain
The BPDA voted to approve a project that will bring a new neighborhood in its own right to the former Suffolk Downs racetrack.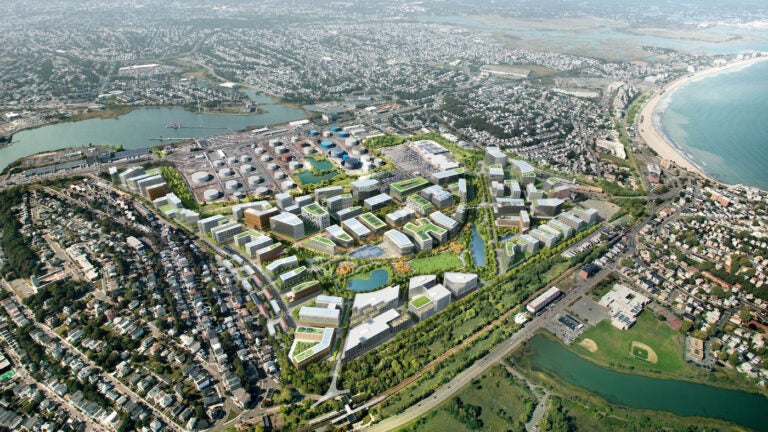 The Boston Planning and Development Agency voted Thursday to approve a project that will bring 10,000 apartments and condominiums with office, retail, hotel, and open space spanning more than 10.5 million square feet — a new neighborhood in its own right — to the former Suffolk Downs racetrack.
The massive project, at 525 William F. McClellan Highway, will straddle the line between East Boston and Revere and is slated to be a 20-year undertaking that at its full build-out, as The Boston Globe noted, would maintain a population comparable to Back Bay.
Still, even as the city inched closer to the BPDA vote this week, activists and officials who have closely followed the project over its three-year-long review process say items remain on the negotiating table with the developer, HYM Investment Group.
Speaking in a virtual town hall event Tuesday night, City Councilor Lydia Edwards maintained that Thursday's potential vote would serve only to set the baseline for what the future of Suffolk Downs holds.
"A lot of the conversations, a lot of the negotiations, and a lot of the continued fight for additional housing or additional affordability will continue after Thursday," Edwards said. "But on Thursday, we're making sure we're all clear about what the minimums are and what the floors are."
The project arrives amid Boston's historic building boom, but as rents rise, worries deepen about whether the city's housing will be affordable for its working families. Many of them reside in East Boston, also a hub of immigrant households, and have already felt the pinch of the rising costs.
And what is considered affordable in policy does not necessarily translate to tangible for renters in reality, activists say.
Maria Carolina Ticona, of the East Boston-based PUEBLO Coalition, told the Globe that the average two-bedroom apartment would cost $1,492 a month for a family of four with an annual income of just over $79,000 under current income levels — a figure not attainable for many local families.
"Most people here don't make $60,000 or $70,000 a year," she told the newspaper. "When the city says this will be affordable (at 70 percent of area median income) they're not talking about us."
On Tuesday, approximately 50 climate and housing activists called on officials outside City Hall to delay the BPDA vote until the project plans for more affordable housing, according to the Globe.
The plan currently calls for HYM to set aside the required 13 percent of units — 930 for this project — for low- and middle-income renters and also to invest $5 million for affordable housing to be built off-site in the neighborhood, or about 400 units.
"We're trying to set the table correctly," HYM managing director Tom O'Brien told the Globe. "We've put together a really thoughtful plan that we think will stand the test of time, and build a community where someday 15,000 people will live."
On Tuesday, Edwards outlined the inroads her office and others were able to make with HYM to date, including the off-site housing promise, the contribution to the Housing Stabilization Fund, and a commitment for the project to abide by the city's forthcoming fair housing amendment.
Developers, Edwards explained, do not typically have to meet standards set by laws passed after their plans are submitted.
"He's agreeing to adhere to a law that's still being written," the councilor said. "That's a huge win for us."
Although Edwards said officials were able to secure other commitments around public transit investments, mitigation payments, and environmental requirements, she said more remain to be hammered out.
Edwards said among the outstanding asks is an aim to make the affordability of two- and three- bedroom units "more representative of East Boston" within the project's first two phases, according to her presentation.
She noted last year that while affordable units included in the project would on average be available to those making 70 percent of Boston's area median income, or AMI, the neighborhood's median income is closer to 50 percent AMI, and between 30 percent and 40 percent for renters and communities of color.
Right now, HYM must report to the BPDA every two years and at 60 percent and 80 percent of the project's completion to receive approval for continuing work, according to Edwards. She wants to see more opportunities for officials and the communities to check-in with developers.
"We are also pushing that it goes from phase to phase, so after it's done with one phase and we're moving into the next one, that we look back at what was done, make sure that it was done according to plan," she said.
Additionally, among other efforts, Edwards is seeking to expand the project's Impact Advisory Group, calling for commitments to include sustainability experts, workers, renters, and locals who do not speak English as a native language on the panel. The project's process was criticized earlier this year for lacking accessibility to non-English speakers in a neighborhood where about half of the population was born outside the United States.
Edwards wants to see a commitment for the development to provide investments to the stabilization fund "for the life of the project" as well, according to her presentation.
"We not only want this fund to be independent but we want it to last forever," she said. "We want every developer in East Boston to contribute something to this Stabilization Fund, but we also want developers and future owners of Suffolk Downs to also contribute as well."
BPDA Director Brian Golden, in a statement to the Globe Tuesday, hailed already-secured agreements building on transportation, job training, and climate resiliency aspects. He also highlighted that the project stands to create the largest single boost in affordable housing the city has seen in decades.
"Over the past three years, we've closely collaborated with the residents of East Boston, local elected officials, and the many advocacy groups to improve the Suffolk Downs redevelopment project to better serve the neighborhood and the city as a whole," Golden said. "This has included increasing the amount of affordable housing it will create and the range of income levels it will serve."
Should the BPDA board approve the plans Thursday, work on the project would kick-off in Revere first. O'Brien told the Globe developers are aiming to break ground on offices and apartments on that property early next year.
Phase two — Belle Isle Square — would start two years later and span 11 buildings near the Suffolk Downs MBTA Station in East Boston. The development would ultimately cover 161 acres, including new streets, bike paths, parks and open space, and upgrades to Route 1A.
The project will move onto the Boston Zoning Commission for review.
Subscribe to the Globe's free real estate newsletter — our weekly digest on buying, selling, and design — at pages.email.bostonglobe.com/AddressSignUp. Follow us on Facebook, Instagram, and Twitter @globehomes.