New Developments
Boston gets a second and third chance to build affordable neighborhoods. Will it?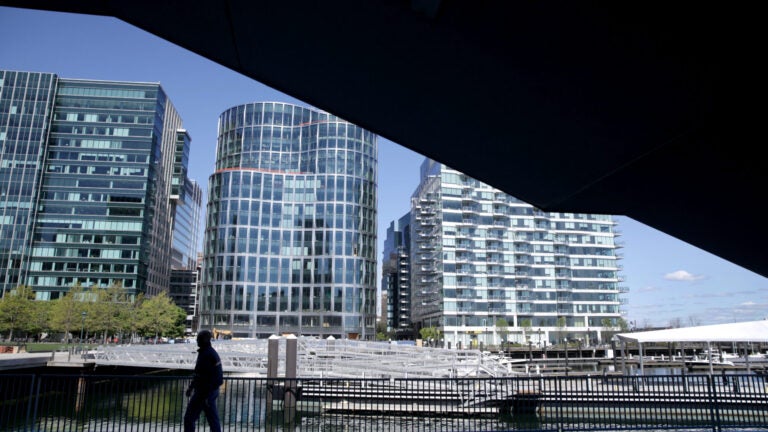 It's rare in a city as old as Boston to find large tracts of land available for development, and the city suddenly has two.
Stakeholders in Boston's real estate orbit recognize that the city must avoid development insanity — doing the same thing repeatedly expecting different results — when it comes to housing in both.
"When it comes to the Seaport, so many things went wrong. More than $20 billion in public spending created the Seaport and yet, we have a neighborhood that does not have equity or inclusion in its foundation — in terms of who built it, who lives there now, and the businesses that exist there,'' acting Mayor Kim Janey said via e-mail. "With Suffolk Downs and Allston, we must include our workers in this prosperity and help families build generational wealth.''
But recognition and action are two very different things.
While the Seaport remains one of the city's hottest construction zones, developers are looking beyond to new blank canvases like Suffolk Downs in East Boston and the stretch of Allston where the Mass. Pike is expected to get a billion-dollar-plus overhaul. There are already signs that housing isn't as immediate a priority as lucrative life science projects and that the city is setting itself up for a repeat of some of its Seaport stumbles.
"People in a poll we did a few years ago were saying: 'There's nothing for me to do on the waterfront. I can't afford to eat at the restaurants. I can't afford to shop at the retail locations. There just isn't enough diversity cost-wise of things for me to do and places for me to go that I would actually want to be there,' '' Deanna Moran, director of environmental planning at the Conservation Law Foundation, said of the Seaport. "If we're not careful, I could see that playing out in East Boston as well. That is the demographic that a lot of developers in the development boom are catering to and producing these high-end, luxury condos and the high-end restaurants that go along with that.''
Boston real estate circles see the Allston development as one with the potential to become Kendall Square 2.0 due to its ability to appeal to the region's booming life science sector. The master plan for The HYM Investment Group's 161-acre Suffolk Downs redevelopment, which straddles Boston and Revere, calls for 10,000 units of housing upon completion. But the development team earlier this summer swapped plans from housing in the first phase to labs to capitalize on the life science surge despite the firm's emphasis that the project would have a significant residential component right out of the gate.
Tom O'Brien, HYM's founding partner and managing director, maintains that the firm is devoted to seeing its housing target to fruition.
"There will still be housing built in another portion of the site, so we'll still do the same amount of housing,'' O'Brien said. "But it gives us a chance to set the table for commercial and lab success right out of the gate as well.''
'If we're not careful, I could see that playing out in East Boston as well. That is the demographic that a lot of developers in the development boom are catering to and producing these high-end, luxury condos and the high-end restaurants that go along with that.' — DEANNA MORAN, Conservation Law Foundation
The roughly $1 billion first phase of Suffolk Downs is slated to have 500,000 square feet of lab space, roughly 85,000 square feet of retail,a hotel, and 1,400 housing units. This initial residential-turned-lab building swap stems from that parcel being in Revere, where O'Brien said there was more of a need for commercial uses than residential.
But keep in mind: Boston leaders like former mayor Marty Walsh and think tanks like the Brookings Institution all have rallied in recent years around the argument that the communities surrounding the city simply aren't developing enough housing stock to make a dent in a supply shortage that continues to send prices skyward.
This may sound familiar to Seaport critics, who argued that the neighborhood leaned far more in the direction of commercial lab and office development than aspects highlighted in earlier master plans such as housing, cultural features like a performance hall, and even basic services like a school or full-service grocery store.
Boston Global Investors boasts of 160-plus affordable units of housing created from the Seaport Square master plan — a number that seems low in relation to the more than $3 billion in construction mentioned in the same sentence on the firm's website. Roughly 450 income-restricted units of housing have been created from development across the entire Seaport neighborhood, according to the Boston Planning & Development Agency.
"Four hundred and fifty units is a lot of units in a neighborhood that's now got a few thousand units,'' said Brian Golden, director of the BPDA. "That's 14 percent of all the IDP [Inclusionary Development Policy] units generated in the city of Boston. So that's not nothing. It is significant.''
Walsh's "Housing a Changing City: Boston 2030'' plan called for the creation of 69,000 units of housing — nearly 16,000 of which would be designated as income-restricted, according to the city's website.
But the housing developments that have been built across the Seaport are largely luxury apartments typically starting at $2,400 per month for a studio, according to Apartments.com listings. A bulk of the units at the neighborhood's luxury condo buildings like 22 and 50 Liberty, as well as EchelonSeaport, list for well over $1 million, according to marketing and brokerage materials for each development.
'Four hundred and fifty units is a lot of units in a neighborhood that's now got a few thousand units. So that's not nothing. It is significant.' — BRIAN GOLDEN, Boston Planning & Development Agency
Developers of each new residential project with more than 10 units in Boston are required to set aside at least 13 percent as income-restricted under the city's inclusionary policy. They can sidestep this by developing 15 percent to 18 percent of the unit percentage off-site or by paying into the Inclusionary Development Policy Fund. O'Brien sees the off-site option as a key factor considering that the Seaport has tilted so much in the direction of high-end housing rather than becoming a neighborhood for all.
"There's affordable units that came out of it, but they just didn't get built in the Seaport,'' O'Brien said. "For us from the beginning, one of our primary tenets has been we want the affordable housing to be built in Suffolk Downs.''
Along with promising to deliver on-site the 13 percent affordability requirement, O'Brien said 20 percent of the units across the entire development would be affordable — "an entirely different setup'' from the Seaport.
Some organizations are already writing off the idea of widespread affordability in Allston and the neighboring Harvard Enterprise Research Campus. Instead, they want better transit connectivity between suburban markets and the urban center.
"If we did improve connectivity and we made the travel time between gateway cities [like Fall River and New Bedford] and Boston better, more efficient, and also reliable, then all of a sudden, we're opening up affordable housing markets relative to job centers,'' said Richard Dimino, president and CEO of A Better City, a nonprofit focused on growth under the lens of equity, sustainability, and improved transit. "It's interesting to think about transportation as being an affordable housing solution.''
But don't discount affordable housing in Boston's urban core quite yet. Almost everyone in the city's development and political communities has an opinion of what can be learned from the Seaport before a major era of groundbreakings and construction takes place in Allston and at Suffolk Downs.
"The zoning code is so outdated that it is effectively obsolete, and each individual particle becomes a one-off negotiation for special approval,'' said Michelle Wu, a Boston city councilor-at-large, a candidate in the mayoral election, and a proponent of abolishing the Boston Planning & Development Agency. "We need to move to a system where there is a planning department that is accountable — separate from our development agency — to ensure that the rules that govern our growth and the development approval process truly reflects the urgency of needs that we're seeing in our community.''
Not every developer in Boston is swapping out housing for lab use. Berkeley Investments' redevelopment of Boston Tech Center along the Mass. Pike in Allston calls for more than 300 units of housing, and the developer is unlikely to change the build-out even amid a life science surge in the area.
"In our approach, it wasn't, 'Let's maximize the amount of lab that we can do, but let's make sure that it is really fully integrated within the neighborhood,' '' said Young Park, president of Berkeley Investments. "To do that, we needed both the office component — obviously, you have to pay the rent and make sure that you get a return on your investment — but also housing of all types.''
There are very early signs that several mayoral candidates, including the acting mayor, appear to be hearing what critics have been saying about the development paths of the waterfront and Seaport. That could put Boston's next crop of hot spots on a different construction trajectory.
Janey pulled a waterfront zoning plan last month on the grounds it didn't do enough about climate change and making the waterfront accessible to all residents.
"When it comes to development in any neighborhood in Boston, I have a simple rule: Planning has to drive development, not the other way around,'' Janey said. "We need to ensure that our planning processes are equitable and set goals based on a clear set of city-wide and neighborhood land-use policies that strengthen the fabric of our neighborhoods and propose a modernized, community-value-based zoning code.''
A similar development focus on equity and the environment is expected on megaprojects elsewhere in the city — no matter who wins the Boston mayoral race later this year.
"All of these areas that we've been discussing, there's an opportunity for Boston to become more affordable, more sustainable, [and] more equitable, but that really means that we need to lean in hard and disrupt what has been become the norm in the current broken process,'' Wu said.
Send comments to [email protected]. Subscribe to the Globe's free real estate newsletter — our weekly digest on buying, selling, and design — at pages.email.bostonglobe.com/AddressSignUp. Follow us on Facebook, LinkedIn, Instagram, and Twitter @globehomes.