Fall House Hunt
Despite debt, millennials are the biggest home-buying generation. How?
Slightly more than a third of all home purchases were made by millennials over the past year. Get the latest Fall House Hunt news and search listings at realestate.boston.com.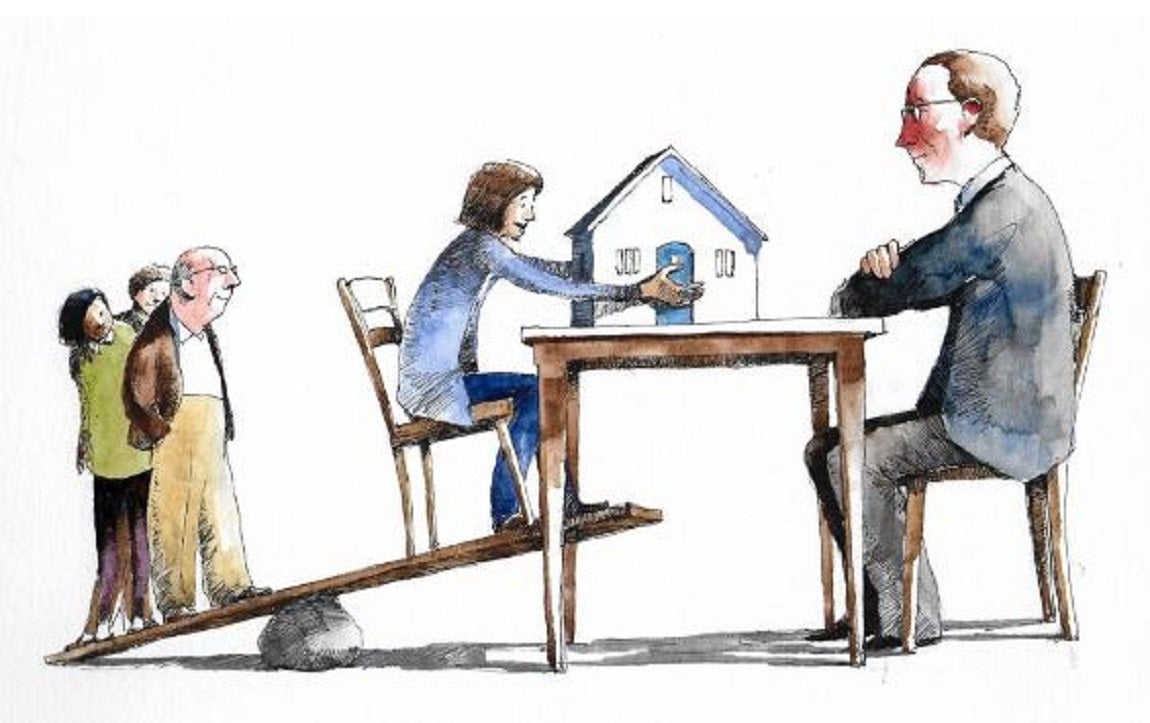 High prices. Tight housing stock. Bidding wars with powerful cash buyers (who are these people, anyway? Did they all win the lottery?). On the surface, it seems the cutthroat real estate market favors the wealthy.
This would disqualify many millennials, a generation that grapples with student loan debt. In Massachusetts, 60 percent of students graduate with debt; the state average is $31,563, according to the Institute for College Access & Success.
Many young people rent: According to a 2017 study by the Pew Research Center, millennials, defined as those born between 1981 and 1996, dominate the rental ranks. In fact, millennials head 18.4 million of the estimated 45.9 million renting households, and they're significantly less likely to own a home than prior generations of young adults when they were the same age.
But in Boston, renting isn't necessarily a thrifty solution, either: At a median cost of $2,340 per month, Boston ranks as the No. 4 most expensive city to rent a one-bedroom, according to an August report by the real estate site Zumper.
In fact, rents are so high that many millennials are considering buying despite the uphill climb, says Kevin Kuechler, a mortgage banker with Draper and Kramer Mortgage Corp. in Franklin. This is especially true in areas that are so desirable to younger buyers: urban and walkable, with plenty of restaurants and retail.
"Since the mid-1990s, there has been a growing preference for city living over the suburbs — among almost all age demographics, but particularly for those who have higher levels of education and income within those age segments,'' said Constantine Valhouli, cofounder of NeighborhoodX, a real estate research website. "This also means that prices have risen as a result, in part, because of higher demand. This also means larger down payments, which force many out of the market even if their income allows them to buy and limits buying to those who have very high-paying jobs or who are doing this with parental support.''
Slightly more than a third of all home purchases were made by millennials over the past year (36 percent; it was 34 percent in 2017), which kept them as the most active generation of buyers for the fifth consecutive year, according to a National Association of Realtors study.
But how do they swing it? In some cases, Valhouli said, millennials purchase larger homes in emerging neighborhoods and take in roommates to help pay the mortgage. Low down-payment programs also help, Kuechler said.
"Low down-payment programs have gotten much more popular. If you have excellent credit and you're not borrowing more than $450,000 in the Boston area, it's very easy to put only 3 percent down versus 20 percent down. … The interest rate is only half a percentage higher,'' he said.
But in many cases, it's simply about ruthless saving and delayed gratification.
Ada Salie was 24 when she bought her first condominium in West Roxbury in 2014. She had been living at home, paying rent to her mother. Her mom suggested that instead of paying rent, she could build equity by buying a house. Generously, Salie's mother helped her with a down payment on a $219,000 property — on the condition that Salie repay her in five years.
"I'm a pretty long-term thinker. For me to throw away money on rent every month doesn't make sense,'' Salie said.
Salie, who works for her family's gymnastics company, paid off the debt in 3½ years.
"I was a hard-core Dave Ramsey follower,'' she said, referring to the finance guru who specializes in debt reduction. "I put every cent toward my debt. I paid off little debts first, then larger ones, until I had a bunch to throw at my mom's debt every month to build equity in my condo. For about a year, I was giving her most of my paycheck. I was living like a Spartan for a few years: no eating out, no buying things, and I got most of our things off [sale] groups on Facebook. All my friends thought I was crazy,'' she said.
Not so crazy: She sold the condo at a profit and, in April, she bought a single-family ranch-style home in Framingham with room for her two young children.
"The hustle was worth it,'' she said. "I'm trying to build wealth for my family in the long run.''
Homeownership was also a goal for 33-year-old assistant biology professor Danna Zeiger from the time she and her husband, Adam, graduated from college. They married young, at 22, and immediately began saving for a home, setting aside money in a Roth IRA.
"My mom is the CFO of a hospital in Philadelphia. She's an immigrant. She's done well. And she said, 'Open a Roth IRA now.' That was huge. It was kind of the secret to how we were able to eventually have some kind of bulk down payment,'' Zeiger said.
Zeiger was fortunate to graduate debt-free, and her husband worked in a co-op job while obtaining his degree to help pay his tuition.
"He scrounged every penny. He essentially lived in a converted closet [in college]. He had non-insulated windows,'' she said, laughing.
After college, she and her husband hunkered down in a small, rent-controlled apartment in Cambridge for several years while working toward their PhDs. They budgeted ruthlessly.
"I've always cooked at home. Never, to this day, have I bought one lunch — ever,'' she said.
Finally, it was time to buy: Their 550-square-foot apartment wouldn't accommodate their growing family, with one small child and another one on the way. They zeroed in on Newtonville because of its vibrant Jewish community, urban feel, and access to public transportation.
But it was a daunting climb.
"It's way harder for our generation and age group,'' Zeiger said. "House-hunting was a crazy experience. If you're older and have more cash, you're going to win.''
She found herself up against people who were in the position to waive mortgage contingencies.
Finally, she and her husband bid $60,000 over the asking price on a 1,400-square-foot condominium in 2016.
"Our broker said: 'Sellers either like cash or they like greed. It's one or the other. You don't have cash, so go with greed,' '' she recalled. They went with greed, and the high bid worked.
"We feel blessed to have gotten through the whole ordeal,'' she said.
Jeff Condon, 32, and his wife, Martina, 29, endured a similar battle while searching for a home. Like many millennials, they had no desire to decamp for the suburbs and endure long commutes to their Boston jobs. They wanted a commute that's less than an hour, from a town with good schools.
They weathered the typical defeats — they were outbid on six or seven properties before buying a condo in Arlington that needed lots of work, he said. But they were also well positioned to buy a home and invest in repairs. Now they're among the first of their friends to own a home.
They worked hard for it, Jeff said. "Both of our parents provided us with guidance growing up that we'd need to think about what sort of careers we'd have after we graduated. We knew it made sense to work in fields that had [stability].''
He's an engineer at Massachusetts General Hospital; Martina works in finance. She's obtaining her MBA via an online program through Northeastern University, which is paid for by her employer, Boston Consulting Group. Jeff received a full graduate scholarship to Babson College, turning down other schools that would have required loans.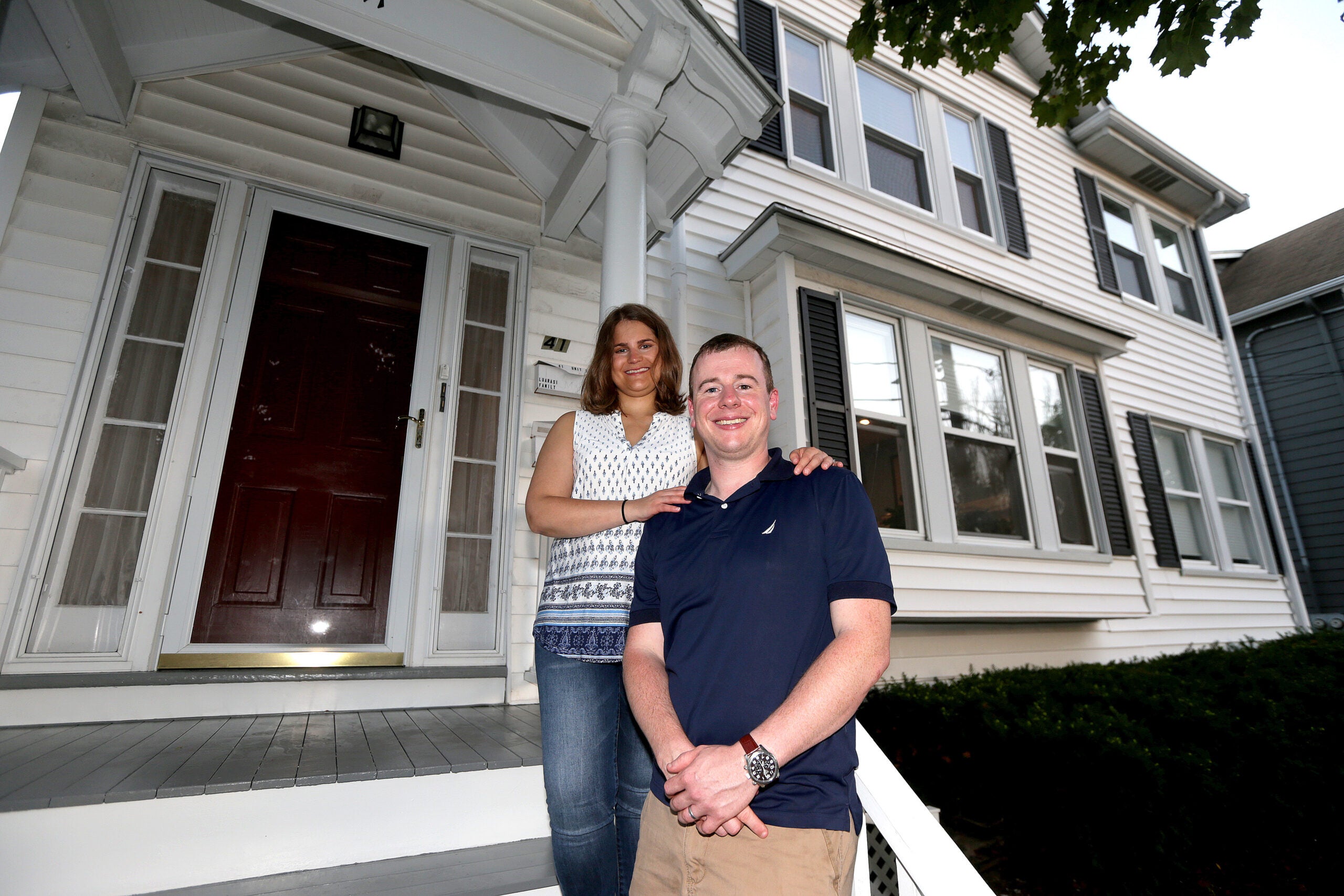 Deferred gratification is second nature to the couple: The condo didn't initially look like a dream home. There were no other bidders and for good reason, Jeff said.
"The listing photos were incredibly bad. Martina didn't even want to look at it. It looked like a bachelor pad,'' he said. But they took a risk, noticing that the shared basement was immaculate.
"If nothing else, we knew the neighbors would be considerate,'' he said.
They bought the home for under asking in 2017, and now they're fixing it up — again thinking long term, hoping to make a profit.
"We realize we can make our place perfect for a young family or a retiree,'' he said.
Next up? A new kitchen. In the meantime, he and Martina continue to budget. They drive older cars. They take vacations using only credit card points. They try not to dine out too much.
"We live simply,'' he said. "Our goal is to make everything turn-key so it's more attractive to retirees moving into the city — who are all-cash buyers.''
Kara Baskin can be reached at [email protected]. Subscribe to the Globe's free real estate newsletter — our weekly digest on buying, selling, and design — at pages.email.bostonglobe.com/AddressSignUp. Follow us on Facebook and Twitter @globehomes.