Fall House Hunt
This is how rising inflation hits first-time home buyers
When everything from groceries to gas costs more than it did a year ago, it erodes the purchasing power of people's paychecks.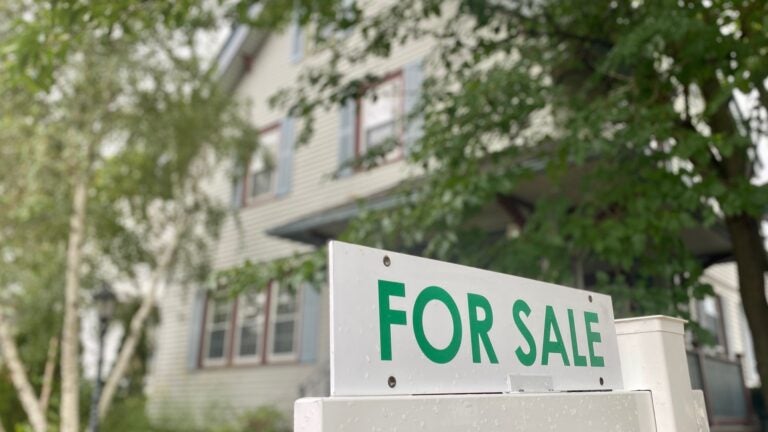 Average rents in Boston have gone up 14.3 percent in the past year, according to rental website Apartment List, and median home prices in Massachusetts have similarly skyrocketed. But it's not just housing: Everything is getting a lot more expensive.
Consumer prices were up 5.4 percent in September compared with a year earlier, according to the Labor Department's most recent Consumer Price Index, which tracks the cost of goods across the American economy, from clothes to cars to breakfast cereal. Wages have gone up, too, but not by as much: Average hourly earnings increased 4.6 percent over September 2020, according to the Bureau of Labor Statistics.
When everything from groceries to gas to rent costs more than it did a year ago, it erodes the purchasing power of people's paychecks — and makes it even harder for first-time home buyers to save up for a downpayment. And with prices rising at a faster clip than the Federal Reserve's target of about 2 percent, higher inflation will probably result in higher mortgage rates, too.
The Fed is likely to raise the Federal Funds rate in the first half of 2022 to try and keep inflation in check, said Nadia Evangelou, senior economist at the National Association of Realtors. "When the Fed increases its interest rates, banks do, too," Evangelou said. "And when that happens, mortgage rates go up for borrowers." NAR forecasts that mortgage rates will rise to 3.6 percent by the middle of next year.
Mortgage rates were already creeping higher this week in anticipation of the Fed's future actions. The average rate on a 30-year fixed-rate mortgage rose to 3.05 percent on Thursday, according to Freddie Mac's Primary Mortgage Market Survey. Rates have climbed more than a quarter percentage point since early August.
That may not sound like much, but just a 0.25 percent increase on a mortgage rate can instantly drop a buyer's budget from $500,000 to $485,000, for example, putting homeownership that much farther out of reach.
"In this high-priced market, where you're stretching yourself very thin to get into the market, any change in the interest rate is going to have a significant impact on what you can afford," said Keren Horn, associate professor of economics at the University of Massachusetts Boston.
Ironically, higher interest rates are among the few things that could actually rein in home prices, Horn said. When mortgages get more expensive, it should exert some downward pressure on home prices — at least in theory. But given the shortage of homes for sale, "I don't know if that's really possible, given how supply-constrained housing is in Massachusetts," she said.
Rising interest rates and inflation will make it harder for first-time buyer to afford a house, Horn said, but only at the margins. The much bigger issue is that there just isn't enough housing for everyone who wants to live here, she said, and pervasive single-family-only zoning makes it difficult or even impossible to build enough new homes in many suburban communities. "We need to stop seeing developers as the enemy and start seeing single-family zoning as the enemy," Horn said.
"Ultimately, if we want first-time home buyers to be able to afford to buy in Massachusetts, the answer has to come from supply — we have to build more," Horn said. "Outside of Cambridge and Boston, very few cities have built a significant amount of new housing, and the vast majority of towns have built almost nothing in the last decade."
Jon Gorey blogs about homes at HouseandHammer.com. Send comments to [email protected]. Follow him on Twitter at @jongorey. Subscribe to our free real estate newsletter at pages.email.bostonglobe.com/AddressSignUp. Follow us on Facebook, LinkedIn, Instagram, and Twitter @globehomes.