Gardening
Boston to launch curbside food waste collection in August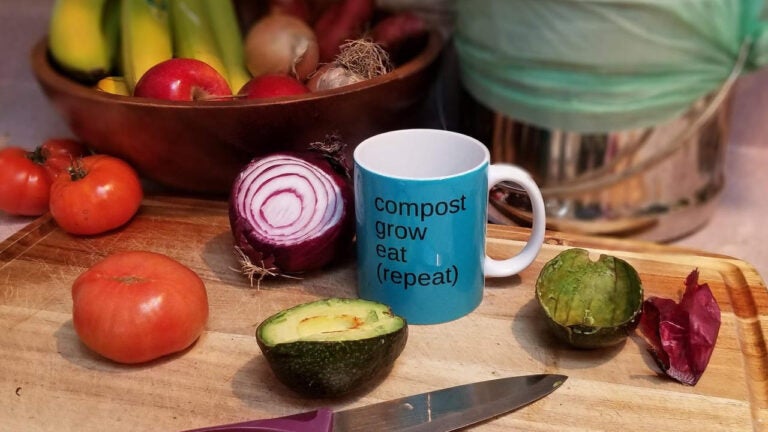 Boston will soon pick up food-only waste curbside, along with trash and recycling, for residents interested in composting their food scraps.
Food waste accounts for one-third of Boston's waste stream, according to Boston chief of streets Jascha Franklin-Hodge, and it's the country's largest single landfill material according to the FDA. When food waste rots in landfills instead of being composted, it produces methane, one of the most potent greenhouse gases.
But when food waste is separated from trash, it reduces the load of landfills (which are filling up in the region), and is turned into either compost or an electric power supply. Bostonians can soon put their food waste to good use for free.
Open enrollment for the pilot food waste pickup service begins June 1 at boston.gov/food-waste — space is limited. Residents of buildings with six or fewer units can enroll, and waste collection begins in August.
"We're excited to introduce this program to Boston residents to help meet our zero waste goals," said Franklin-Hodge. "Our goal is to educate residents on ways to reduce the amount of food waste they generate."
Besides reducing the city's landfill waste, lowering emissions, and creating new soil for crops, the food waste program will also save money in the long run. In 2014, Cambridge launched its pilot food waste collection, which it expanded citywide in 2018. The more food waste the city collects instead of trash, the more money they save, Cambridge's recycling director Michael Orr told WBUR last month. "We pay about $109 per ton for trash whereas compost costs about $65 per ton," said Orr.
What is composting?
Composting is the process of turning food scraps and carbon material (like wood chips or newspaper) into compost, a nutrient-rich soil high in elements like nitrogen, potassium, and phosphorus. At-home composting is possible with lots of carbon material, airflow, and patience. But for city dwellers, commercial composting is much more convenient. Plus, commercial compost piles reach temperatures of over 150 degrees, meaning they can break down packaging items like bags labeled "compostable."
Composting food waste instead of sending it to a landfill to rot is one of the best steps an individual can take to combat climate change, as wasted food produces 8 percent of greenhouse gas emissions.
"It's not hard — all you have to do is separate your food waste in a different bin," said Conor Miller, CEO of Black Earth Compost. "I saw a study one time on why people don't do it, and the first thing was they think it's complicated," he said. "And it's not."
Miller recommends using compostable bags for food waste, and keeping the bin on the dryer side with measures like squeezing out tea bags.
"If you live in a city you might strongly consider not putting in meat, bones, or seafood," said Andy Brooks, CEO and co-founder of Bootstrap Compost, "because that material is going to attract vermin." Freezing animal products until the food waste is ready to be taken out helps combat vermin in spaces prone to rodents.
Project Oscar
Boston residents who can't enroll in the curbside collection still have other composting options. In 2014, the city launched Project Oscar, their community compost pilot program. The project, named for Sesame Street's Oscar the Grouch, began with just two bins — one in East Boston and one in the North End. They now have 15 drop-off bins throughout the city, with a 16th on the way, where residents can drop their food waste for free, 24 hours a day.
Project Oscar's web page lists current locations along with items accepted. Notably, bins can't accept meat, dairy, fish, fats and grease, pet waste, or yard waste.
Other compost drop-off locations
Boston works with farmers' markets across the city to provide more food waste drop-off locations. Partnering summer markets will be announced in the coming weeks.
Boston will also launch a partnership with local community gardens next month. In June, the city will announce which community gardens can accept food waste. The city will provide these gardens with tools and training to take in neighborhood food waste, turning it into compost to grow more food.
Private compost companies
Below are compost companies servicing the Boston area — for a monthly fee, they'll pick up food waste right from residents' doorsteps, and take care of all the dirty work.
What started as a hauling company on the North Shore in 2011 is now Black Earth Compost, one of the leading full-service compost companies in New England. Vertically integrated, they're the only company servicing Boston that composts all their own material, also serving as the pickup vendor for Project Oscar. Serving the residential and commercial sectors, Black Earth's compost pickup plans range from $7 to $21 a month, depending on location and pickup frequency — once a week or once every two weeks. Their starter kits, including bins and liners, go for $16 to $38. While Black Earth serves around 1,500 customers in Boston, they have over 25,000 additional customers in Massachusetts and Rhode Island, mostly within the Interstate 495 area.
Bootstrap services customers in Greater Boston, Greater Rhode Island, and Greater Worcester, with some New Hampshire service, too. Plans go for $11 for weekly visits ($44 per month) or $15 for visits every other week ($30 per month). On each pickup day, Bootstrap grabs full containers from customers' stoops and replaces them with new, empty buckets and liners. "They can bring that bucket into their home without any worry, and it gives them a catchall container," said Brooks. Bootstrap also returns to members five 6-pound shares of free compost a year, if they want it, for gardening or houseplant maintenance.
City Compost serves the metro Boston area, along with the rest of Massachusetts, New Hampshire, and Rhode Island. Like Bootstrap they provide a clean container each time. After a $10 start-up fee, their monthly prices range from $9 to $32 depending on location and pickup frequency, with the option to add on wood shavings for $2 per service to keep the bin drier. City Compost also offers services like leaf bag collection, bedding exchange for pets and animals, and Christmas tree removal.
Based out of Portland, Maine, Garbage to Garden services the Massachusetts towns of Somerville, Arlington, Belmont, and Medford via a satellite operation. Pickups are weekly and cost between $8 and $15 per month. Maine resident Tyler Frank started Garbage to Garden in 2012 when didn't have the space to compost in his urban apartment himself—now the curbside compost program is one of the most successful in the Northeast, taking food scraps to compost on local farms where the nutrients are returned back to the local environment. Plus, subscribers get an optional free bag of finished compost each week.