Gardening
Pot luck: Tips and plant choices that will help you grow glorious container gardens
'There are so many more sophisticated choices for containers now.'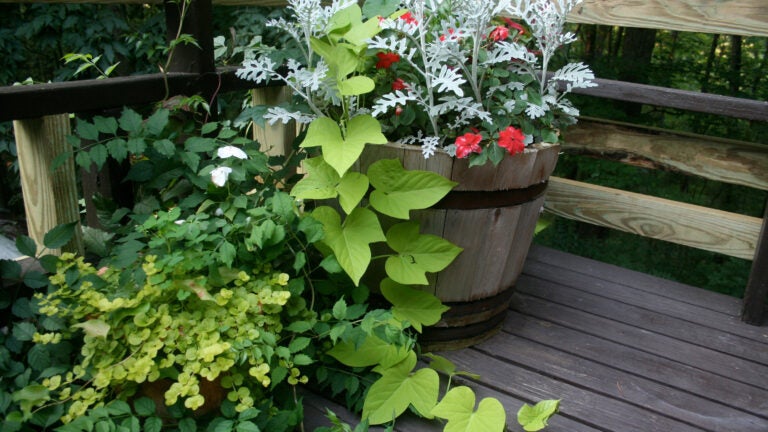 Container gardens make it possible for anyone to garden, even if they only have a rooftop or a deck.
"It's really fun and easy," said Deborah Trickett, owner of The Captured Garden in Westwood. She is one of an increasing number of pros who plant container gardens at clients' homes and businesses throughout the year, but she encourages people to try it themselves.
"It's not brain surgery," she said. "And if you don't like the way it turns out, you can change it."
The place to start this DIY project is at a locally owned garden center, where you can get both good advice and needed materials. These include a large (22 inches is good) but lightweight container (think Fiberglas or plastic) with drainage holes or a self watering reservoir inside the base.
"There are so many more sophisticated choices for containers now," said Wayne Mezitt, chairman of Weston Nurseries, a family-owned business in Hopkinton, Chelmsford, and Hingham that is celebrating its centennial this year.
You will also need bags of the highest quality soilless planting mix you can find, preferably containing fertilizer. Never use garden soil, because it's too heavy and doesn't drain well enough for container gardening. Once it's watered, your container will be very heavy, so assemble your garden at home at its permanent location.
Trickett usually starts planting spring arrangements in early April, starting with cold-hardy plants such as pansies, lettuce, and parsley. For height, texture, and color, stick in cut stems of pussy willows or red twig dogwood. You can also buy small pots of blooming bulbs like daffodils to add, but they won't last long. Or dig up and add small early perennials from your garden, such as vinca, sedum, heuchera, epimedium, small hostas, and ferns for a shady spot.
Trickett said many container gardens require "a thriller, a filler, and a spiller." Ferns or hosta could be the central "thriller," epimedium or heucheras could be the "filler," and vinca or ajuga could be the "spiller," trailing over the sides. Don't be afraid to really stuff them in. Many ho-hum plants in the backyard are transformed into architectural showpieces when a container puts them in the spotlight. Culinary herbs like colorful thymes and sages give the biggest bang for the buck, Trickett said. They grow well in pots, need little water, and can be used for cooking, too.
Wait until June to augment your pot with tender flowers after removing those that have flagged, like the pansies. Don't bother changing the soil. Indoor houseplants can be transplanted into outdoor pots for their summer "vacation," then brought back indoors in September. For example, a tall, narrow mother-in-law plant makes a good tent pole in the center of your pot.
Another summer tip is to focus on tropical foliage plants such as coleus, Persian shield, and ornamental sweet potato vine, said Maggie Oldfield of Thayer Nursery in Milton.
Jan Alice Cooper of Russell's Garden Center in Wayland recommends begonias for shade, while Trickett raves about black mondo grass. Visit her website at thecapturedgarden.com for photos of her container gardens and an instructional video.
Pots dry out faster than in-ground gardens, so test when to water by sticking in a finger up to the first knuckle and feeling for soil moisture. Small pots in hot, sunny locations may need daily watering in summer. Fertilize with an organic solution at half strength twice a month. Because container gardens command eye-level scrutiny, it is more important to remove dead foliage and spent flowers than in an in-ground garden. Make more room for expanding plants by eliminating struggling ones. Keep it neat.
In the fall you can do another basic change-up by replacing nonhardy plants with gourds and evergreen or berried branches, cushion mums, and ornamental cabbages. But that seems a long time away right now, doesn't it?
Send questions and comments, along with your name/initials and community, to [email protected] for possible publication. Subscribe to our newsletter at Boston.com/address-newsletter. Follow us on Twitter @globehomes.
Address Newsletter
Our weekly digest on buying, selling, and design, with expert advice and insider neighborhood knowledge.