Home Buying
Comparing home prices in different areas of Dorchester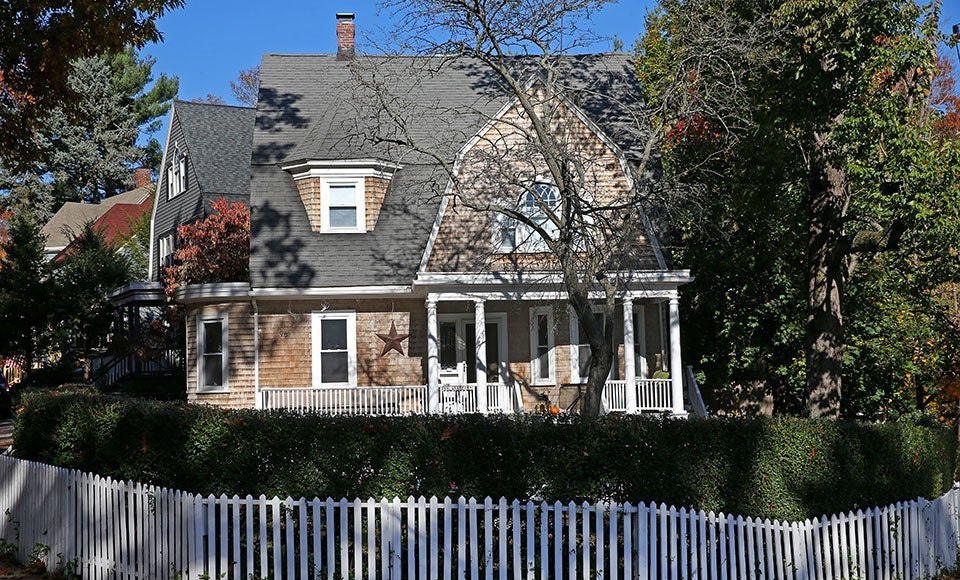 Dorchester is Boston's most populous neighborhood – by a long shot.
According to the 2010 census, Dorchester had 114,235 residents. The next biggest neighborhood in the city was Roxbury, with 48,454 residents.
Housing more than a sixth of Boston's residents, it makes sense that Dorchester, in a sense, functions as a city of its own. (In fact, it was once its own town before Boston annexed it in 1870.) It has a diverse group of residents and over the years has formed its own neighborhoods to reflect that.
This is why Constantine Valhouli, the cofounder of NeighborhoodX, a neighborhood-specific reporting and data startup, made a map to point out just how many sub-neighborhoods are within the city-recognized limits of Dorchester.
By his research, Dorchester has about a dozen neighborhoods.
"The other thing that we found interesting was – with the neighborhood borders –how contentious they were," Valhouli told Boston.com. The neighborhood borders can differ quite a bit depending on the source discussing them and are often heavily debated.
Valhouli then took it a step further to illustrate how different these micro-neighborhoods can be in terms of the price-per-square-foot residents will pay for condos and single-family homes.
"I was a little surprised with how different it was," he said. Condo prices in Dorchester can range from $490 per square foot in the Andrew Square/Polish Triangle area to as low as $68 per square foot in Grove Hall.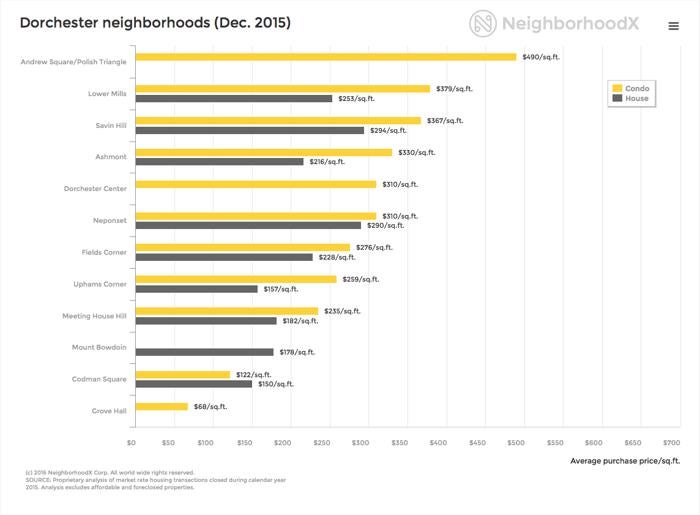 (Follow this link to see an interactive version that includes price-per-square-foot figures for each neighborhood.)
The price-per-square-foot for single-family homes ranged from $294 in Savin Hill to $150 in Codman Square.
"The chart should challenge the idea that Dorchester is a single homogenous market," Valhouli said. To get his data, Valhouli use proprietary analysis of market rate housing transactions that closed during 2015.
Though Dorchester may not be experiencing the same gentrification level as say, South Boston, it has seen its fair share of change over the past few years.
The neighborhood had its first million dollar home sale last year and more and more continue to pop up.
Dorchester is also reusing some of its old buildings to house luxury condos, such as in the Lofts at Lower Mills. A variety of new apartments are being built in the area as well, such as DOT Block, which is currently under review and could add 362 new housing units.
"As it becomes an increasingly desirable address," Valhouli wrote in an email. "The individual neighborhoods of Dorchester are likely to take on more prominence again as more residents and visitors recognize their distinctiveness."