Home Buying
Seller's market, low inventory pitting friend vs. friend
Should you keep quiet that you're looking or join forces?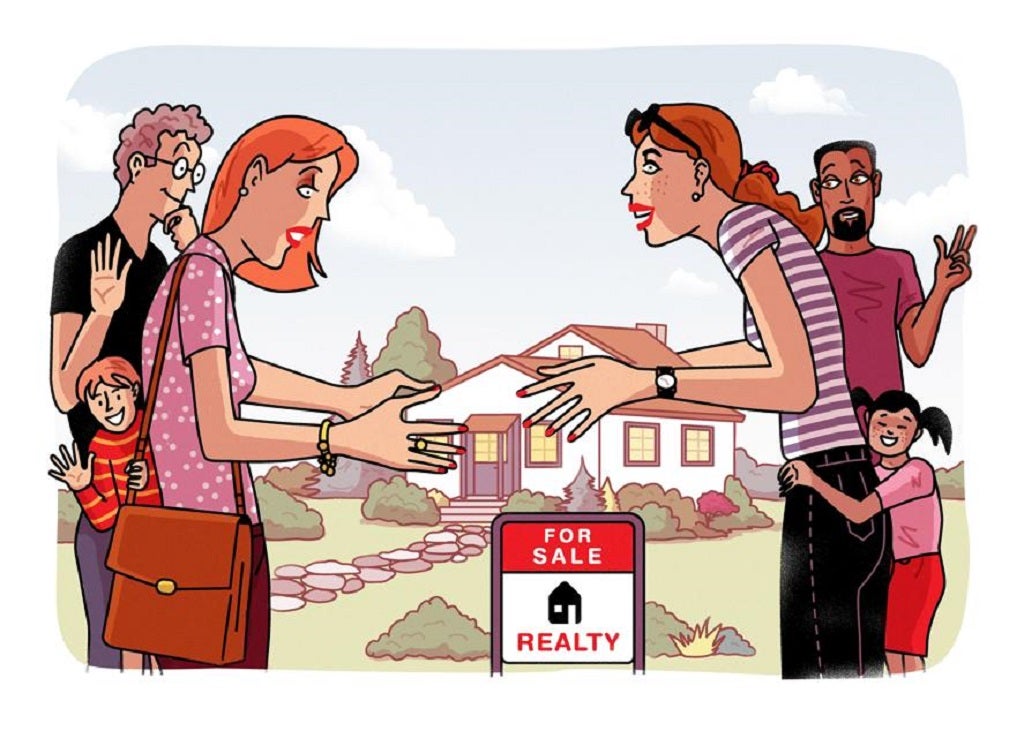 Only in a crazy real estate market would I — a woman whose idea of exercise is a long drive — pen a letter to a seller gushing about her house's location across from a Gold's Gym. The reason for my desperation? My husband and I were on the hunt for a home in a popular town, and I'd just spotted a casual friend at the very same open house.
As it turned out, my gym revelations didn't charm the owner. She sold the house to my friend. And so the anxiety spiral began: When will it be my turn? And more to the point: Do I have to go to her housewarming?
Turns out, I'm not alone. In a housing market with historically low inventory — listings for single-families have been down 62 of the last 63 months compared with the same time the year before, according to the Massachusetts Association of Realtors — it's only natural to run across the same people repeatedly at open houses. Even your friends.
Take Davin and Jennifer Wilfrid and their friends Jeff and JoEllen Komanetsky. They live in the same tightknit neighborhood in Arlington, where their children go to the same schools. Both are in the market for roomier houses. Their searches have been casual so far, but they've also contemplated what it might be like if they compete for the same home.
"My dream is that we look at different times,'' Wilfrid said. "With a good friend, if you're in a bidding war, do you throw your money around? It would be an awful situation, so I think ignorance is bliss.''
After all, outbidding a friend is an indicator that perhaps you have more to burn — and nothing kills a friendship quite like financial envy. In fact, Wilfrid said, she might wait and let the Komanetskys put their house on the market first, rather than compete.
"The money thing stinks, and it's public. It's out there. But good houses come around every season; it's not worth it to risk the friendship,'' Wilfrid said.
Jeff Komanetsky agrees that discretion is best.
"Everybody lives almost the same lives; so much information is crowd-sourced, whether it's restaurants, lawn stuff, or camps. I would just think that at some point, you get quiet for a little bit. If it's a competition and you want the same house, you just wouldn't bring it up,'' Komanetsky said.
No hard feelings, though. "The only thing that would step over a line is if there was a dream house for us and someone else swooped in and took it. … We'd badmouth them a little bit,'' he said with a laugh.
In the best-case scenario, friends can work together to compare notes without feeling competitive, said Amanda Hitchins Lee. She and her husband, Michael Lee, live in a Medford condo with their toddler, and they want to move to Melrose or Reading. Their friends had similar hopes — though Lee didn't realize it until bumping into them at an open house.
"Because we don't sit around and talk about how much we make, we weren't sure they were looking at the same price point. We were walking out as they were pulling up,'' she said. They texted later to compare notes (neither was interested in the house, to everyone's relief), but the couples continued to look at the same houses over the next few months.
Ultimately, the Lees' friends bought a split-level. They want a Colonial, so it worked out. But it could have gotten sticky, Lee said.
"There's this craziness at open houses, this competitiveness. People play this game where they stand outside the open house and talk loudly about how much they're going to offer. … I can see how it could have easily taken a twist if they [bought] a house I was in love with. But our tastes were different,'' she said.
Of course, most people have felt a pang of wistfulness when a friend, say, uses a favorite baby name or lands the last spot in a great day care. But the stakes can be even more delicate with houses, because it comes down to means. Lee and her friends avoided talking about their budget, speaking in general ranges. She's even avoided looking on real estate websites to see how much her friends paid for their new home.
"Money makes people feel competitive and defensive,'' she said.
And this kind of personal competition stings, said Jackie Schultz. She and her boyfriend, Drew Hadden, sold their condo in Salem to be well positioned for a quick move once they found the right house. Nothing has materialized, so they, their 11-month-old son, their cat, and their 58-pound dog are in a 700-square-foot short-term rental in Peabody. They're ready to move, and seeing friends land houses hurts.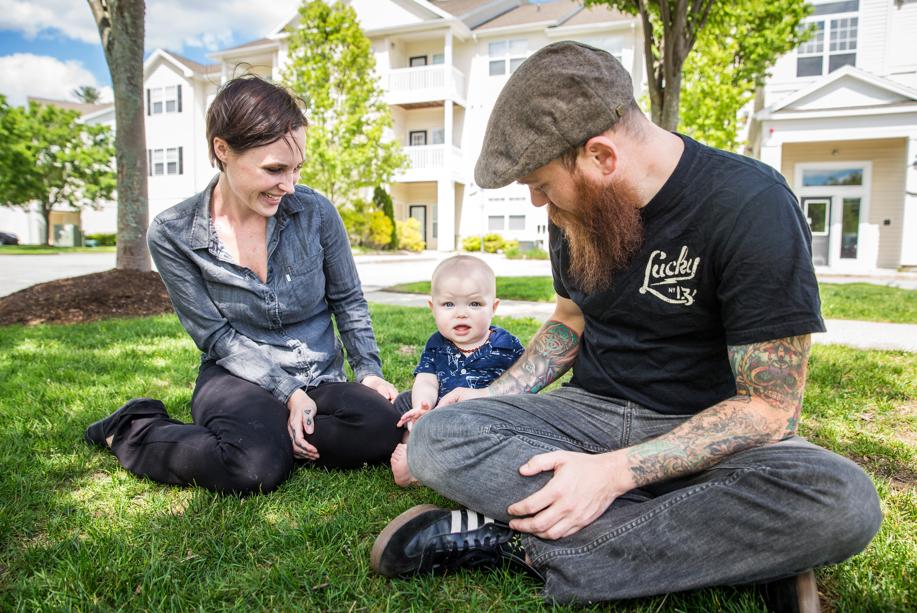 Schultz and a fellow parent in a mom's group became friends after the woman listed her home on the group's website and Schultz toured it. She didn't buy the house, but the two stayed in touch. That woman is about to move into a spacious new home while Schultz bides her time.
"I know our time will come, but at the same time, I wish it came now,'' Schultz said. She and her friend have stopped talking as much because, as Schultz said, they have less in common. She's planning an exciting new move; Schultz is bracing for yet another mobbed open house.
"She's in a different place than I am. She's doing the fun stuff; I'm doing the crappy stuff. We go to these open houses in the $400,000 range, which is every other couple with kids. We drive up and there's 50 or 60 cars going to the same open house. The instant I pull up my face drops,'' Schultz said.
So how do you act if a friend lands your dream home? Do you boycott the first barbecue? Feign happiness while quietly pining for the hardwood floors, spacious playroom, and well-maintained yard?
You grin and bear it, said Jodi RR Smith, owner of the North Shore's Mannersmith Etiquette Consulting, who found herself in the same situation several years ago.
"Last time I was selling my house and purchasing another one, there was another family in our social circle doing the same thing. We would see each other at open houses. By the third open house, we would laugh when we saw each other. After the weekends, when we would bump into each other around town, we would compare notes on what we saw, as well as the potential buyers looking at our houses — and the agents who helped themselves to snacks from closed cupboards! We commiserated about having to keep our homes 'viewing' ready at all times. As it turned out, we each found a house that was best suited to us. Bottom line is that it all works out in the end,'' she said.
And while it might be tempting to abandon hope and look in a completely new area, you should stick to your guns, said Barbara Hirsch of Wellesley, director of strategy at Suburban Jungle Realty Group in Boston, sort of a matchmaker that helps potential buyers identify their best-suited suburbs. Running across the same friends at open houses might be a sign that you're where you're meant to be — or that you haven't done enough research.
"When looking for a home, you and your friends may have different priorities on what's important. Buyers shouldn't fall into the herd mentality and just assume the towns their friends are looking in are the best towns for them,'' Hirsch said. "It's less about getting four bedrooms and more about what town will make you happy. What's the culture? You're not going to be happy in an awesome home if you don't like the people.''
Plus, having friends in the same boat isn't always a bad thing.
"We were able to do a lot of mutual complaining about how crazy this is,'' Lee said.
Kara Baskin can be reached at [email protected]. Follow her on Twitter @kcbaskin. Subscribe to our free real estate newsletter — our weekly digest on buying, selling, and design — at pages.email.bostonglobe.com/AddressSignUp.