Home Buying
Looking to buy in a good school district? Going beyond the rankings
Choosing a community with good schools for your kids is as pressure-packed a process as cramming for final exams.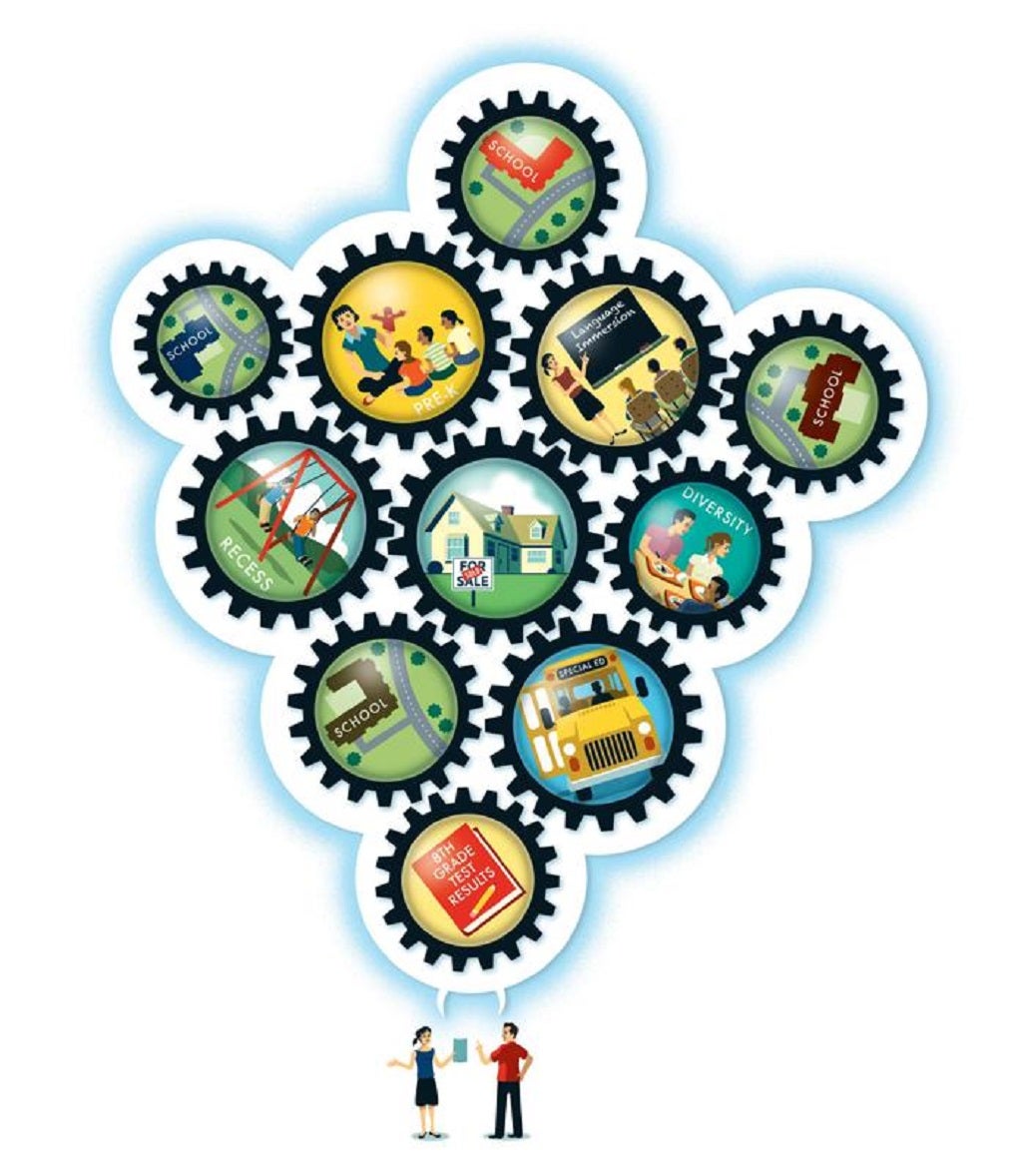 At least a quarter of all home buyers say the quality of a local school system is an important factor in choosing a place to live, according to the National Association of Realtors. But while everyone wants to do right by their kids and give them the opportunity to get a good education, we can't all afford to live in Lexington.
Or Dover. Or Concord. Or Weston. Or Newton. Or . . . well, you get the point. The top-ranked school districts are invariably the most expensive, with median home prices that crest $1 million and six-figure median incomes to match. That leaves many middle-class parents in a fretful bind as they search for a school district that will nurture their children without stretching the family finances to the breaking point. It's as pressure-packed a process as cramming for final exams.
"You want to make a good, informed decision, one you feel good about for years to come,'' said Marie Presti, owner-broker at the Presti Group in Newton. "A lot of parents, if they don't have to move for a job or some other reason, they tend not to move out of the school system during a child's school years . . . so you want to get it right the first time. Do your homework upfront.''
Your study session should begin with a look beyond the usual "best school'' rankings. For one thing, these are often going to steer you toward towns you can't afford, further stressing you out. But some education experts say rankings focused on factors like average test scores and the number of students going to college measure who's at the school, not whether it's any good.
"Average test scores, or the percentage of students who score above the state's proficiency standard, are not always a very good measure of how much students learn while in school,'' said Sean Reardon, professor at Stanford University's Graduate School of Education. That's because they measure skills learned both inside and outside school, and are highly correlated with socioeconomic background.
Reardon compared the eighth-grade test scores of more than 11,000 school districts with their third-grade scores five years earlier to see whether — and by how much — the same cohort of students had improved. He found that the rate of academic growth was surprisingly untethered to socioeconomic advantages: In some wealthy districts, third-graders tested well above grade level but didn't perform nearly as well in eighth grade, while some poorer districts started out behind but made up ground, with kids absorbing the equivalent of six years of schooling in five.
Looking at the data for Massachusetts schools yields a mix of the expected and surprising. Wealthy suburbs like Carlisle, Wayland, and Newburyport were among the top 1 percent in the country, showing 6.2 to 7.1 years of growth in the five years between third and eighth grades. But by this measure of effectiveness, middle-class Malden's schools topped those in tonier towns like Concord, Hingham, and Sudbury, where median incomes are about three times higher. And at 5.1 years, Boston schools showed better growth than those in Weston, Westwood, and Winchester.
While Reardon admitted his method is still an imperfect means of assessment, he said it gets closer to measuring the actual effectiveness of elementary and middle schools, as opposed to the outside advantages of students attending them. "These learning rates are less confounded by differences in family background than static measures of average performance at any one grade,'' he said. "There are many places where children learn at a high rate despite entering with low skill, and others where they learn at a slower rate, despite entering with higher skills.''
One reason higher-income kids often outperform their peers is access to quality preschools. So another real estate homework assignment parents should complete is to investigate early education options in towns they're considering.
"High-quality early education and care is critical to a child's development, school readiness, and future success,'' said Chad d'Entremont, executive director of the Rennie Center for Education Research and Policy in Boston. And low-income children who attend a quality preschool tend to score higher on achievement tests, are 30 percent more likely to graduate from high school, and are more than twice as likely to attend college, he added.
Plus, the benefits of early education can be contagious. "At least one study found that children performed better in kindergarten when more of their peers had gone to pre-K, regardless of whether they themselves had gone,'' said Suzanne Bouffard, author of "The Most Important Year: Pre-Kindergarten and the Future of Our Children.''
These effects are associated only with high-quality preschools, Bouffard stressed, and the vast majority of them are fairly mediocre. Good preschools encourage children to be curious about the way things work and to become inquisitive problem solvers, with teachers asking engaging, open-ended questions. "You want to have hands-on experiences and opportunities for children to learn about things that apply to their lives,'' she told NPR. A good pre-K also helps kids learn self-control and classroom behavior, like waiting turns, sharing, and dealing with frustration.
These years are crucial in laying the groundwork for a lifetime of learning, said Wheelock College early education professor Diane Levin. "We want them to see school as an engaging place where they're excited about what they're learning, where they want to go and learn more.''
Good pre-K isn't available everywhere and doesn't usually come cheap, so Bouffard said it's worth researching the early childhood options available in a community — especially if you have multiple young children. Publicly funded preschool is increasingly common in Massachusetts, but it's far from universal. "Some places offer free pre-K for all four-year-olds, while others offer it only for children whose families fall below a certain income cutoff, and still others have an open lottery to allocate spots because there isn't space for everyone,'' she said.
It's also worth checking whether a town offers full-day kindergarten — and whether it's free. In Massachusetts, 94 percent of eligible kids are enrolled in full-day programs, but many towns charge tuition for the extra half day. "Full-day kindergarten has more of an impact than half-day,'' d'Entremont said, "as students have more time for important developmental activities like group read-aloud, peer tutoring, mixed-ability grouping, and child-initiated activities.''
Another tangible consideration is whether a school gives kids enough time for recess each day. It's not just about exercise and obesity prevention. The unstructured play kids enjoy at recess aids in their cognitive, emotional, social, and physical development, according to the American Academy of Pediatrics. And the Centers for Disease Control found evidence linking recess with better concentration and academic behavior. A proposed bill on Beacon Hill would mandate at least 20 minutes of recess per day statewide, but currently the length and frequency of breaks vary by district and by school.
In the end, though, this parenting test is less like a multiple-choice exam and more like an essay question with a million right and wrong answers: What does your child need from a school?
"Every child and family is different, and that means while some districts will be a great fit for some families, they may not be the right fit for others,'' d'Entremont said. "It's important for parents to look at programs and opportunities that fit the unique needs of their child.''
For example, parents who want their child to grow up bilingual can explore schools with language immersion programs, such as those in Framingham or Milton, while some high schools offer full technical training in subjects ranging from carpentry to engineering to culinary arts. Large or urban school districts can sometimes offer more opportunities, d'Entremont said, from cultural resources and extracurricular activities to partnerships with prominent businesses, but they can also be more overwhelming for both parents and kids to navigate.
Meanwhile, if your child is among the 13 percent of public school students who require some form of special education, it's especially crucial to find out how a school helps special needs students. "Inclusive classroom experiences are critically important,'' d'Entremont said. "With a few exceptions, the school district should be able to support a child's needs in a setting where, for most of the time, a student is able to engage in the same activities and experiences of nondisabled students, including engaging with academic material.''
Presti said it can be helpful to drop in on a PTO meeting to see how many local parents attend, what kind of budget they're working with, and what their priorities are. "There are big differences in how they fund-raise and what they do with the money,'' Presti said. Some PTOs focus on after-school and enrichment activities, others on equipment or in-school programs.
That brings us to the oral exam: Make sure to pay a visit and talk to teachers. "The most important thing is for parents to go and tour schools and meet with educators,'' d'Entremont said.
This is where you can really look beyond statistics and rankings. "Our schools are supposed to teach more than math and reading,'' Reardon said, so parents might look at a school's diversity, its arts and music programs, and what other opportunities exist for kids to develop important social and emotional skills.
But if you're still obsessed with rankings, take heart: Your odds of finding a good school in Massachusetts are better than in many other places. "Massachusetts provides a stronger overall environment to support student success than any other state, and has the highest student achievement in the nation,'' said Sterling Lloyd, assistant director at Education Week, whose 2018 Quality Counts report ranked Bay State schools the best in the nation for the fourth consecutive year.
Pencils down, parents.
Jon Gorey blogs about homes at HouseandHammer.com. Send comments to [email protected]. Follow him on Twitter at @jongorey. Subscribe to our free real estate newsletter — our weekly digest on buying, selling, and design — at pages.email.bostonglobe.com/AddressSignUp.