Home Buying
What home inspectors can and cannot tell you
There is a limit to what they can report and a number of reasons why you should hire one anyway.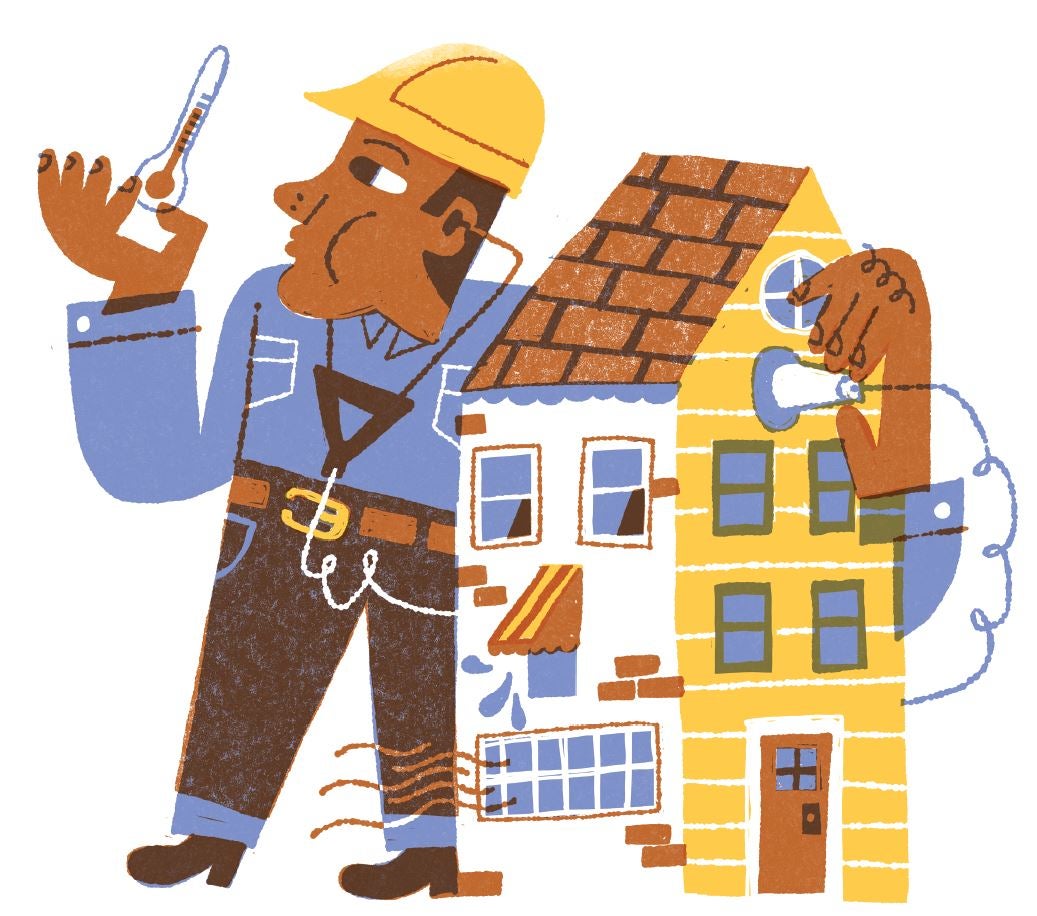 After all the house hunting and hand-wringing, you've finally made an accepted offer on a home. Now, if you're like many buyers, you'll hire a home inspector to cast a critical eye on the property. It's a crucial step that forces buyers to think more objectively about their purchase, said Liz Martin, a home inspector in Brookline. "The issue is no longer whether the bedrooms are sunny or proximity to transportation,'' Martin said. "Instead it becomes, 'What shape is this house or condo in, and can I afford the repairs and the maintenance?' ''
But while a good inspector can give you a thorough assessment of the home's condition, alerting you to potential safety hazards, problems big and small, and what costly repairs might be in your future, there's a limit to what they can tell you — and even the best ones can't see through walls.
"People can have the mistaken idea that the home inspector has magical skills or abilities, which may include X-ray vision, and we don't,'' said Harold Popp, owner of Mount Vernon Inspection Associates in Middleton. Despite new tools such as infrared cameras and moisture meters, the process is still "a visual inspection of readily accessible areas,'' Popp added. "We don't necessarily speculate with any authority about what may be inside the walls.''
Still, a well-trained eye can detect dozens of clues about the condition of a house that buyers might otherwise overlook. "One of the most revealing things is the condition of the roof. People just don't think about it too much; they might give it a passing glance,'' Popp said. "If those roof shingles look like burnt bacon — you know when you overcook bacon it gets crunchy and puffy looking — occasionally you'll see roof shingles like that, and they're done.'' And if there's tar smeared in spots or on the base of the chimney, that signals a stop-gap repair that will need attention.
Popp explains all this to buyers as they circle the home together, starting outside from across the street. You should attend your inspection and participate as much as the inspector allows, he added. "I encourage people to stay right at my elbow, and I'll explain things to them and answer their questions as I go around,'' he said, starting with the exterior elements like the roof, gutters, wood trim, siding, window components, doors, porches, and decks. Then he brings them up close to inspect the siding and look for telltale problems like sagging gutters before heading inside to look at the living space and, crucially, the basement.
Another clue buyers tend to overlook outside is the grading. "The relationship of the soil to the foundation will determine whether they have a dry basement,'' Popp said, and a damp cellar can lead to mold in the attic. "It's rising with the air up through the home into the attic. … The soil should always slope away from the building, so the water can flow away from the house. And mulch or crushed stone? They don't count'' when it comes to raising the grade, he said, equating them with gravel at the bottom of a fish tank.
This is a home inspector's job: relying on his or her vast knowledge to look for warning signs. Popp compares his role to that of a primary care physician, who might refer you to a specialist. "Mostly we're generalists,'' he said, "so usually when there's a problem, we recommend further evaluation by a licensed electrician or plumber or qualified HVAC tech or in some cases maybe a structural engineer.''
Martin recalled inspecting a vertigo-inducing three-decker. "The floor was so uneven, none of the doors would stay shut, and the buyer had to sit down he was so nauseous from the pitch.'' Yet there was absolutely nothing visible to suggest whether it was symptomatic of a big structural problem, so she recommended the buyer call an engineer.
Unfortunately, there are two big things an inspector can't tell you: which engineer — or plumber or electrician — to call and how much it will cost, according to Popp. Nor are they allowed to perform any work themselves, even though some inspectors may be licensed tradespeople.
If you're house hunting in Boston, there's a good chance you're looking at an older home — in which case, sloped floors may not be the only reason you need to sit down during an inspection. "The amount of negative information can be overwhelming to a buyer,'' Popp said. "It's important to be able to discern the important things, the expensive things and the dangerous things, from just the nuisance items and aesthetic problems.''
Popp said "the big five'' are the roof, structure, plumbing, electrical, and heating systems. Environmental problems are wild cards — stuff like lead paint, asbestos, radon, mold, or a leaky oil tank — but while home inspectors can typically recognize signs of these hazards, they don't directly test for them, nor for pests like termites. "We're not environmental scientists or microbiologists,'' Popp said, so they can't say for sure whether those black spots are mold or that crumbling pipe insulation contains asbestos. "But let's face it, if it looks like a duck, it probably is a duck. It probably needs to be evaluated by an expert.''
While Popp can't see through walls, he can inspect exposed wiring in the basement and attic for clues. Ceramic knobs might indicate old knob-and-tube wiring, while a recent inspection yielded a fuse box instead of a circuit breaker. "If it's old enough to have a fuse box, it almost certainly has all old wiring of one kind or another,'' he said, which would mean an expensive upgrade. Popp also tests a representative sample of outlets to check for electrical problems, which he said are the most common issue he finds — and the most important to correct. "If you have a leaky pipe, maybe you'll get a stain on your ceiling or some water on the floor,'' Popp said, "but with an electrical problem, it can electrocute you or burn your house down.''
That said, leaky pipes are no picnic, either. Old cast-iron drain pipes can rust and corrode, leading to some very unsavory runoff. "Frequently we find there's corrosion to the extent that there's active sewage leaking into the basement. It's not necessarily in a great amount, and in some cases, unless you actually go hunting for it, you're not going to see it. But once you show it to people, they're generally horrified,'' Popp said. And even if an old home has been gut-remodeled with all new PVC plumbing inside, Popp said, "there's often something that remains, and that's the cast-iron drain line to the street. That may have been underground for 80 years, and that can really be a problem.''
Another thing home inspectors cannot tell you, as much as you wish they could, is whether or not you should buy a home. Popp still hears a variant of this query all the time: "Would you let your daughter buy this house?'' It's an impossible question he's both unable and not permitted to answer. "I've never suggested to someone they shouldn't buy a house,'' he said. "Sometimes the houses with the biggest problems turn out to be the best deal for someone.'' Inspectors are also forbidden to weigh in on the home's market value or its suitability for a given use.
Martin agreed that it all depends on the buyer's expectations and capabilities. "I've inspected houses that simply needed paint only to have the buyer express concerns about 'all the work we need to do,' '' Martin said. "And I've had clients be utterly unconcerned about major problems because they were buying 'a hobby' and they had the temperament, skills, and money for a fixer-upper.''
But either way, most buyers benefit from having an experienced, impartial professional inspect the home, even in this highly competitive seller's market.
Martin acknowledges the pressure on buyers to waive their right to a home inspection, but said those who do are taking a huge risk. "I can't imagine making the biggest purchase of my life and not spending the money to inspect the house,'' she said. "People do tours of colleges and test-drive cars but will consider spending upwards of a million dollars and forgo a careful inspection of the property.''
Winning a bidding war may not be the jackpot you imagine, she added. "A house could have structural problems, potential mold, a lead water line, or other expensive or dangerous issues, and the buyer can say that they beat out the other bidders for these problems!''
Marie Presti, owner/broker at the Presti Group in Newton and president of the Greater Boston Association of Realtors, said she never advises buyers to waive their inspection contingency — but many clients still feel compelled to do so in the fever of the spring market. That pressure usually lets up in July, she said. "Our summer season is always a little bit slower because buyers go on vacation and they're not keeping their eye on the ball,'' Presti said.
Popp said the stress of the market is taking a toll on buyers during what should be a joyful milestone. "It's not fun buying a house anymore. . . . People are spending way more than they ever wanted to, they're getting less than they think they should, and they're competing with other people for this opportunity,'' Popp said. "People used to be really happy when I'd see them at the time of a home inspection . . . today they're just more relieved that they seem to have gotten a house.''
And that's before they spend three or four hours tagging along with him, learning everything that might be wrong with their new home — all tidily itemized in a written report, in some cases a yearslong to-do list. But while he can't tell them whether to buy the house or what it might cost to fix it, there is one thing he can say to any home buyer, no matter what he finds during an inspection: "I want to wish you the best.'' Because amid all the stress and anxiety of the home-buying process, it's nice knowing the home inspector is entirely on your side.
Read a sample inspection report below. (Please note: The address of the property has been redacted. The Globe does not recommend service providers. Please make sure any inspector you hire has been licensed by the state.)
Jon Gorey blogs about homes at HouseandHammer.com. Send comments to [email protected]. Follow him on Twitter at @jongorey. Subscribe to our free real estate newsletter — our weekly digest on buying, selling, and design — at pages.email.bostonglobe.com/AddressSignUp. Follow us on Facebook and Twitter @globehomes.