Home Buying
Can blockchain and electronic closings make home buying faster and more secure?
There are technologies — some simple, some downright disruptive — with the potential to make the home-buying process a little easier and less expensive.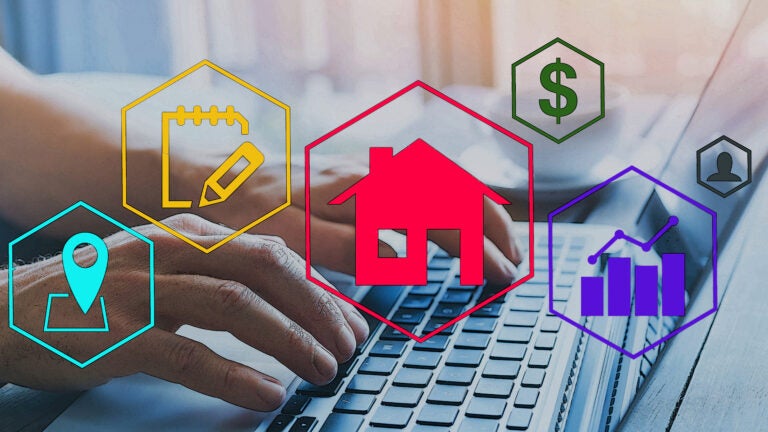 If you've ever purchased or sold a home, you know it can be a bumpy process. Sometimes things happen so quickly your head spins. At other points, the entire deal can grind to a halt for want of a single pay stub or bank statement. And above all, it's expensive — not just the home itself, but also the closing costs, realtor commissions, attorney fees, and other charges.
An entrenched $15 trillion market is bound to have bumps and fees. But while the real estate industry isn't exactly a hotbed of high-tech breakthroughs, there are technologies — some simple, some downright disruptive — with the potential to make home buying a little easier and less expensive.
One of the more straightforward innovations of the past decade has been a slow, steady push toward digital closings. Signing documents electronically can save time and cut down on closing costs, said Hugh J. Fitzpatrick III, a real estate attorney and founder and CEO of New England Title & Escrow Services. "The biggest expense of the closing process is labor, the cost to get the attorney to drive out there and close the loan,'' he said.
That seems simple enough — almost obvious in an age when apps like Rocket Mortgage allow you to apply for a home loan in minutes on your phone. The trouble is at the finish line.
"All these guys are trying to develop tools with an easy interface for people to get their loans started,'' Fitzpatrick said. "But the problem on the closing side is not enough lenders have embraced this concept of getting rid of the paper. We have right now two clients doing electronic closing, but the industry still hasn't embraced these concepts.''
Taking electronic signatures one step further, it's increasingly possible to get forms notarized remotely, as well, said Richard Hill, vice president of industry technology at the Mortgage Bankers Association.
"If you've ever purchased a home, you know you've got to trudge off from your house or work to wherever the notary happens to be to sign a stack of documents. . . . it's a bit of a hassle,'' Hill said. An online notary simply witnesses the signature in a taped video conference. "You go through all the security protocols, so all the parties validate who they are, but it means you don't physically have to go someplace else to do it,'' Hill said.
That can be a big time- and cost-saver for people who are relocating or are otherwise unable to attend the closing. "We see that as a huge benefit to folks who are disparate,'' Hill said. "You can have someone closing on a property in Virginia but his wife's in the military out on maneuvers, and they can get online and do a notary session and not have to worry about traveling back to Virginia for the closing ceremony.''
Technology has helped educate buyers, too, reshaping the role of real estate agents. It's hard to fathom now, when the majority of home buyers start their search online, but in the days before Zillow and Trulia, access to the Multiple Listing Service, or MLS — a patchwork of regional databases of properties for sale — was largely restricted to realtors.
"The value of the real estate agent used to be about providing information to clients about what homes are available. Right now it's about access,'' said Sophia "Sonia'' Gilbukh, an assistant professor of real estate at Baruch College's (City University of New York) Zicklin School of Business. "You know what homes are available, but working with an agent allows you access to see a property, to arrange a viewing.''
A good agent can also guide you through the process and negotiate on your behalf. But that access and expertise will cost you: At roughly 5 percent to 6 percent of the sale price, agent commissions are by far the biggest fees in most real estate transactions; however, the rise of online discount brokerages such as Redfin — which charges 1 percent to 1.5 percent on the seller's side, versus the usual 2.5 percent to 3 percent — may be putting some downward pressure on overall commissions.
The average total commission has slowly been dropping, from 5.4 percent in 2012to 5.08 percent in 2017, according to research by Real Trends Inc.
Gilbukh said lower commissions wouldn't just reduce costs for home buyers and sellers. They could help weed out the agents who jump into the industry during a boom cycle and, her research has shown, have a negative impact on consumers because of their inexperience.
"Sellers working with less-experienced agents are less likely to sell their homes, and if they do sell, it takes them longer to do so,'' she said.
That scenario was particularly painful during the housing bust, Gilbukh's research revealed, when sellers with inexperienced agents were more likely to be foreclosed upon because their homes languished on the market while prices plummeted.
However, Gilbukh isn't sure how much discount brokerages can really help. For one thing, they tend to attract new agents who don't have their own network yet and can make more money under this structure than they would initially going the traditional route, she said. She suspects some agents may also be hesitant to deal with a discount brokerage, perhaps limiting options for the average buyer. But there's also just an inherent limit on how far commissions can fall.
"It's a two-sided market: The seller and buyer both have agents, and so the discount you can offer is only on one half of the commission,'' Gilbukh said. "So because of that I think it will take a really long time for this bad equilibrium to change.''
A faster-developing shift may come courtesy of blockchain. The much-hyped technology, which decentralizes transaction data and instead creates a distributed ledger on a vast peer-to-peer network, is best known as the backbone of cryptocurrencies such as bitcoin. But its usefulness extends far beyond digital money.
Because blockchain is all about creating a trustworthy and permanently verifiable record of a transaction between parties, it can reduce the need for middlemen, from payment processors to real estate agents and attorneys.
"Blockchain and smart contracts can reduce costs and improve efficiency for real estate businesses and consumers in many capacities,'' said David Conroy, technical lead at Meridio, a startup that uses blockchain to facilitate fractional real estate ownership. That means people can buy small shares of an investment property, as they might a few shares of Apple, and receive a quarterly dividend as the owner collects rent.
"There's a lot less due diligence that needs to be repeated at every step,'' Conroy said, which removes some costly friction from the process. "We can encode those [regulatory] checks into the smart contract, and it happens automatically as opposed to getting 15 people involved each step of the way. . . . If something is off or missed, the transaction simply won't go through.''
One possible scenario Conroy envisions would be a lease-to-own setup, in which the landlord wants to free up some liquidity or encourage her tenants to feel a pride of ownership in the building so they'll take better care of it. "Tenants can own a piece of their rental property, build equity, and get exposure to the upside,'' Conroy said.
Financial giants from Goldman Sachs to Fidelity have embraced blockchain, and local governments are experimenting with it, too. Two Vermont municipalities have enlisted a startup called Propy to test blockchain-based land records. "[We're] operating a pilot blockchain land registry in South Burlington, Vt., which will soon begin recording routine conveyance documentation onto the blockchain in parallel to the traditional land records system in operation,'' said Propy CEO Natalia Karayaneva. "We have also started a second test-pilot program in the small town of Hubbardton, Vt., whose land records are still primarily paper-based.''
For now, these blockchain registries operate in tandem with the traditional ones to meet current laws. But the hope is that, since blockchain records are virtually tamper-proof — because any disruption to an existing block would change its identifying "hash'' and break the entire chain — such a system could eventually limit or negate the need for costly title searches and insurance.
"Blockchain-based land registries and titles will reduce the overhead of verifying ownership, title checks, and transferring property,'' Conroy said.
If your eyes glaze over every time your tech-savvy friend tries to explain how blockchain works, take heart: You don't necessarily have to understand the technology to appreciate its benefits.
"Most people don't dive into what TCP/IP is when they use Amazon or Facebook; people just use it,'' said Meridio's cofounder and chief executive, Mo Shaikh. "You saw a five- to seven-year window where people got comfortable with the Internet, and we're seeing that pattern today with blockchain.''
Whether you understand it or not, blockchain technology may eventually hasten the pace of real estate transactions: Shaikh said Meridio can perform and record a transfer in 15 seconds.
While that makes sense for fractional investments, I admit to some hesitance at the thought of speeding up the home-buying process so dramatically. When it comes to making what is probably the biggest purchase of one's life, I find as much comfort as frustration with the slow and deliberate nature of the current slog.
But Hill reminded me that technology is meant to empower us.
"You just want to get rid of unnecessary delays in the process, where the consumer is ready to move to the next step but is currently waiting on paper movement or something,'' Hill said.
In other words, if you want to take your time with a particular step in the process, you should be able to take your time — but that shouldn't hold up more savvy and experienced buyers.
"The process should be able to move at the pace the consumer wants.''
Jon Gorey blogs about homes at HouseandHammer.com. Send comments to [email protected]. Follow him on Twitter at @jongorey. Subscribe to the Globe's free real estate newsletter — our weekly digest on buying, selling, and design — at pages.email.bostonglobe.com/AddressSignUp. Follow us on Facebook and Twitter @globehomes.