Home Buying
A first-time home buyer's guide to buying in Boston
Jim Morrison, the author of ",'' weighs in on what it takes to succeed in this hypercompetitive market.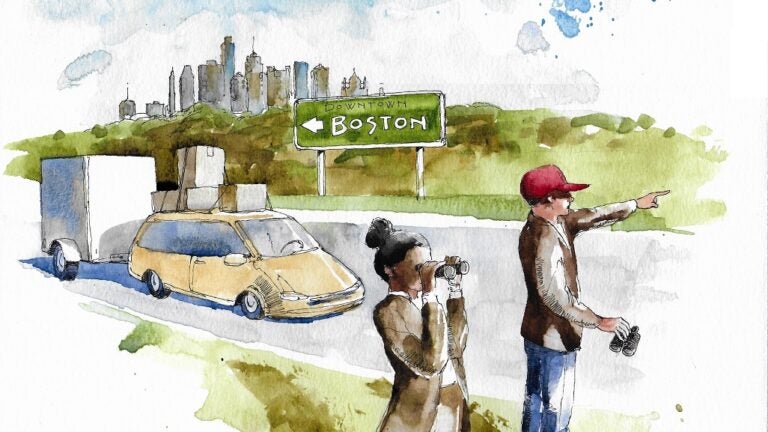 Buying a home in Boston is difficult for anyone, but all the more so for first-timers. Inventory remains low, open houses packed, and prices high.
The median selling price for a single-family home in the city was $565,000 in December, according to the Greater Boston Association of Realtors. The median selling price for a condo was $637,500. And buyers keep snapping them both up: Single-family homes spent an average of 58 days on the market. For condos, it was 59.
Here's what you need to know before jumping into the hypercompetitive market this spring:
Know your numbers
You have a solid income, savings, and maybe a relative's offer to help with the down payment. You want to build your financial portfolio, not your landlord's. Where to start? Get preapproved for a mortgage, said Amy Wortzman, senior loan officer and director of emerging markets at Fairway Independent Mortgage Corp. "Get your numbers done and figure out what you can buy,'' Wortzman said. "If you can't buy what you want right away, get a plan in place.''
Wortzman said she often tells buyers how to boost their savings and improve their credit scores enough to get them ready to buy in just a few months. She also said many first-time buyers don't realize they can qualify for affordable housing. The city just announced the approval of six developments that will add 111 new affordable homes to Boston's housing stock. The area median income (AMI) for a couple in Boston is $86,250 (higher if you have children). If your combined income is a certain percentage of that, you may be eligible for housing assistance in some surprisingly nice buildings.
"I recently had an 80 percent AMI client who qualified for down payment assistance,'' Wortzman said. The buyers received assistance from MassHousing and the City of Boston, she said. "The two programs don't count against each other. I call this 'layering.'
"Buyers should look at affordable units, especially if they think their incomes will go up in the coming years,'' she said. "People used to think affordable [homes] were in bad buildings. Some of them are next door to million-dollar units.''
Assemble a team of trusted professionals
Gary Dwyer, owner/broker of Buyer Agents of Boston, said shoppers should start the process by getting preapproved for a mortgage from a local lender or mortgage broker with a reputation for closing loans on time.
The best way to find a mortgage professional is to ask your attorney for a referral and check that person's credentials on the Nationwide Mortgage Licensing System at nmlsconsumeraccess.org.
After that, find a good buyer's agent to aid your house hunt. Buyers should ask friends, family, and their attorney for referrals. Be sure to check the candidates' credentials with the state's Division of Professional Licensure.
And remember: The strongest offer isn't necessarily the highest one.
"Price is definitely a key consideration for sellers, but there's more to an offer than that,'' Dwyer said. "Contingencies, dates, and sometimes even the feeling that the deal will close are all important. I've had buyers win bidding wars when they weren't the highest offer but we were able to demonstrate their seriousness. The listing agent and the seller were confident they were going to be able to close the deal.''
Dwyer said he also counsels first-time buyers about condo associations, which don't always work the way people presume they will.
"Smaller buildings tend to be self-managed and a little more laissez faire,'' Dwyer said. "They might not have the wherewithal to maintain the building properly. That can get gnarly when a component has to be repaired or replaced and special assessments come up.''
He said the bylaws at smaller, older buildings may have been written before the state decriminalized marijuana or Airbnb was created, and they may not deal with those issues. Reviewing the bylaws with your lawyer is critical, Dwyer said.
Zero in on a neighborhood
Dwyer said first-time buyers are more concerned than ever about the length of their commute.
"They want to be close to public transportation,'' Dwyer said. "East Boston is unbelievably hot. It's not the Four Seasons, but it has full-service buildings with parking and other amenities people are looking for at a reasonable price point. They have a lot of choices.
"South Boston is still desirable and hot,'' he added, "but a one-bedroom unit there sells for between $500,000 and $700,000. A two-bedroom unit can go for up to $1.1 million.''
Once buyers know what they can afford, they can surf listings to determine which neighborhoods suit them. Longtime real estate agent, blogger, and number-cruncher David Bates of William Raveis Real Estate in Boston said buyers need to be educated, particularly in this market. A good offer "varies by property, by market, and by individual,'' Bates said, and buyers who employ their parents' strategy of offering a certain percentage of the asking price are going to have a hard time in this market — which has softened somewhat but still favors sellers.
Even enterprising buyers who start their search in early March might not get an offer accepted by June or even later, he said.
Boston's high and rising prices are pushing buyers farther away from downtown, he said. "That's why you see interest going from Jamaica Plain to Roslindale or further; from South Boston to Dorchester; from maybe even East Boston to Chelsea. I mean, I'm starting to see two-bedroom units in East Boston sell in the $600s.''
Be prepared for a longer commute
Dana Seabury of Gibson Sotheby's International Realty in Dorchester said many buyers are expanding their searches to Roslindale and Hyde Park, which are farther from downtown but somewhat more affordable.
"We recently were awarded the worst traffic in the country,'' Seabury said, "but we also have incredibly high Walk Scores. Boston has an amazing amount of green space, with Boston Common, the Public Garden, and the Emerald Necklace, so ditch the car and parking spot and get walking.''
Jack Enright of William Raveis Real Estate agreed that rising prices are definitely pushing buyers farther out.
"Hyde Park and Roslindale are so-called affordable,'' Enright said. "You can get condos in the $270- to $320-per-square-foot range. People want to live near public transportation. If it's new or newer, it's very desirable.''
"You can get a 750-square foot one-bedroom in a new building on Washington Street in Jamaica Plain for $519,000. Down by Hyde Square, there's a two-bedroom asking $439,500,'' Enright said, but "people are getting priced out. You go to West Roxbury and you can find an older 1,100-square-foot two-bedroom asking $359,000, but you're on busy Washington Street.''
Enright said the old adage of "location, location, location'' doesn't hold as much weight in the Boston market, where prices dictate where people live more than anything else.
"Real estate 101 is all about location, location, location, but people are giving up on location just to find housing,'' Enright said. "That's why areas that weren't attractive are getting popular. Look at East Boston, it's on fire.
"You couldn't give a two-family away over there 10 years ago; now you probably can't buy one because the developers are buying them all up.''
Jim Morrison is the author of "Home Buying in 30 Minutes" (©2018, ¡30 Media Corp.) and such realestate.boston.com stories as "How to find homes before they hit the market."' Send comments to [email protected]. Subscribe to the Globe's free real estate newsletter — our weekly digest on buying, selling, and design — at pages.email.bostonglobe.com/AddressSignUp. Follow us on Facebookand Twitter @globehomes.