Home Buying
Foreigner buyers reportedly have cooled on Boston real estate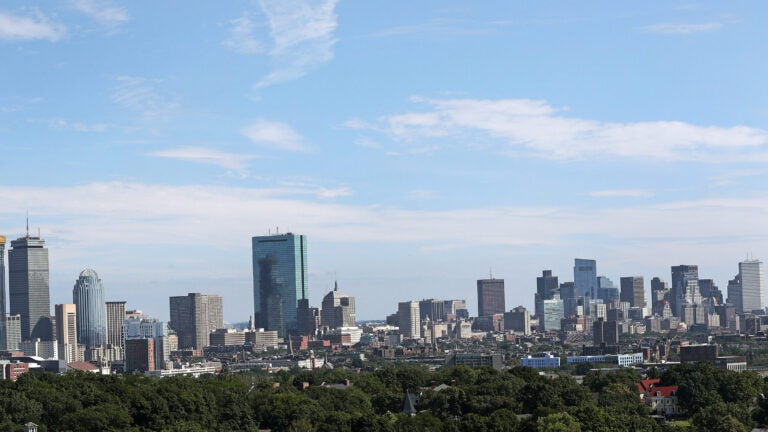 US home purchases by foreign buyers dropped a staggering 36 percent between April 2018 and March, from $121 billion to $77.9 billion, according to a new report from the National Association of Realtors. The slowdown included home purchases made by both nonresident foreigners and recent immigrants or visa holders, and was evident across the board: US real estate purchases by citizens of Canada, China, Mexico, India, and Britain were all down from a year ago.
But the drop in Chinese buyers was the most dramatic, plunging 56 percent: from $30.4 billion in 2018 (and $31.7 billion the year prior) to $13.4 billion. And while Massachusetts isn't among the top overall states for international buyers — Florida leads the nation, as a vacation-home haven for Canadians and Britons — it does rank as the fourth most popular state for Chinese buyers, who spend an average of $674,900 on US homes.
"Boston has always been a primary market of interest for Chinese buyers and investors due to its world-class educational and health care institutions and innovative economy," said Patty Chen, president of PattyC Property Group in Wellesley, a full-service brokerage that helps Asian entrepreneurs invest in US real estate.
But Chen said Boston hasn't been immune to the striking decline in Chinese investment across the United States over the past two years. "Chinese buyers have dramatically reduced their real estate investments and purchases in Boston," she said. "While there are many who are still interested in looking at properties, there are fewer people closing deals since 2017."
Tom Truong, president of the Asian Real Estate Association of America, said local members haven't seen much of a change this year, noting that a slowdown in Chinese investment was already underway. "The effect started about two to three years ago when the Chinese government really clamped down on money coming out of China to the US," Truong said.
Chinese citizens are allowed to purchase $50,000 in foreign currency per year, a rule that Beijing began enforcing more strictly at the end of 2016. "We've seen an influx of cash buyers, but it takes a lot more than $50,000 to buy cash here in Boston," Truong said. However, people can still get around the rule, he added, whether by spreading out funds among multiple relatives or using a broker who can first move the money to Hong Kong or Canada before it ultimately reaches the United States. "What has slowed down for us is the timing required to close on a property," Truong added, as getting money out of China has grown more complex. "It used to be we can close in 60 days and the money is in the bank. Now it could take 120 days to line things up."
Chen said China's tighter financial grip is just one factor keeping Chinese and other international buyers away. "The US-China trade war has bred a feeling of hesitation and uncertainty among Chinese buyers," she said. "[And] the current federal administration has established a very negative attitude towards immigration, which has led to a hostile atmosphere and lower interest among foreign buyers."
Meanwhile, Lawrence Yun, National Association of Realtors chief economist, said a slowing global economy, stronger US dollar, and continued low housing inventory also helped explain the nationwide drop. "However, the magnitude of the decline is quite striking, implying less confidence in owning a property in the US," he told CNBC.
Marie Presti, owner/broker at The Presti Group in Newton, said one reason foreign buyers choose Boston is the area's world-class universities, as parents pick up properties for their college-bound children. "Rather than have their child rent an apartment at high Boston rents, they instead invest in a property and have their child live there with a roommate until they graduate," Presti said. There were more than 69,000 international students enrolled at Massachusetts colleges in 2018, according to the Institute of International Education, more than a third of whom were from China.
Pamela Cushing, of Douglas Elliman's Live in Luxury team, has witnessed the same phenomenon at downtown luxury developments like Millennium Tower. However, while larger units are still selling to full-time residents, she's noticed one-bedrooms lingering on the market for longer than usual this year. "Usually those would be scooped up by an international buyer, either an investor or someone whose son or daughter is coming to school here," she said. This year, she added, those students are more likely to be seeking a rental unit in the building.
Presti added that she's typically helped at least one and often up to three foreign buyers each year, mostly through referrals from other international clients. "And this year I haven't had any," she said. "I don't know if that means anything; it's very anecdotal."
The drop isn't just among nonresident investors plucking up rental properties in cash, either. Sixty percent of international purchases over the past year, accounting for $44.7 billion of US residential property, were made by resident foreign buyers, according to the NAR report.
David Green, senior vice president at Douglas Elliman, says many of those foreign students go on to become permanent Boston-area residents after college. But their home purchases a few years later wouldn't be counted in the NAR report, which looks at immigrants who have been here for two years or less. "I strongly believe this number is substantial and will compensate for any lag in the foreign buyer market," he said. Indeed, immigration is responsible for virtually all net population growth in Massachusetts, according to the nonprofit Boston Indicators.
Truong remains optimistic about Boston's future with foreign buyers. "Boston is certainly still a top-tier city," Truong said, one that Asian buyers are drawn to for its top schools, high-tech jobs, and — perhaps surprisingly — climate. "It's amazing how many times we pick up clients from China, from polluted cities like Shanghai or Beijing, and — this has happened more than once — I pick them up at the airport and they stand there for a minute or two and just breathe in the fresh air," Truong said. "They look up at the sky, and it's blue without any smog. That's why they're coming here, for the four seasons."
Plus, Truong added, "there's continued fear in China that money is more stable here in the US economy than it is back at home. So they'd rather park their money here."
In its 2019 survey of international property investors, the Association of Foreign Investors in Real Estate found that Boston ranked second globally — behind New York, and ahead of Seattle, Berlin, and San Francisco — among places where respondents would like to increase their investment exposure. Boston tied for fourth with Singapore — behind New York, Tokyo, and Paris — for stability and security, and again tied for fourth in the world for capital appreciation potential. Meanwhile, Boston ranked eighth in the world and tops in the United States on Knight Frank's 2019 Prime International Residential Index, which tracks the global luxury market.
With its strong economy and job growth in the technology and health care industries, Green expects Boston to continue attracting foreign investors. "Home buyers across the globe know that the Boston real estate market is a safe and secure place to invest their money," he said.
Jon Gorey blogs about homes at HouseandHammer.com. Send comments to [email protected]. Follow him on Twitter at @jongorey. Subscribe to our free real estate newsletter at pages.email.bostonglobe.com/AddressSignUp.