Home Buying
Clauses that discriminate against races still exist on some Massachusetts home deeds
Some residents may be entirely unaware of a racial covenant's existence on their deed, especially if their home is older.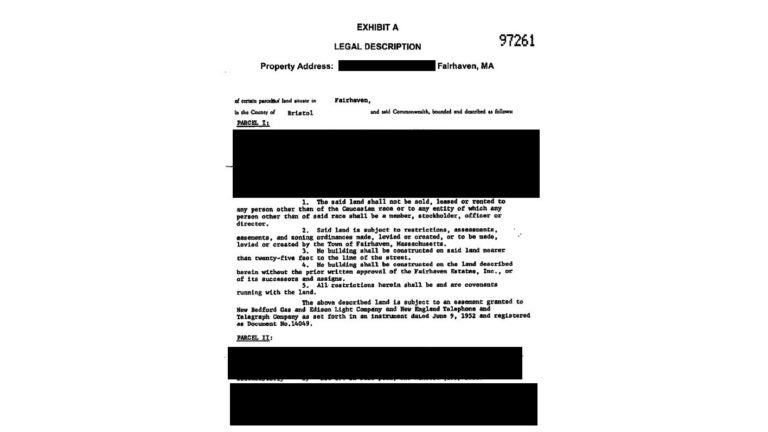 Racial discrimination in real estate goes back centuries, but for some Massachusetts homeowners, racial covenants, or racist clauses that prohibit certain groups from owning a property, are still visible in the deed for their home.
While most deeds feature covenants, most of them aren't harmful, said Amy Chisholm, a real estate attorney based in Holden. "Basically, what happened a lot of times when developers were creating subdivisions, or even individual people were deeding property, they would put restrictions on so that certain undesirable things wouldn't happen in a certain neighborhood. So they can be as innocuous as 'no house to be built less than $2,500' or 'no livestock on the premises other than domestic animals.' "
These days, newer subdivisions will feature covenants banning things considered aesthetically unpleasant, such as parking a recreational vehicle in the driveway or using a clothesline.
But in some cases, racial covenants are still visible in current deeds, often on older properties. They most commonly barred Black people from purchasing certain homes, but they have been used throughout history to ban ownership by other groups, including Jews and the Irish.
Restricting the residents of a neighborhood based on race or ethnicity is hardly a new concept. In their book "Saving the Neighborhood: Racially Restrictive Covenants, Law, and Social Norms," authors Richard R. W. Brooks and Carol M. Rose cite historian Leon Litwak's claim that as early as the 1790s, a minister in Salem complained that the presence of a "Negro hut" would negatively affect the neighborhood. But by the 1920s, racially restrictive covenants were legally included in deeds to restrict certain people from purchasing homes in white communities. While they're unenforceable thanks to the Fair Housing Act of 1968, some homeowners can still find these on their paperwork, because restrictions and covenants are generally carried forward from one deed to the next, Chisholm said.
"The first time I ever saw it, I went 'uhhhh,' " Chisholm said. "In 20 years of examining titles, I've probably seen it once where it says 'sales should not be completed to persons of colored descent or background.' Due to a lot of attorneys being inexperienced in drafting deeds, they were continuing to place the same restrictions on the new deeds going forward."
Some deeds in Massachusetts may still have racial clauses. In one we located from 2006 in the Massachusetts Registry of Deeds on a property in Fairhaven, the first restriction reads: "This land shall not be sold, leased, or rented to any person other than the Caucasian race or to any entity of which any person other than of said race shall be a member, stockholder, officer, or director."
In most cases where racial covenants still exist, they're just removed from the deed, Chisholm said.
Still, it's possible that some residents may be entirely unaware of a racial covenant's existence on their deed, especially if their home is older.
"If someone has a copy of their original deed, they would be able to read it and see what it says, but the only time somebody is going to look and be drafting a deed is when someone is selling it to someone else. I can't tell you how many people have never seen their own deed," Chisholm said. "The majority of people would get their original deed in the mail from their attorney post-closing, and they might stick it in a file cabinet with all their important papers and never think about it again."
Subscribe to the Globe's free real estate newsletter — our weekly digest on buying, selling, and design — at pages.email.bostonglobe.com/AddressSignUp. Follow us on Facebook, Instagram, and Twitter @globehomes.