Home Buying
Zillow and Trulia have added LGBT non-discrimination laws to their listings
Twenty-five states offer no protections at all to LGBT individuals in housing.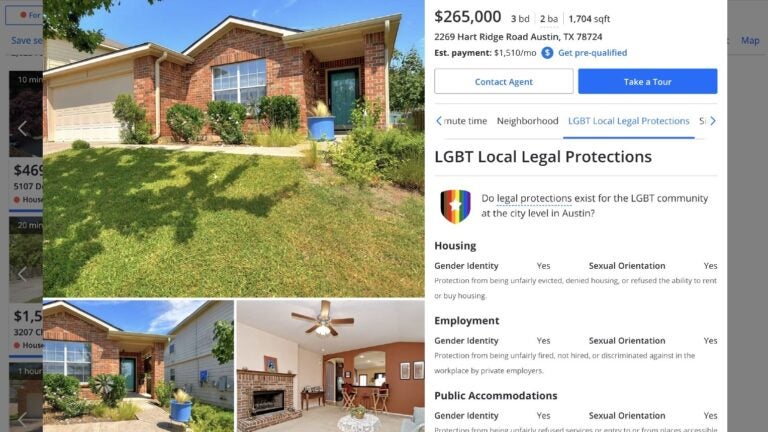 In what might be the first feature of its kind in the nation, real estate listings sites Zillow and Trulia have introduced a filter that allows users to search for rental and for-sale properties by legal protections for lesbian, gay, bisexual, and transgender individuals.
On June 15, the Supreme Court ruled that existing federal law protected LGBT people from workplace discrimination. But such a blanket national protection does not exist for housing. In fact, only the District of Columbia and 22 states — including Massachusetts — explicitly prohibit discrimination based on either sexual orientation or gender identity, according to the nonprofit Movement Advancement Project (MAP). Twenty-five states offer no protections at all to LGBT individuals in housing.
The new feature from Zillow and Trulia — both of which the Zillow Group owns — shows local and state protections for LGBT individuals based on MAP data in listings for both on- and off-market properties. The feature runs along with existing filters that might include commute times, comparable homes, and nearby schools, and it shows non-federal LGBT protections for public accommodations and employment, too.
It does not filter for those who identify as queer or questioning—the Q in LGBTQ+—as existing government policies don't consistently define that.
Zillow and Trulia are likely the only real estate listings search sites in the United States offering such a filter, according to MAP. Seattle-based Zillow said in a release that the recent Supreme Court ruling, as well as its own market research, drove its decision to add the filter.
A survey that Zillow did of its users in 2019 indicated that 28 percent of LGBTQ+ buyers and 29 percent of LGBTQ+ renters completely agreed with the statement, "I feel accepted for who I am by those around me where I live." In comparison, 51 percent of cisgender heterosexual buyers and 40 percent of cisgender heterosexual tenants agreed.
"It's 2020, and yet, unfortunately, in many parts of the United States, LGBTQ+ home shoppers still face housing discrimination," Dawn Lyon, Zillow's chief corporate relations officer, said in a release.
Lyon also said the site supports the Equality Act. That federal legislation would explicitly protect LGBT people from discrimination in housing as well as other situations, including education, public spaces and services, lending, and jury duty. The House passed the Equality Act in May 2019, and it's awaiting a vote in the Senate, where one of its sponsors is Senator Susan M. Collins of Maine.
Subscribe to the Globe's free real estate newsletter — our weekly digest on buying, selling, and design — at pages.email.bostonglobe.com/AddressSignUp. Follow us on Facebook, Instagram, and Twitter @globehomes.