Home Buying
The next owner of the Lizzie Borden house took an ax — and saw an opportunity to entertain guests
Virtual tours. Ax throwing. U.S. Ghost Adventures has plans for the Fall River museum. Continue reading at realestate.boston.com.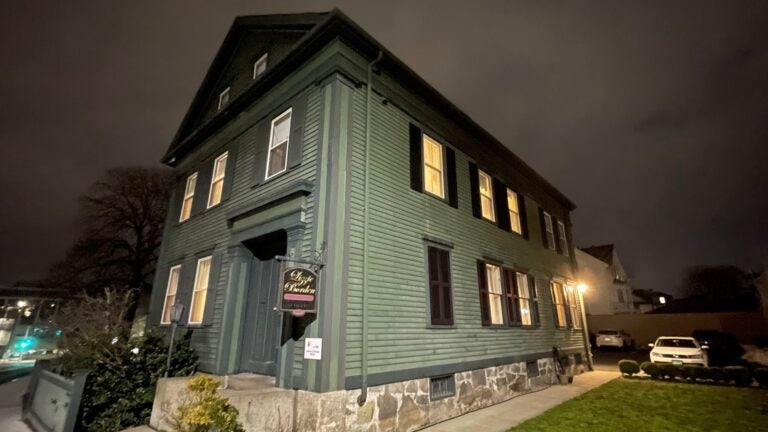 It's not a property acquisition for the faint of heart.
The Lizzie Borden Bed & Breakfast/Museum in Fall River has attracted a new owner eager to relate the story of one of the nation's most infamous unsolved murder cases.
Lance Zaal, of U.S. Ghost Adventures, happens to be the (lucky?) buyer of the home-turned bed and breakfast and museum. Listed for $2,000,000, the home where Lizzie Borden's father and stepmother were hacked to death with a hatchet in 1892 includes all of the Victorian charm and floral wallpaper one might expect — and enough sinister history to give anyone goosebumps.
Where some see a menacing home, Zaal saw an opportunity. U.S. Ghost Adventures hosts experiences throughout the country, including in Boston and Salem.
"It's in line with the direction we're heading as a company," Zaal said in a recent interview with Boston.com.
When Zaal takes ownership — the property is listed as "under agreement" — he plans to add to the visitor experience, including virtual elements.
It was on Aug. 4, 1892, that the gruesome murders of Andrew Borden, 69, and his wife, 64-year-old Abby, were discovered, according to Smithsonian Magazine. Both had been hacked to death: Abby upstairs, Andrew while he was sleeping on a couch, "their heads smashed with a hatchet," according to a Boston Globe headline from the time.
Lizzie, 32, was charged with murder, and although she was acquitted, people continued to suspect her, Smithsonian reported. Lizzie Borden's other Fall River home, Maplecroft, where she lived after her acquittal, is also up for sale.
When U.S. Ghost Adventures takes over operations, Zaal said, he will have virtual tours that coincide with the daytime and nighttime tours. People will also be able to watch cast reenactments online, and he plans to have cameras up 24/7 on the first floor and in the basement that people can view online. "We'll have some creepy things in there," he said.
As for those visiting in person, Zaal wants to have ax-throwing, plus an outdoor seating area where visitors can socialize. He also hopes to have live music and Victorian dinners with historical context.
Paint nights are also part of the plan.
"We'll be painting happy little axes instead of happy little clouds," he said, a reference to painter Bob Ross.
Escape rooms are another possibility, according to Zaal.
Even without the additional programming, the Borden home certainly offers enough creep factor. Zaal noted that when he spent a night alone in the home, he heard footsteps and a man's voice. He said it also felt as if there were someone, or something, in the room with him.
"It's not something we have to be terrified of," he said. "It's not something that's going to hurt us. It's just something we can't explain. It is what it is, and we don't know what it is."
When people visit the home and experience it, Zaal said, he hopes that they will come away thinking about their own lives and mortality a bit.
"When they come away from this tour, I want them to be able to reflect on their own story," he said.
Subscribe to the Globe's free real estate newsletter — our weekly digest on buying, selling, and design — at pages.email.bostonglobe.com/AddressSignUp. Follow us on Facebook, Instagram, and Twitter @globehomes.