Home Buying
Here's how much more people moving long distance are paying to live in Boston
Those who moved out of Boston went to ZIPs where the average home values were $170,429 lower. Continue reading at realestate.boston.com.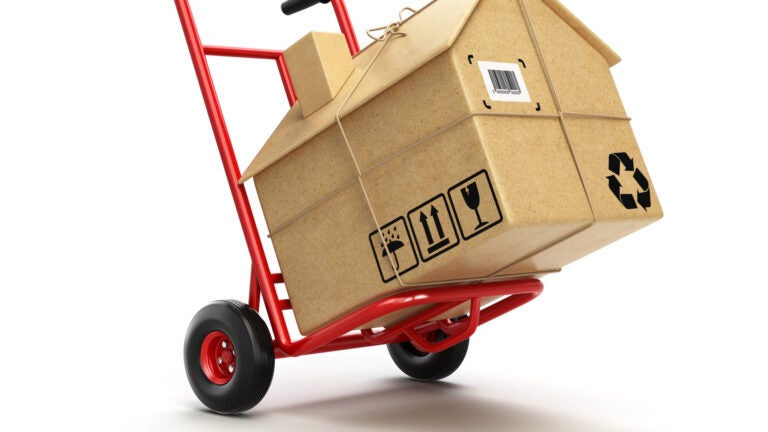 SEATTLE — Americans who made out-of-town moves last year typically paid less money for larger houses, according to a new Zillow analysis of moving data from northAmerican Van Lines.
That's a sharp break from the trend in recent years. The housing market's impressive strength in 2020 paired with a newfound motivation to move helped sellers cash in on quickly rising home values to find places that better suit their needs — namely, bigger homes in less-expensive areas.
Movers went to ZIP codes where sold homes are 33 square feet larger on average than where they came from — roughly the size of a walk-in closet or extra bathroom. This was a significant jump from the 9-to 21-square foot step-up movers have taken in recent years.
''The ability to sell in a relatively expensive market and relocate somewhere more affordable — either to save money or get more bang for their buck with a larger property — was extremely attractive to movers,'' said Jeff Tucker, senior economist at Zillow.
Long-distance movers into metro Boston relocated to ZIP codes with $190,243 higher home values on average than where they moved from, according to the report, and houses sold to out-of-towners were 60 square feet smaller than the movers' origin ZIP codes. Those who moved out of Boston went to ZIPs where the average home values were $170,429 lower than where they started and the properties were 131 square feet larger.
Zillow's recent Mover Report found the top metros for net in-migration, with more people moving in than out, are sunny and relatively affordable. Phoenix, Charlotte, and Austin led the United States in terms of net in-migration.
Taken as a whole, the findings are evidence of the Great Reshuffling at work. Up until March 2020, workers were largely locked to locations within a bearable commute of their workplace. When the pandemic hit, many began working remotely — spending a lot more time at home and thinking about where, and how, they want to live. A larger house with an office or high-end kitchen, or a home with lower monthly payments in sunny Arizona, became extremely alluring.
All the while, interest rates kept dropping, adding fuel to a scorching-hot housing market and boosting shoppers' buying power. Home appreciation was supercharged in 2020 by massive demand and limited supply, driving typical home values up 8.4% ($20,716) over the course of 2020, compared with 3.7% growth ($8,791) in 2019.
Tucker said the trend could contribute to convergence in home prices, as people move away from the priciest cities and toward more affordable ones, which will tend to cause prices to rise in their destinations. It may also spread out some of the consumer spending, tax revenues, and job growth that have been increasingly concentrated in ''superstar cities'' over the past few decades. Home values are rising fastest in places like Austin and Phoenix, and most slowly in San Francisco, which led the United States in appreciation as recently as 2016.
Nationwide, the average home value in ZIP codes people moved from was about $419,000, compared with an average home value in destination ZIP codes of about $392,000. This means the average mover was sliding down the price ladder by about $27,000. When movers relocated in 2019, average home values in their destinations were only about $3,400 less than where they started.
The trend in 2020 to move to more affordable places than in years past was seen across nearly every type of move among urban, suburban, and rural areas. People leaving urban ZIP codes moved to areas that were $66,000 cheaper in 2020, versus an average of about $26,000 less expensive in the previous four years. Those leaving suburban ZIPs moved about $23,000 down the price ladder, compared with an average decrease of just over $500 the previous four years.
Even those leaving rural areas for urban or suburban areas, where prices are higher, only moved up the price ladder by about $31,000 this year as opposed to roughly $41,000 in recent years.
''We have felt the impact of this supercharged market since the second half of 2020. These migration patterns are challenging the moving industry to provide capacity in the right places. As you would expect, we end up with a lot of trucks in the low-cost areas where people are moving to and fewer trucks in the high-cost areas where demand is high,'' said Kevin Murphy, vice president and general manager of northAmerican Van Lines.
Migration to less urban areas picked up slightly in 2020 compared with 2019, while moves to more dense locations ticked down — which is not to say that early pandemic fears of an urban exodus have been borne out. The number of households that moved out of urban areas did not significantly rise in 2020. Beyond that, Zillow's Urban-Suburban report found that despite some early pandemic-era narratives, suburban housing markets did not disproportionately strengthen in 2020 at the expense of urban areas.
The biggest decrease in the share of moves between area classes was from suburban to urban, which fell 1.5% year over year. The largest increase was seen in suburban to rural moves, up 1.2% on the year.
San Jose saw the most extreme changes in average home value for both those moving to and from ZIP codes within the metro, followed by San Francisco and Los Angeles. Those moving out of San Jose went to a ZIP with average home values nearly $1.2 million lower, while those moving in saw houses worth about $1.4 million more than where they came from.
Subscribe to the Globe's free real estate newsletter — our weekly digest on buying, selling, and design — at pages.email.bostonglobe.com/AddressSignUp. Follow us on Facebook, LinkedIn, Instagram, and Twitter @globehomes.