Home Buying
Mass. home sales surge as prices hit record highs in June
Record-breaking home prices couldn't keep buyers away from the real estate market in June.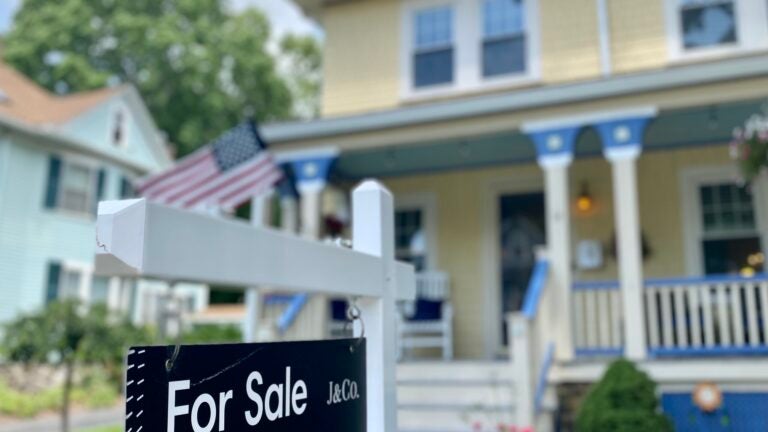 Record-breaking home prices couldn't keep buyers away from the real estate market in June.
The median price of a Massachusetts single-family home reached $555,000 in June, according to real estate analytics firm The Warren Group. That's a new all-time high, and a 26.1 percent jump over June 2020, when the median Massachusetts house was $115,000 cheaper.
Despite a lack of inventory throughout the spring, buyers snapped up whatever was hitting the market, helping home sales surge in June. Single-family sales reached 6,959 for the month, a 38.1 percent increase from a year ago. That alone doesn't say much, as pandemic shutdowns skewed sales figures last spring. But even compared with the healthy real estate market of June 2019, when there were 6,530 single-family sales statewide, June sales were up 6.6 percent.
"The numbers that came out for June were not surprising to me, but they are staggering," said Cassie Norton, associate publisher at the Warren Group. "I mean, it's been three months of having a median single-family home price over $500,000. It's astonishing."
A shortage of homes for sale continues to spur competition among buyers and push up prices. In a separate release, the Massachusetts Association of Realtors reported there were just 4,658 single-family homes for sale statewide at the end of June. That's about half as many as last year, and not even a third of the 14,363 houses that were on the market back in June 2019.
The rapidly rising prices are no doubt forcing some homebuyers to the sidelines, Norton said. And yet, with so much competition for so little inventory, that may not be enough to hold back more price growth.
"For all the people who drop out — who are first-time buyers or buying on the lower end of the market — who just give up and say, 'We're not doing this right now,' there are plenty of people in Massachusetts who earn quite a lot of money, who are ready to jump in and say, 'OK, I'll buy it,'" Norton said. "Honestly, it almost doesn't even matter if people drop out because there's so much demand. If you have six, seven, eight, a dozen offers on one house, and three people drop out, you've still got three to nine offers on the house."
It's fair to say the condominium market has fully roared back to life, too. The median price of a Massachusetts condo rose to $489,000 in June, up 22.3 percent from a year ago, when the median condo fetched $400,000. Statewide condo sales jumped an astounding 74.3 percent last month compared to June 2020 — back when home sales were sluggish overall and buyers were particularly wary of sharing common spaces in big buildings. But even against the 2,620 condos sold in June 2019, last month's 3,169 condo sales marked a huge 21 percent increase.
In fact, it was the most condo sales logged in one month since June 2006, when the median price of a Bay State condo was under $300,000, said Warren Group chief executive Tim Warren in a press release. "The numbers don't lie," Warren said. "Housing activity in urban centers, which is heavily dominated by the condo market, is back after taking a considerable hit during the second quarter last year."
Year-to-date sales figures in Charlestown tell the dramatic story of the past year. Condo sales more than doubled from the first half of 2020 (97 sales) to the first half of 2021 (229 sales), up 136.1 percent. Prices, though, were slow to climb early in 2021, so the year-to-date median condo price is up just 2 percent, to $800,000. In June, however, the median-priced Charlestown condo sold for $887,500, a 9.2 percent jump over last year. (View town-by-town data here.)
Across Suffolk County (which includes Boston, Chelsea, Revere, and Winthrop), condo sales were up 62.8 percent year to date compared to the first half of 2020, while median prices were up a more modest 1.1 percent, to $662,000. (View county by county data here.)
Norton says it's too soon to know how remote work and hybrid commutes might impact city life, but she isn't expecting dramatic changes.
"We're not seeing huge blocks of office space come up for sublease, which indicates to me that people are still holding on to office space right now; whether that means people are coming into the office, I don't know," she said. "But even without the job centers that we have in Boston and other downtowns, you still have the entertainment and the restaurants and the vibrancy of what happens when you put all those people together, and there are always going to be people who want to live in that environment."
Whether they'll be able to afford to do so is another matter as home prices keep climbing.
"Everybody wants to know when the speeding train will slow down," Norton said, "and we'd much rather see it slow down than come to a crashing halt, because that means something has gone catastrophically wrong." Norton expects the local housing market to ease a bit in July and August, as it normally does. But without a massive influx of inventory to meet buyer demand, there are really only a couple of ways that home prices could hit the brakes, she said.
"Either the market reaches a tipping point, where it just gets to be too much in terms of price, or in terms of how difficult it is to buy a house… or the Fed raises interest rates — that would have a big impact on people's ability to buy," she said. "But the Fed has not indicated that they intend to do that soon."
Subscribe to the Globe's free real estate newsletter — our weekly digest on buying, selling, and design — at pages.email.bostonglobe.com/AddressSignUp. Follow us on Facebook, LinkedIn, Instagram, and Twitter @globehomes.