Home Buying
Home prices and sales in Mass. hit high orbit
The median price of a Massachusetts single-family home is up 28.5 percent in two years. Get a town-by-town breakdown at realestate.boston.com.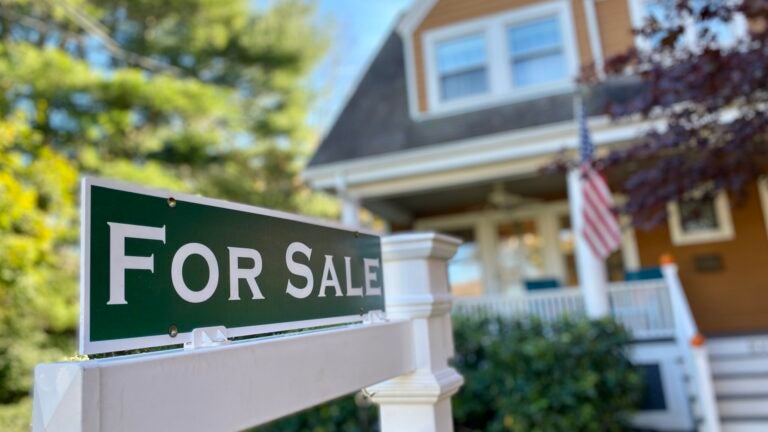 Like a coffee shop peddling pumpkin spice lattes, it appears the Massachusetts real estate market is once again trying to embrace seasonality.
Traditionally, home sales tend to quiet down in the fall. But last year at this time, a flood of restless, quarantine-weary buyers, along with those who had paused their house hunts in the early months of the pandemic, kept the housing market inflamed throughout the winter.
This October's sales figures illustrate just how hot the housing market was in the fall of 2020. The 5,285 single-family homes sold in Massachusetts last month marked a gaping 21.2 percent drop from the 6,704 houses sold in October 2020, according to real estate analytics firm The Warren Group.
And yet, that figure was a 1 percent uptick over October 2019, a more typical year for the real estate market. In fact, last month was the strongest October for single-family sales since 2004.
"We're comparing a very strong second half of 2020 against a still-good 2021," said Warren Group chief executive Tim Warren. "Taken in historical context, it was a good month for sales."
Single-family home prices, meanwhile, seem to have settled into high orbit: They surely haven't come back down to Earth, but they're not quite rocketing off to Saturn like they had been.
The median price of a Massachusetts single-family home sold in October was $500,000, a 9.9 percent increase from a year ago and a high for the month of October, according to the Warren Group report. That's a small drop from September's median price of $509,000, in line with seasonal market patterns, but it was the seventh straight month in which the median Bay State house has sold for half a million dollars or more.
"In the last couple of months, median prices are not rising as fast as they were over the summer," Warren said, noting that year-over-year percentage price gains were in the double digits from April through July. "But for the past two months, it's been single-digit gains … I would call those a little more realistic," he said.
It's also in line with a regional and national slowdown, Warren said. "That doesn't mean things are headed into the tank; they're just not accelerating like they had been," he added.
Price gains didn't slow down everywhere, though. In Melrose, the median single-family home sold for $895,000 in October, a 25.5 percent jump from a year ago; the median price of a Milton house was up 15.9 percent, to $869,000. Lynn saw median house prices climb 16.1 percent, to $476,000, and the median Quincy house sold for $670,000 in October, a 21.2 percent increase over a year ago. (View town-by-town sales data here.)
Meanwhile, the 2,089 condominiums sold statewide in October marked a 15.8 percent decline over the prior year, but a more modest 1.4 percent drop compared with October 2019. The median price of a Massachusetts condo reached $425,000, up 3.7 percent from a year ago.
Year to date, however, condo sales are up 23.9 percent over the first 10 months of 2020, with the median sale price up 10 percent, to $456,500.
And year-to-date condo sales in Suffolk County — which includes Boston, Chelsea, Revere, and Winthrop — are up 41 percent from the first 10 months of 2020 and 30 percent from 2019. The median price of a Suffolk County condo sold in October was $639,500, up 4.8 percent from a year ago. (View county-by-county sales data here.)
With the median price of a Massachusetts single-family home up 28.5 percent in two years, Warren hopes price gains will continue to moderate in the coming months. "It's just not healthy to have prices rising so fast," he said. While higher interest rates would make financing a home more expensive, they could, at least, help contain prices somewhat.
"If the doomsday worries about inflation are true, then mortgage interest rates will continue to rise, and that'll put some kind of a brake on the prices that people are able to pay," he said. "So that's something that could keep the median price increases in single digits instead of double digits," he said.
Subscribe to our free real estate newsletter at pages.email.bostonglobe.com/AddressSignUp. Follow us on Facebook, LinkedIn, Instagram, and Twitter @globehomes.