Home Buying
The median price for a single-family home in Mass. breaks $600,000 for the first time
In Greater Boston, the median sale price of a single-family home was a record $900,000 in June. Continue reading at realestate.boston.com.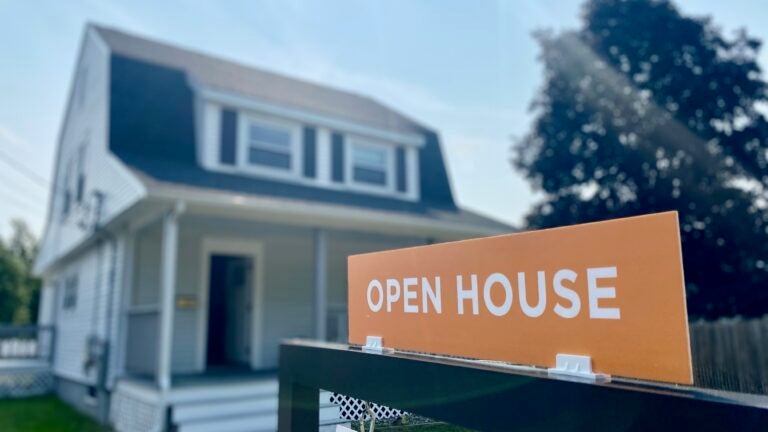 If Greater Boston's frenzied residential real estate market has been like a large pot of water boiling over and making a mess of the stove, in June that pot was just boiling —still very hot, but a bit more controlled.
The median sale price of a single-family home in Massachusetts jumped 9.9 percent to a record $610,000 in June, up from $555,000 in June 2021, according to The Warren Group, a real estate analytics firm. The median sale price for a condo in the state increased 10.2 percent year over year to $539,000. That's the third consecutive month it's been at or above $500,000.
But "this is the first time that the Massachusetts median single-family home price has ever exceeded the $600,000 mark," Tim Warren, Warren Group CEO, wrote in a press release. "Keep in mind that it was only 14 months ago when the median price of $500,000 was exceeded for the first time. I doubt we've seen the end of it. Experts keep speculating that with the recent hike in interest rates that prices could plateau in the near future, but I'm not sure we're at the tipping point just yet. Price increases are moderating this year, but they are far from flatlining. There are just so many buyers and not enough homes to go around."
Mortgage interest rates are down slightly from last month. The nationwide average of a 30-year, fixed rate mortgage was 5.51 percent last week, and the average for the 5/1 adjustable rate mortgage was 4.35 percent, according to Freddie Mac.
Mortgage broker Shant Banosian of Guaranteed Rate said that if the Federal Reserve raises the federal funds target rate 0.75 percent, or even 1 percent as some investors are forecasting, it may actually be welcome news for home buyers.
"If the Federal Reserve raises rates 0.75 percent next week, as they've indicated they will, we'll see rates pretty much stay where they're at, because that's what everyone is expecting and it's already baked into today's rates," Banosian said. "If they come out and raise rates a full 1 percent, I think you might even see mortgage rates come down a little bit."
He said one reason mortgage interest rates are high is because some investors believe the Federal Reserve isn't doing enough to control inflation. A full 1 percent increase will signal to investors that they're taking inflation very seriously.
Here in Massachusetts, sales are cooling down a little bit. The number of single-family home sales in the first half of the year was down 10.5 percent from the same time frame last year, according to The Warren Group's data. Condo sales were down 11.6 percent.
As expensive as housing is across the state, it's much more so in Greater Boston, where the median sale price of a single-family home was a record $900,000 in June, up 10.9 percent year over year, according to the Greater Boston Association of Realtors. The median sale price of a condominium was $700,000, up 9.4 percent.
Those prices have risen so much, so quickly, it has caused some buyers to look elsewhere. A recent report from Redfin said the Boston metro area has the sixth highest net population outflow in the country, with rising home costs causing prospective buyers to look in more affordable places like Portland, Maine.
"We are having a lot of people move outside of the city because the change of work environment and high prices," said Melvin A. Vieira Jr. president of the Greater Boston Association of Realtors. "But it's not affecting our buyer pool. We still don't have enough inventory. Interest rates are up, inventory is up, sales are down, prices are up, some companies are laying off, but many more are hiring. We're seeing a lot of abnormalities in the market. All the signs aren't pointing in the same direction. We're in uncharted territory."
Anthony Lamacchia, broker/owner of Lamacchia Realty, said it's too soon to say whether the changes in the market will amount to trends because the summer months are usually slower. He said he'll know a lot more about how it's all going to shake out when the fall data are released.
"We're going to see some softening in the market," he said. "Fall is usually when those things really set in. I don't think it will be a 2008 scenario with prices going down 30 to 40 percent.
"When we measure 2022 as a whole, prices will still be up over 2021 because they went up so much in the first six months. Even if they rise more slowly or slide back a little in the second six months, they'll still be higher than last year."
More from The Warren Group:
Check out the community-by-community home sales data.
Check out the county-by-county home sales data.
And the lists of recent homes sales in Boston, Cambridge, and north, south, and west of Boston.
Subscribe to our newsletter at pages.email.bostonglobe.com/AddressSignUp. Follow us on Twitter @globehomes.