Home Buying
More homes don't require a jumbo loan. Why this is good news for more than luxury home buyers.
FHA and FHFA raise limits in a move that reflects pinch of higher property prices.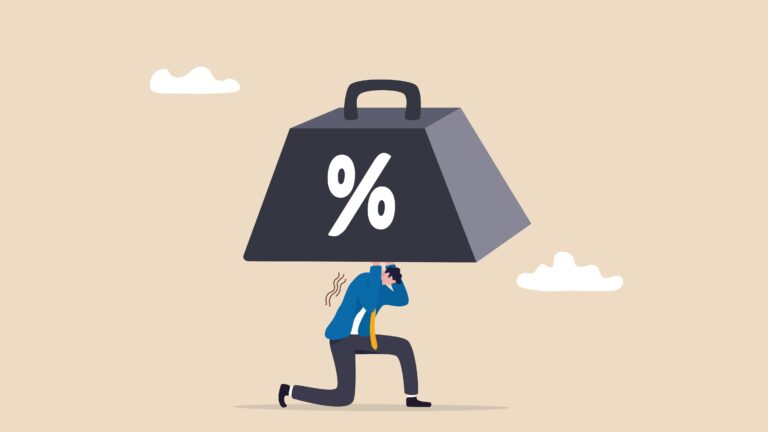 Buying a home without having to take out a "jumbo loan" has just gotten easier.
The Federal Housing Administration and the Federal Housing Finance Agency, which oversees the Federal National Mortgage Association and the Federal Home Loan Mortgage Corporation, among other institutions, have raised their ceilings on conventional loans for 2023. Jumbo loans exceed those ceilings, often have different interest rates, and "have stricter underwriting guidelines, such as higher credit and down payment requirements," according to Bankrate.com.
Shant Banosian, executive vice president of sales at Guaranteed Rate, said he expected the federal agencies to raise the limits because home prices have risen so dramatically in recent years. This will help first-time home buyers in particular, Banosian said. Why? It helps the current owners of "starter homes" move up and so on.
"Somebody buying a primary residence with a lower down payment, or a lower FICO score, can now qualify for a larger FHA mortgage," Banosian said. "For example, you can buy a home, a single-family or condo, with an FHA mortgage up to $726,000 with a 10, 5, or even 3 percent down payment. Our average buyer's down payment is 10 percent."
For example, in 2022, buyers could borrow up to $770,500 using an FHA loan to purchase a one-family home in Middlesex County without turning to a jumbo mortgage. Now, those buyers can borrow up to $828,000.
The FHA loan limits vary, ranging from $472,030 in Worcester, Franklin, Hamden, and Hampshire counties to $1,089,300 in Dukes and Nantucket counties. The increases vary slightly by county but were roughly 10 percent over last year's limits.
FHA LIMITS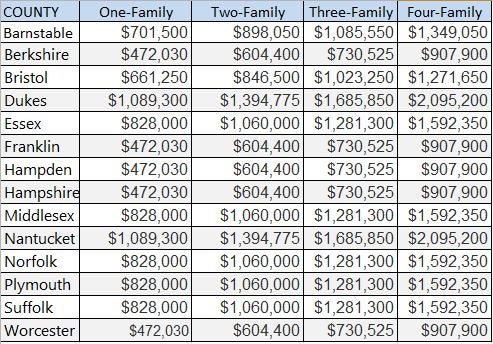 The new FHFA limits also vary. In seven counties, the ceiling is the same as the FHA limits: Essex, Dukes, Middlesex, Nantucket, Norfolk, Plymouth, and Suffolk. In the other seven, the FHFA lets you borrow a lot more without hitting the threshold. In Worcester, for example, one can borrow up to $472,030 for a one-family home under the FHA limits but up to $726,200 under the FHFA.
FHFA LIMITS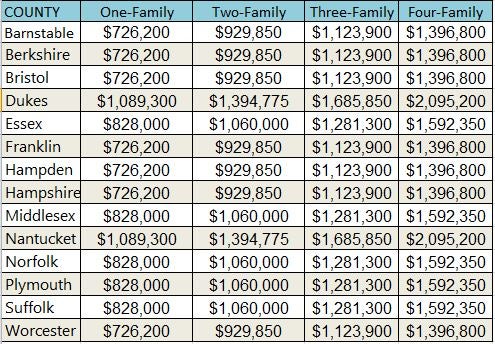 Richard J. Rosa, cofounder and co-owner of Buyers Brokers Only, said FHA loans are a great tool for many home buyers, but they were raised to offset bad news.
"The good news is that higher conforming loan limits give prospective home buyers more financing flexibility," Rosa said. "The bad news for home buyers is that conforming loan limits rose because home prices increased again in 2022."
Rosa said the loans themselves can be a double-edged sword.
"With FHA loans, borrowers with lower credit scores might find qualifying for a mortgage easier and interest rates lower, but the overall cost of borrowing might be more expensive because of the 1.75 percent upfront mortgage insurance payment," he said. "Most borrowers need to refinance to eliminate the monthly mortgage insurance with an FHA loan. That's great if rates go down, but not so much if rates go up."
Banosian said which program is right for buyers depends on their situation, noting that they are "totally different products with different requirements and rates."
"FHA is a great product for somebody who has a higher debt-to-income ratio or maybe had some credit issues in the past. But [private mortgage insurance] is much more expensive. … A lot of times the FHFA loan is a better value to the client, but it really depends on your situation and your goals. Raising those limits gives consumers more options."
Jim Morrison can be reached at [email protected]. Follow us on Twitter @GlobeHomes.
Address newsletter
Get the latest news on buying, selling, renting, home design, and more.