Home Buying
Turns out, the longer recreational marijuana is legalized in a state, the more landlords there restrict it
National Association of Realtors report looks at the industry's effects on real estate.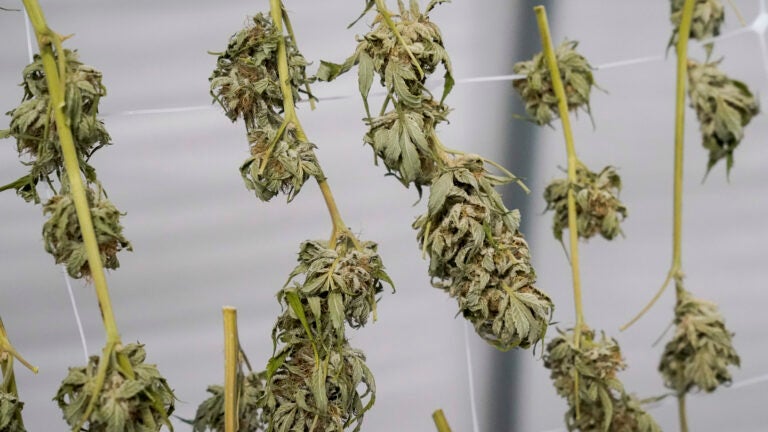 Thirty-seven states and Washington, D.C., have legalized marijuana for medicinal and/or recreational use. So, what does this mean for the real estate world?
The National Association of Realtors looks to answer that question annually in its biannual Marijuana and Real Estate survey. The survey asks those working in real estate about the effects of marijuana legalization on the industry, specifically on property values, lease restrictions, and the ability to sell or lease after smoking or growing.
The survey groups responses based on how long marijuana use has been legal in certain states. One group covers prescription-only states, one accounts for states that legalized prescription and recreational marijuana use since 2018, and the other — which includes Massachusetts — represents states that legalized both uses prior to 2018. Massachusetts did so in 2016.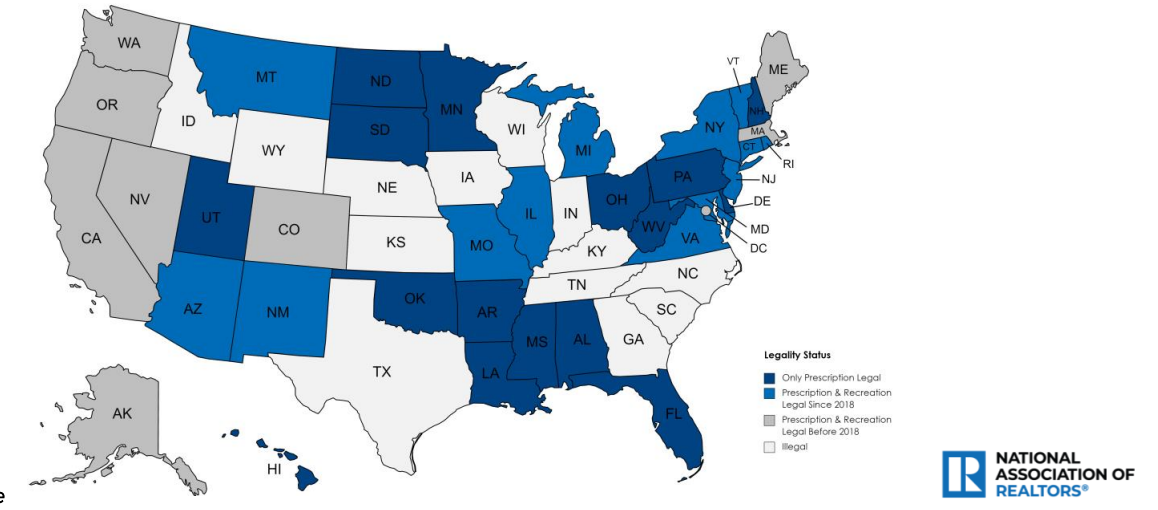 This year, NAR received 3,291 responses. The results looked slightly different from its 2021 survey, according to senior research analyst Matt Christopherson.
Christopherson listed three key changes: a drop in the purchase (versus leasing) of commercial properties, an increased demand for warehouses in the commercial sector, and a "surprising decrease" in the number of landlords adding restrictions to leases.
Many of the changes between this report and the previous one can be connected to the changing stigma surrounding marijuana use, Christopherson said, particularly in states that recently legalized the drug.
The evidence of this stigma is in the "perception of crime" section of NAR's report, which compares perceived increases in crime with actual increases in crime rates. In states like Massachusetts, a 28% perceived increase in crime is comparable to an 18% actual increase.
In the residential sector, NAR reported an increase in rules and regulations among landlords and homeowners associations. Christopherson noted that these rules were more prevalent in states where marijuana has been legalized for longer periods of time.
"We're seeing that, the more common and prevalent [the marijuana industry] is, the more likely it is that landowners are adding rules to maintain and protect their properties," he said.
For example, in states like Massachusetts, 16% of respondents reported restrictions on growing inside homes, 26% reported restrictions on growing in exposed areas, 37% reported restrictions on growing in common areas, and 49% reported restrictions on smoking in common areas.
Another segment of the report covered leasing growing and smoking homes. In states like Massachusetts, 47% of respondents reported no trouble leasing a unit in which plants were grown, and 42% reported no issues leasing a home in which marijuana was smoked. These statistics were similar in other states with legal marijuana use in any form.
The report also noted that, while residential property managers in states with legalized recreational marijuana have seen smoking-related addendums added to properties, fewer restrictions were reported this year than in 2021.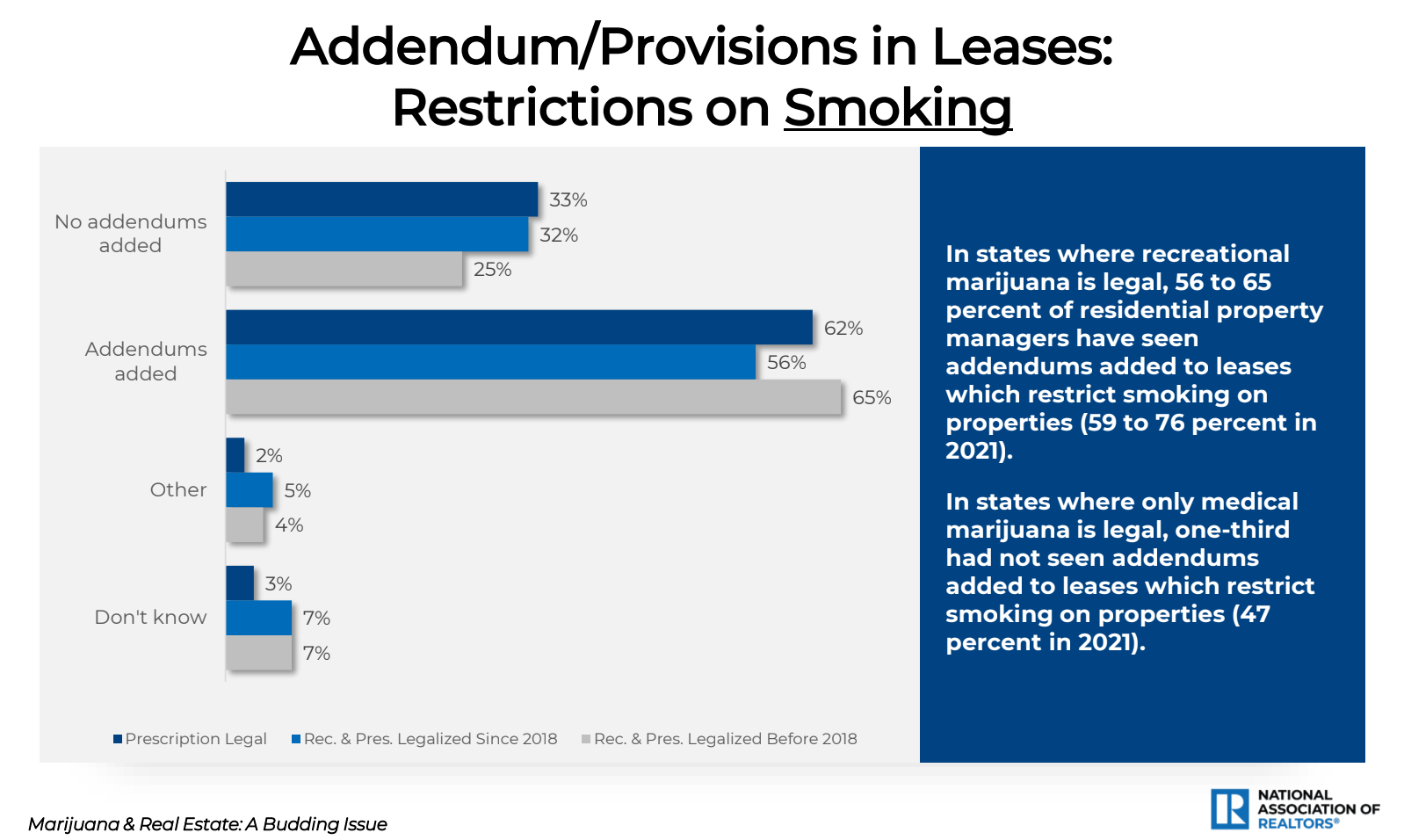 Additionally, those selling growing homes did not report trouble doing so, even after they disclosed that it was a grow house — a promising statistic, Christopherson said.
"The numbers should put people a little bit at ease if they have any worries," he said. "It's not super common to sell a grow house, but among the people that did in Massachusetts' category, 69% said it was not hard to sell."
The report adds that those looking to grow in their homes can use self-contained boxes to avoid the moisture or smell.
In the commercial sector, the report noted an increased demand for warehouse space among commercial members who had an increase in property purchasing and leasing. Additionally, NAR saw a 6% decrease in the percentage of properties purchased over leased since 2021.
Address Newsletter
Our weekly digest on buying, selling, and design, with expert advice and insider neighborhood knowledge.